MEREDITH — It was the thrill of victory and the agony of defeat for a Concord man who landed the largest fish in the Great Meredith Rotary Ice Fishing Derby, but couldn't hook the $15,000 grand prize.
Bradley Sargent, 23, of Concord hauled in the biggest fish, a 12.1-pound lake trout that was 30 inches long, but his ticket wasn't pulled during Sunday's drawing to select the top-three finishers of the seven heaviest fish.
Instead, Michael Steffen of Wells, Maine, on the leader board with a 16-inch black crappie that weighed 2.54 pounds, won the $15,000 grand prize.
"It doesn't feel real," he said, after derby organizers announced the winning ticket.
Steffen a research/development engineer with Maine Molecular Quality Controls, said he goes fishing and hunting whenever he can. He is considering using the windfall to buy a snowmobile.
Traverse Williams of Meredith placed second and won $5,000 for landing a 16-inch, 2.64-pound white perch at Lake Winnipesaukee.
Bill Glowick, of Lynnfield, Mass., had his ticket drawn third, winning $3,000 for catching a 27-inch, 5.38-pound pickerel in Lake Ossipee.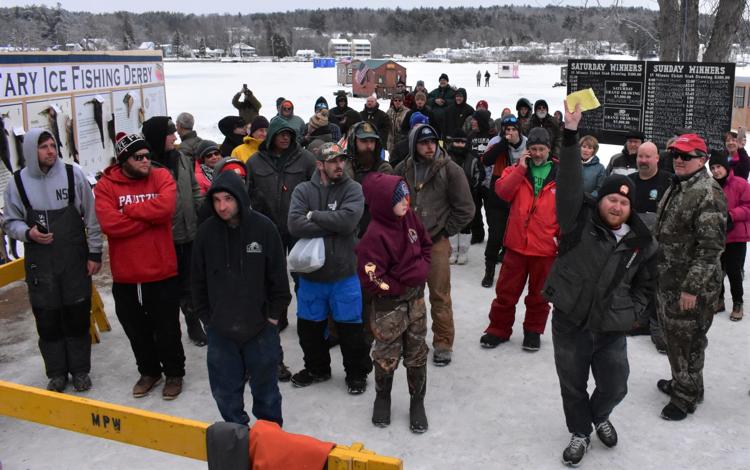 Sargent, a student at New Hampshire Technical Institute, caught his lunker on the ice of Big Diamond Pond in Stewartstown on Saturday. He was with friends Casey Gout and Nate Smith.
"We were screaming," Sargent recounted.
"It's pretty cool that it could hold up for two days," as the largest fish on the leader board, said Sargent, who works in the fishing department at Bass Pro Shop in Hooksett or at Sports Arena Hockey Shop.
Heidi Barrett who served as this year's chairman for the Great Meredith Rotary Fishing Derby, said about 4,800 tickets were sold, down about 10 percent because of reports of the ice conditions, frigid temperatures and a power outage on Friday.
Fortunately, derby headquarters was equipped with a generator and was able to get its computer systems back up and running to track the hundreds of fish that were entered.
Since its first fishing derby, the Meredith Rotary Club has raised more than $2.1 million for scholarships for area high school students.
Betsey Donovan, who chaired last year's derby, said some of the proceeds from the 2019 event paid for the new picnicking pavilion overlooking Meredith Bay. The club is looking to spread the derby proceeds into the neighboring communities of Center Harbor, Sandwich and Moultonborough.
"We're looking for projects," she said.