Ski areas faced with an unusually-warm December, one of the biggest COVID-19 surges since the pandemic began and employee shortages are hoping to turn things around for the all-important Martin Luther King weekend.
Last year, resorts required all skiers and riders to mask up any time they were in the lift line, limited lift capacity by only loading groups of family or friends together and required ticket reservations. With updated guidance that shows transmission of the coronavirus outdoors is extremely rare, masks are no longer required outdoors and lifts are being loaded to capacity at most places.
"Our messaging is still know before you go because everyone is a little different," said Jessyca Keeler, executive director of Ski New Hampshire, who recommended skiers and riders at least be prepared to put on a mask if needed.
While some ski areas are only recommending masks indoors, others are much stricter, requiring masks and proof of vaccination in dining areas. Some continue to require reservations while others are not. Protocols for ski school and rentals also vary from area-to-area, she said.
"One of the big things is we had to require masks outdoors last year and that has changed. We are still highly recommending them indoors and requiring them in areas where social distancing is impossible," said Dillon Mahon, marketing director for Ski Butternut in Great Barrington, Mass.
The ski area is continuing to require people to pre-purchase lift tickets and installed a no-contact system where people can get RFID ticket cards in a pickup box and can reload them automatically for future days. They are also continuing to limit ticket sales to reduce crowding on the slopes, although they have increased the number of sales from last year, he said.
Some of the limits are also due to a struggle to find employees and the limited amount of terrain that could be open – especially during the busy Christmas holiday week – because warm temperatures made snowmaking impossible for most of the week.
"We have had better," Mahon said. "It was very warm most of the month of December so we had limited terrain, 15 of 22 trails open, for the majority of the week. The conditions were a huge testament to our grooming and snowmaking team."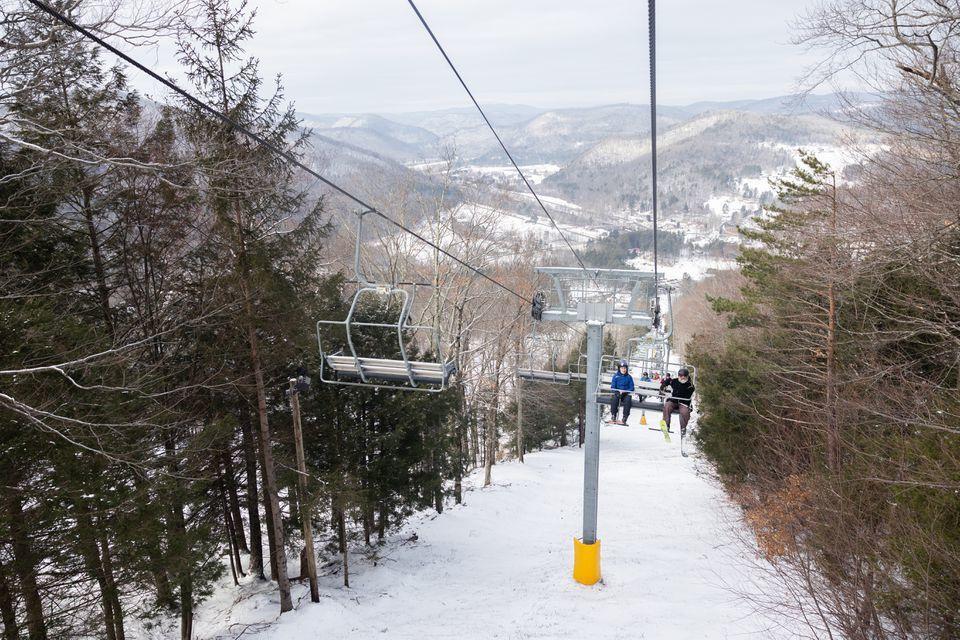 Snowmakers took advantage of every window of cold weather, but the area still had to shut down on the Sunday after New Year's Day when a rain and ice storm further damaged the trails. They stayed closed that following Monday to resurface and rebuild the terrain, he said.
Now with a week of temperatures cold enough to make snow, Butternut will head into the long weekend with 18 of 22 trails open.
It was the warm weather, not the pandemic that also made the early ski season a struggle for nearby Catamount, which is located half in South Egremont, Mass., in the Berkshires and half in New York.
The area also had to close down on Jan. 1 and 2. The one advantage is the rainy summer and fall left all the snowmaking ponds full so now that it is cold the area has plenty of water to pump out snow for the long weekend, general manager Rich Edwards said.
"The momentum is there. We had a great year last year and seasons pass sales are still up," Edwards said, adding last weekend was busy.
Catamount actually had a solid season last year despite the pandemic. Edwards attributes that to many factors including the fact Vermont had a 14-day quarantine mandate for anyone entering the state and many people passed on ski vacations out west. It also helped that Berkshire East, which bought the mountain in 2018, is offering a two-mountain summit pass expanding people's choices and bringing some people to Catamount for the first time.
The mountain is doing away with some of the COVID-19 protocols instituted last year such as calling for people to get dressed in their cars and requiring masks outdoors. It is still strongly recommending masks at all times indoors, he said.
Last year Catamount also built 50 "cabanas" out of pine boards milled at Berkshire East and heated with small propane heaters that families could rent as a way to get in out of the worst of the cold and wind during lunch and breaks. The plan was for them to be temporary.
"We were going to eliminate them but there was such a demand," Edwards said. "We have space for 35 and 30 of them have been rented for the season and five are going to be daily rentals. I don't see them going away."
Catamount is not limiting ticket sales this year, but that could change, not because of COVID, but to ensure the trails are not too crowded with limited terrain open, he said.
COVID is still impacting the mountain in the employee shortage and efforts to get two new chairlifts up and running. For example, the area is replacing an old double chair with a new one that will reach the top. The infrastructure is in place to handle quad chairs, but they are on backorder so the area will install triple chairs instead, Edwards said.
They also ran out of time when doing summer construction since a lot of the laborers double as snowmakers, lift mechanics and groomers during the winter, he said.
"Like everyone else the labor supply is thin," he said. "We can't lose the night groomers and night snowmakers are hard to find. You want people with experience in those positions."
The largest ski areas in the Northeast aren't immune to weather woes and complications from COVID-19 either.
"The entire industry is dealing with staffing shortfalls. It is usually difficult to get people to work seasonally, especially the snowmakers and groomers, and it has become increasingly competitive," said Adam White, Vail's senior manager of resort communications for the northeast region.
Vail, which operates seven mountains in New Hampshire and Vermont and one in New York, has raised minimum salaries to $15 an hour and recently offered a $2 hourly bonus to all employees who work to the season's end. Raising salaries is the biggest investment the company has made this year, he said.
It can be so difficult to find housing, especially in Vermont, the company also turned its Snowlake Lodge into employee housing so workers, especially those on international visas, don't reject jobs because they can't find a place to live, White said.
"We do have a vaccine mandate so we are in as good a position as we can be to protect our employees and our guests as much as possible," White said. The company also requires employees to wear masks at all times, does a daily health screening and tells workers to stay home and get tested if they do feel ill, even if it may mean fewer people working.
Like most ski areas, Vail did away with mask requirements outside but when the surge began, they restored a mandate for face masks inside gondolas, he said.
The areas also require masks in all indoor spaces and proof of vaccination — which can be a photo of a vaccination card — is required for indoor open seating areas, he said.
"When people eat they take off their masks so it is hard to maintain seating. It is the right thing to do," he said.
Like all ski areas, Vail's New England resorts suffered from the warm weather but are making a comeback. Mount Snow, which has one of the strongest snowmaking systems of the seven mountains, had 51% of its trails open for the Christmas vacation week while Stowe had about 30% of its trails open, White said.
"We saw enthusiastic guest turnout through vacation," he said, adding some people who came up for several days or the week made the best of it and also spent a day or two visiting other sites in Vermont or New Hampshire when the weather was less than ideal.