Cannon Mountain, like other ski resorts across New Hampshire, is expecting heavy traffic after the last season abruptly ended because of the COVID-19 pandemic.
"We had demand to the point where we stopped selling season passes," said Greg Keeler, Cannon's director of sales and marketing. "They were coming in like a flood."
The sales, which ended Nov. 1, amount to a 20% increase. The mountain set its daily capacity to 3,500. Its famous tramway will be closed for at least the first half of the season because of social distancing requirements.
Many in the industry expect the lack of indoor activities this winter to spark a lot of interest, much like what happened with hiking and lakeside retreats this summer. Resorts now require tickets to be purchased in advance online and have instituted new protocols for chairlifts, gondolas and lodges to control crowds.
Most resorts have started making snow and are hoping to cover as much terrain as possible early in the season to make sure skiers can separate. On Friday, Killington Resort in Vermont became the first mountain in the Northeast to open. New Hampshire resorts aren't far behind.
Mount Sunapee in Newbury anticipates opening Saturday. The trails will be open exclusively for season pass holders until Dec. 7.
Skiing and snowboarding offers plenty of room to social distance on the slopes, and resorts have put precautions in place on lifts and inside lodges, including wearing masks, said Bonnie MacPherson, a spokeswoman for Colorado-based Vail Resorts, which operates Sunapee and other New England properties.
"These are big mountains, and we are not scaling back," MacPherson said. "We are planning on opening as many lifts and trails as quickly as possible for the season, but we are still monitoring capacity through our reservation system so we make sure it is not overcrowded."
She expects only a few days during peak holidays and weekends to sell out.
"There may never be an issue with reaching capacity," MacPherson said. "This system is designed to be in place as a safeguard, but our goal is to find that we don't need it."
Ski NH, a statewide association representing 31 Alpine and cross country resorts, expects a high demand for outdoor winter activities, including cross country skiing, snow tubing and snowshoeing.
"Just the act of skiing is social distancing. You don't want to be too close to someone skiing next to you," said Shannon Dunfey-Ball, a spokeswoman for the association.
Tom Day, president and general manager at Gunstock in Gilford, anticipates an increase in demand based on preseason interest. Opening day is planned for Dec. 4.
"There will be some ticket limitations on busy days — those days when it snows on Thursday, and it's beautiful Friday, Saturday and Sunday," he said. The capacity on the slopes could be reduced by up to 20% depending on traffic.
"The experience of skiing itself is the same," he said. "Just preparing to get here will be different."
Future travel restrictions to and from New Hampshire might also factor into the demand, but resorts have been working with state officials and say they are ready to make changes.
"We are going to adapt and be compliant with whatever the state mandates," MacPherson said.
Season passes
Vail Resorts told investors in September its season passes purchases have increased approximately 18% through Sept. 20 across all its resorts. Besides Sunapee, the company owns Attitash, Crotched Mountain and Wildcat in New Hampshire.
In the southern tier, season passes at McIntyre Ski Area in Manchester are on par with last year, said President and General Manager Ross Boisvert. The city-owned hill has become known as a place to learn to ski or snowboard.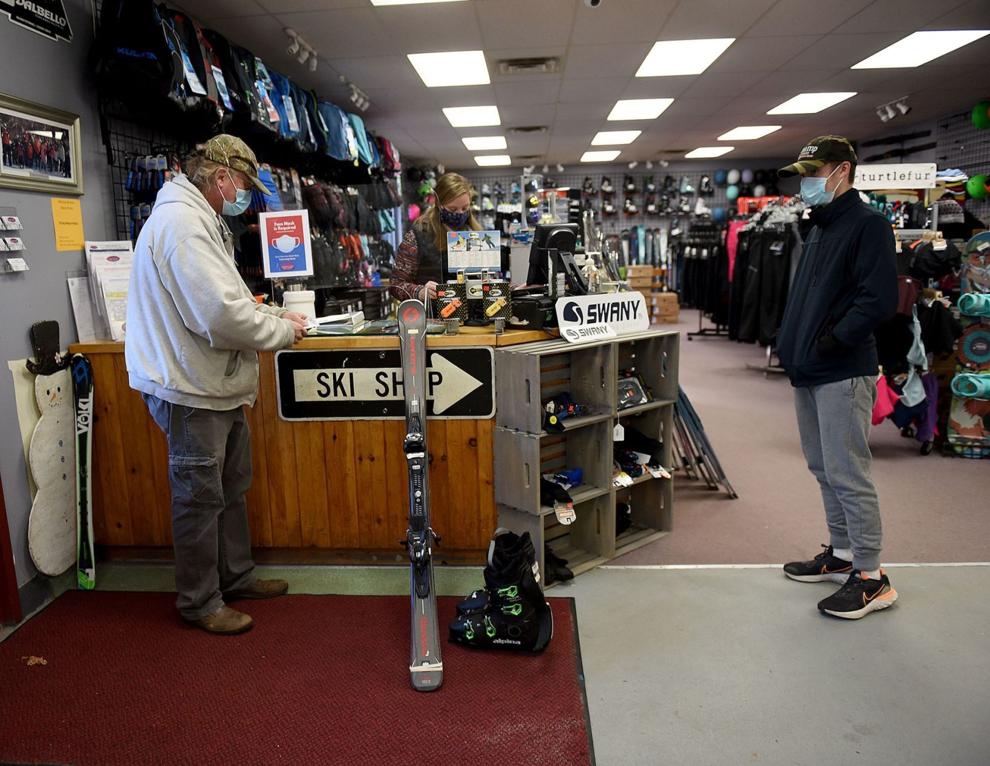 He expects mid-week ticket sales to increase for both skiing and snow tubing. Capacity on the tubing hill will be reduced from 200 to between 125 and 150.
"People are excited about it, and they want to ski and be outdoors and enjoy the winter," he said.
Gunstock declined to disclose the number of season passes sold.
"We were concerned at the beginning of the season about what people were going to do. Would they be concerned about the season? Do people not have jobs?" Day said.
Jackson Ski Touring Foundation, which maintains 100 kilometers of cross-country trails in the White Mountains, also expects a boost. Season passes are encouraged, so people can hit the trails straight from their cars, said Ellen Chandler, executive director.
"There's definitely an increase in interest from those who have casually cross-country skied in the past," she said. "I think the casual cross-country skier is going to turn into an avid cross-country skier."
The foundation also expects a boost in snowshoeing on its trails — and trails all across the state — "just like hiking trails in the summer," Chandler said.
Lifts and lodges
Resorts will require guests to gear up at their car — a culture change for many who are used to leaving bags under tables or in cubby holes in the lodge
Many of the options will be more grab-and-go, including from outdoor food trucks.
"It is just going to be a different experience," MacPherson said. "We will have people at the entrances monitoring how many guests go in and out … We hope there won't be serious lines."
McIntyre is adding more tables outdoors and has purchased heat lamps.
"We will have our firepit going all the time," Boisvert said. "We are trying to create warm spaces outside."
Gunstock will have two food trucks and temporary restroom trailers in the parking lot and a to-go window at the base of the mountain.
"It is going to be reservation-only in the lodge," Day said. The lodge capacity is 50%.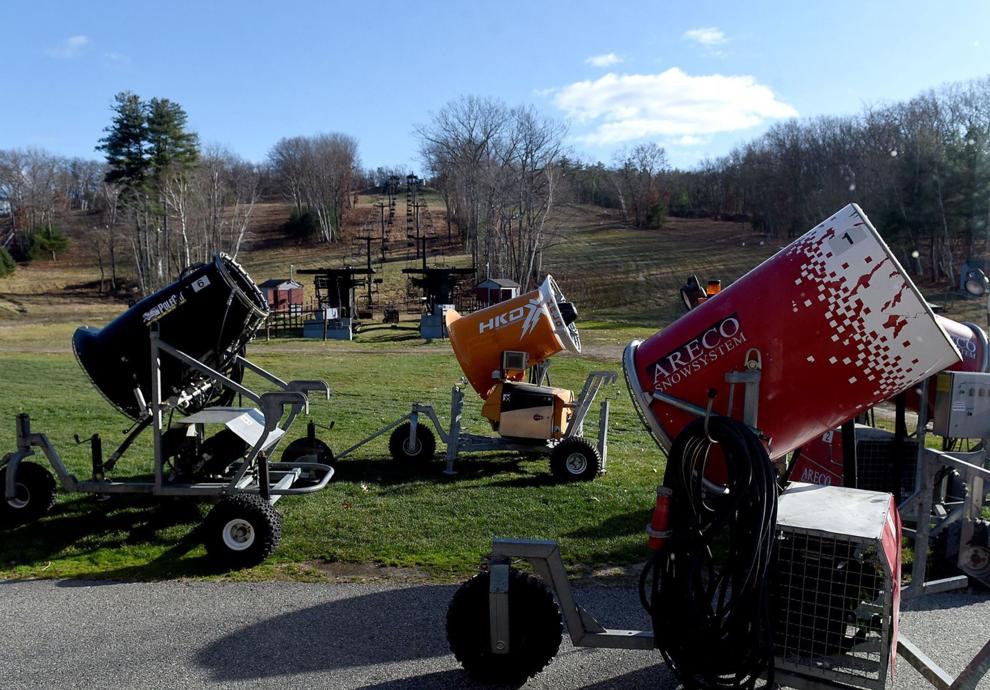 Changing patterns
Ski NH encourages skiers and snowboarders to think about different times they might be able to hit the slopes.
"A lot of people have even moved to New Hampshire into their second homes, and they are remote learning and remote working," Dunfey-Ball said. "There are opportunities for those people to get out on a Wednesday or a Tuesday morning instead of going Saturday, Sunday or the holidays."
Cannon expects a boost in midweek skiers as a result.
"We've heard from people in town that all the seasonal rentals are sold out," Keeler said. "We know that a lot of people have bought second homes."
On most days, however, skiers and boarders will likely be able to snag same-day tickets at most resorts.
"We hear from so many people who say, 'I'm used to getting up in the morning and looking out my window and deciding if I am going or not,'" MacPherson said. "You can probably still do that. Your chances will be better if you reserve ahead."
Cannon Mountain has paid attention to ski resorts that have opened out West.
"They are getting crushed with people," he said. "Some of them had to close because they couldn't handle that amount of traffic. I think demand is going to well beyond where it has been in the past, even mid-week."