GORHAM -- Within an hour of our arrival at Hub North, my kids had already declared they wanted to return to this lodge and glamping site located at a former Girl Scout camp.
On the drive there, the back of the truck loaded with our mountain bikes, the kids had discussed what they thought a glampsite would look like. One pictured the scene from the fourth Harry Potter movie, where wizards gathered in tall, close-together tents for the Quidditch World Cup. Another envisioned a square field with tents and yurts lining the edge.
They soon realized Hub North is better than they could have imagined, and they were quick to fall for glamping — which merges the best parts of sleeping outside with some of the comforts of home.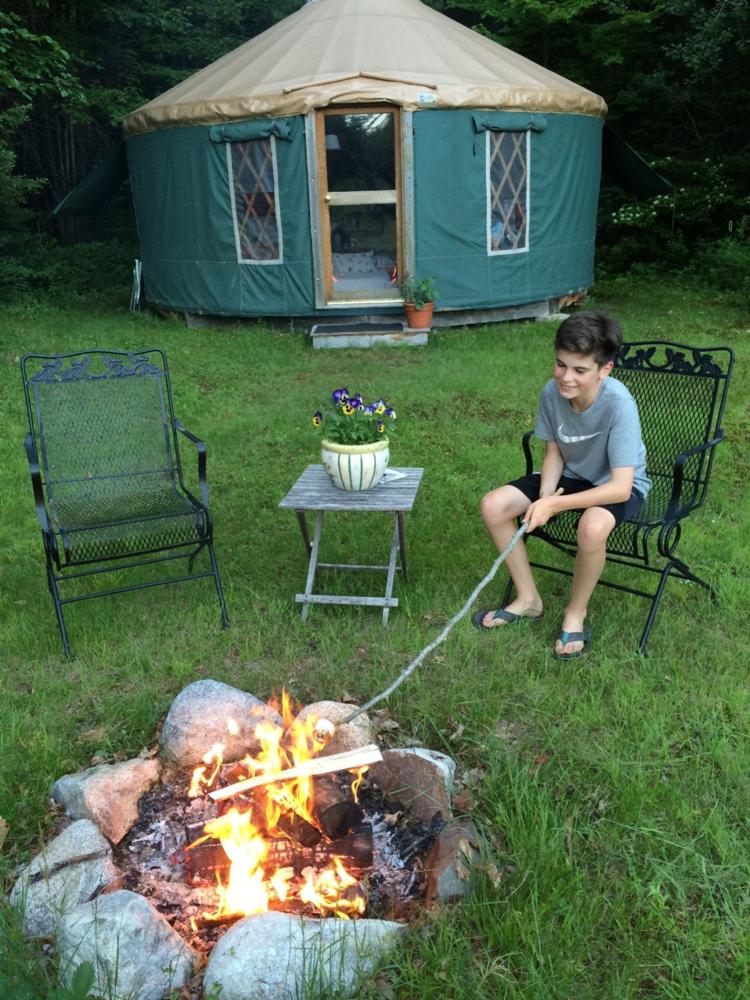 Hub North, the dream-come-true venture of outdoor enthusiasts Kara and Jason Hunter, is inspired by the couple's extensive traveling adventures and by a movement to build an outdoor economy in part of northern New Hampshire that was once dominated by logging and paper mills.
The Hunters are also founding members of the Coös Cycling Club, which over the past few years has built more than 20 miles of single-track mountain biking trails around Gorham. Their driving force is an if-you-build-it-they-will-come mentality.
"The idea was to create a network of trails connecting to Moose Brook State Park and the Presidential Rail Trail," said Jason. "But also to have a place for people to stay if they came here to explore."
So was born Hub North in 2018.
There is a lodge (four guestrooms inside the refurbished farmhouse that once served as Girl Scout camp headquarters).
So far, Kara said last week, many of the lodge and glamping visitors have been hikers or bikers, including some on their way from Vermont to Maine along the newly revealed Cross New Hampshire Adventure Trail.
Yurt living
Kara met us as we pulled into the driveway — just past the entrance to Moose Brook State Park, which abuts Hub North's six acres. She led us on a tour.
We left the truck parked by the lodge and followed her across a large lawn area — with a big fire ring, chairs set up in the shade of a large tree, and two boards for playing cornhole — to the pavilion containing the summer kitchen and dining area. The latter, set up with a long table and plenty of seating, offers a view of the northern Presidential Mountains.
The kitchen is brand new and fully furnished with two sinks, a gas range, fridge, microwave, coffee maker, and all the utensils we'd need to cook and eat a meal. (The homemade cookies Kara left for us were a sweet bonus.)
A grassy path winds from the kitchen to a small building housing two bathrooms — with flush toilets! — and the adjacent "glam showers." The two showers, fully enclosed by walls and roof, but with screened openings that made them feel like outdoor showers, were a favorite with the kids.
Beyond the showers, we walked to our yurt through a field of yellow and orange hawkweed, just-ripening wild strawberries, and springy moss. Inside we found two comfy beds — a king and a double — a cozy loveseat and chair, and a bookshelf stocked with reading options and fun games.
Battery-powered lights and fans were available if we needed them. A plexiglass-covered opening at the top of the yurt allowed bedtime stargazing. A cooling breeze — and the ethereal fluting of the hermit thrush — passed through large screened windows.
"It's so cozy and nice," my daughter said. "It feels like I could live here."
Beyond the yurt, there are three canvas bell tents set up on platforms around the field. Each glamping site has its own firepit — and small groves of trees offering privacy from the other sites. There's also a three-hole disc golf course through the field, which made for a nice pre-dinner distraction.
Riding Coös trails
We hadn't traveled north just to sit around the glampsite, though. We'd come, in large part, for the mountain biking.
Dubbed Coös Trails, the network created and maintained by the Coös Cycling Club is part of The Borderlands, a newly-formed multi-state, international mountain biking collaborative that includes: Coös Trails, Profile Trails in Franconia, and PRKR MTN in Littleton, as well as riding in Vermont, Maine and southern Quebec. (Learn more at www.bikeborderlands.com.)
For my crew of varied riding experience, Kara suggested starting with the Pump House Loop. While we could have reached the trail from Hub North via single track, then hooking into the Presidential Rail Trail, we opted to drive to the parking area closer to town and directly adjacent to the rail trail.
The Pump House Loop was perfect for the first family ride of the season. Smooth single track winds through a mixed hardwood forest in fun twists and turns, down-and-up a few dips, and around dirt-bermed corners. With only a couple of moderate hills, the 2-mile loop is a good bet for beginners, but also lots of fun for more experienced riders.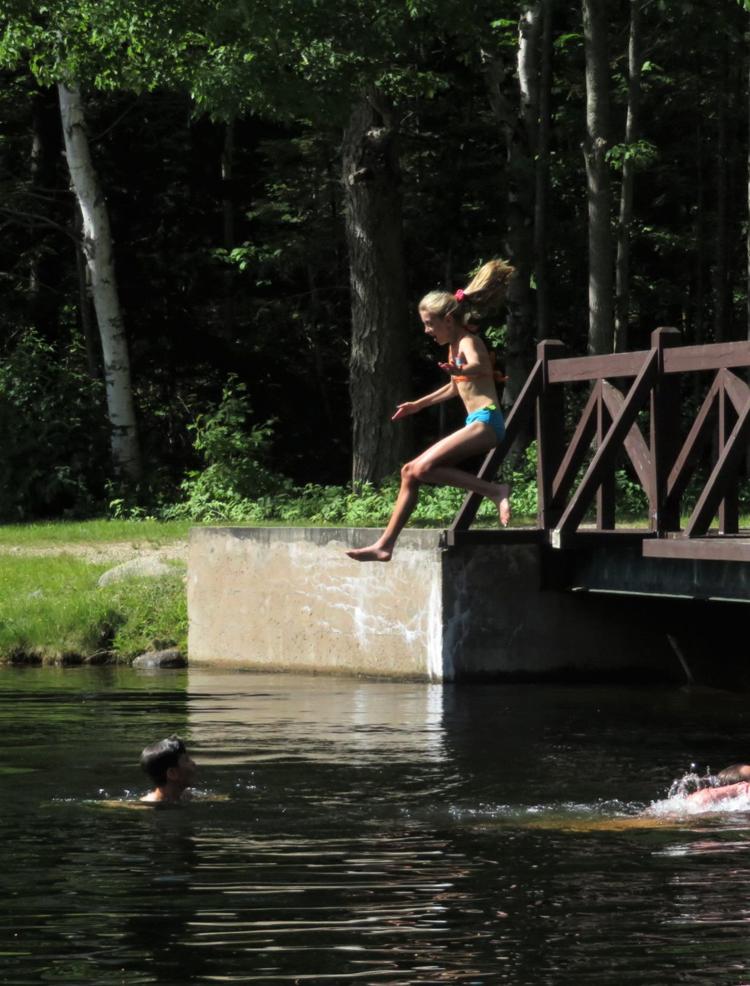 Before heading out of town the next day, we returned to Pump House, then made a loop of Old River Road and Cross Hair for more single track riding.
The section of the network we rode is mainly rated easy and moderate single track, with a bit of double track running behind the Gorham Airport. On the other side of Route 2, trails through Moose Brook State Park range from easy double track to difficult single track. The Coös Cycling Club also grooms several miles of trail during the winter for fat biking.
After returning to Hub North post-ride, we changed into bathing suits and walked through the woods to Moose Brook State Park.
In a few minutes, we were at "The Pool," a refreshing swimming area fed by the very chilly Moose Brook, which begins, aptly, in Ice Gulch.
I only made it into the water up to my knees, but the kids leaped in from the small bridge at one edge of the pool and said the water was breathtakingly-cold — a great way to cool off after our ride.
With so many more trails to explore, the kids and I plan to return to Coös Trails for more riding — and back to Hub North for more glamping adventures.