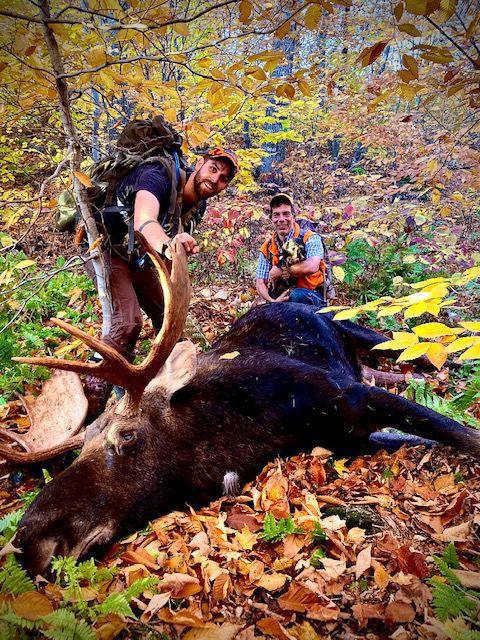 Micah Nelson, a 29-year-old plumber from Melrose, Mass., is one of the 38 hunters who got a moose in this year's New Hampshire hunt.
Nelson backpacked for three days in the White Mountains before he tracked and killed a bull moose using a traditional longbow that he made himself.
This was the first time Nelson had entered New Hampshire Fish and Game Department's moose hunt lottery and he never expected to win a permit. But he figured he could start building up points for a future lottery (unsuccessful entries earn bonus points for subsequent years).
Instead, Nelson learned he was one of 50 hunters who won permits out of more than 5,800 entering this year's lottery.
He immediately got to work, speaking with experienced guides and hunters, preparing his gear and scouting his locations. "It's a massive amount of preparation," he said.
Nelson set out on Oct. 19, the first day of the nine-day season. That Sunday night, he moved camp to the side of Black Mountain near Jackson and the next morning he headed up the mountain, following moose tracks to the higher elevation.
He stopped hiking periodically to imitate the grunt of a bull moose. After the rutting season ends, he explained, bull moose sometimes group together, so the sound could attract a curious moose.
As he headed up the hill, he heard a bull moose grunt back. "He was making the same noise I was doing, coming toward me."
Nelson stopped and set up behind a birch tree. "And he came up over that rise, which was about 15 yards from me."
He knew he was downwind from the animal, and watched as the moose's nose worked, trying to pick up his scent. Then Nelson leaned out to get a better shot.
"And he picked up the movement. He was about 10 yards from me and just locked up, staring like a dead stare at me," he said. "He made me, basically."
"And he whirled to turn around and I drew on him as he was turning. It happened really, really quickly."
According to Fish and Game, this year's moose hunt had an overall success rate of 76 percent. Hunters in the Connecticut Lakes region had a 100 percent success rate, while the lowest rate, 40 percent, was in the Southeast Region.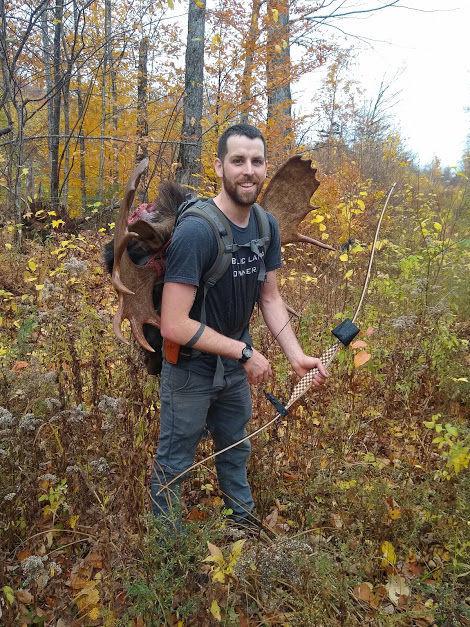 Dan Bergeron, Fish and Game's game programs supervisor, said the most difficult part of the moose hunt happens after a kill. "If you get it any distance from an easily driveable trail, it's a lot of work to get the animal out and care for it properly," he said.
The average dressed weight of a bull moose is more than 700 pounds, according to Fish and Game. Bergeron has seen hunters use four-wheelers, sleds, even horse teams, to drag a moose out of the woods. And in areas where logging operations are active, he said, "Some of the guys with heavy equipment have helped people out before."
After Nelson's arrow struck the moose, the animal took off. Nelson called Scott Newell, a local tracker he'd talked with before, who brought his dog Lexie to help him locate the animal.
Nelson also hiked back to his truck to get the rifle he had locked up inside. "It's not a smart idea to track an injured animal with a bow and arrow," he said.
That's the only time he actually felt fear, he said. "With a traditional bow, you do everything you possibly can to make it as quick a passing as you can for the animal, but you don't really know with an animal that big..." he said. "I was afraid I'd get really close to him and he'd stand up and run me over."
It turned out the moose had only gone about 500 yards. "He ended up going down pretty quickly," Nelson said.
Nelson said Newell helped him skin and dress the moose. His dad, Matt Nelson, arrived to help; they finished working in the dark and then left to find a motel for a warm bed — and a shower. "I was very bloody," he said.
He and his dad returned the next morning to finish hauling out the moose on a borrowed rescue sled; Nelson carried out the animal's head on his back. He spent the rest of that week butchering the moose and processing the meat.
Emotional experience
Nelson's mother bought him a traditional "recurve" bow when he was a boy and he would practice for hours, "shooting at bales of hay by the railroad tracks," he said. He learned to make his own bows and now has a side business making handcrafted custom bows, Orison Archery.
Neither he nor his wife grew up in hunting families, Nelson said. But they worked for a time on a farm and that changed his perspective.
"We had the desire to eat meat that we know where it came from and that the animal had had a good life," he said.
And that led him to hunting, he said: "Just that desire for interaction in the outdoors, being out in the woods and harvesting meat for my family that I know is the highest quality it can be."
For him, he said, hunting with a traditional bow "is about the close encounters with the animals and the amount of time that I spend out in nature. I feel respect for the animal in the pursuit, just because of how challenging it is."
Getting a moose, which he called "a mythical creature," was an emotional experience, Nelson said. "It was overwhelming," he said.
"To be honest, I think any time you have the realization of the cost of your existence and the food that you're consuming is sobering," he said. "Especially after you shoot an animal, you have a moment of just the realization of the cost that that animal just paid for you to eat, and enjoy."
The moment he watched his arrow fly toward the moose, Nelson said, "is etched into my mind."
"When you shoot a traditional bow, you can see the back of the arrow fly as it's going toward the target," he said. "It's one of those things you don't forget."