While most people were sleeping off Christmas dinner, a trio of hikers set out in the early morning hours of Dec. 26 on a quest to set the Fastest Known Time (FKT) for hiking all 48 New Hampshire mountains of 4,000 feet or more during the winter.
Less than seven days later, just before 3 a.m. on Jan. 2, in the pitch dark of an early-winter night, Leah Lawry, Jason Beaupre, and Andrew Soares descended from the final peak to earn the FKT for the feat.
"This has been Jason's dream for a few years now," said Lawry. "He attempted it once before solo, and even though he wasn't able to finish, he knew the record was within reach. This year it finally all came together."
Before the plan could come together, though, the hikers had to fall into step. The trio met on the trail – Beaupre and Soares in 2011, and Lawry just about a year ago. They've put in countless miles together.
"You definitely have to click," said Soares, who says he tends to be a complainer on the trail. On the phone, he sounds anything but complaining – jovial, friendly, and like a guy who wants to get outside as much as he can.
Indeed, that's how this small band of hikers is known on the trail – friendly, tough, and able to complete what seem superhuman feats. Lisa Hart, an Appalachian Mountain Club trip leader who logs her own long days on the trail, describes them this way: "Just ordinary guys with passion for the mountains."
But, as any hiker knows, the trail can be punishing. And it certainly was during that nearly-7-day stretch the hikers spent chasing the FKT.
"We were all on the same page," said Soares, who noted the importance of having moral and motivational support in the form of hiking buddies. "We were going to suffer right through it together."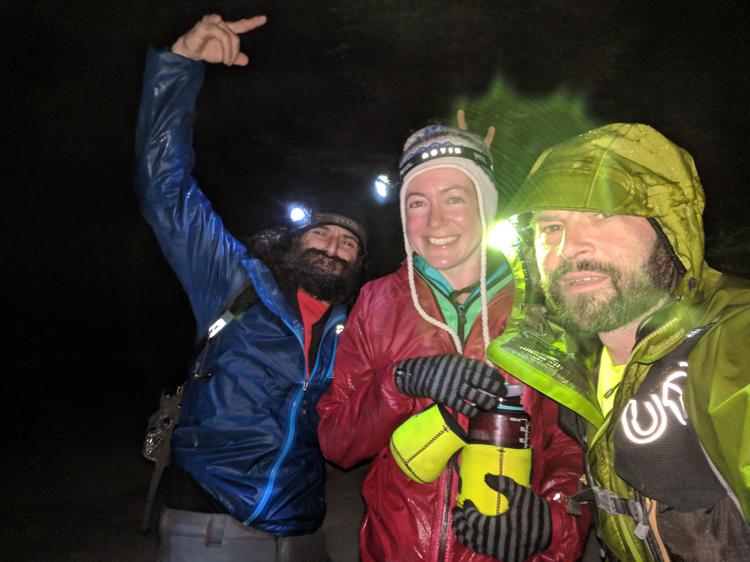 What's an FKT?
There's no prize for attaining a Fastest Known Time. No fortune, and only potentially fleeting fame. Chasing an FKT is not like signing up for a marathon, where everybody starts at the same time and crosses the same finish line. There are no spectators cheering you on.
FKTs are tracked on the Fastest Known Time website (www.fastestknowntime.com). They are generally long-distance hiking or running accomplishments and include routes like the 2,189-mile Appalachian Trail (FKT is 41 days, 7 hours, 39 minutes) and the 2,655-mile Pacific Crest Trail (FKT is 52 days, 8 hours, 25 minutes). Incidentally, the FKT for each of those is held by Belgian ultrarunner Karel Sabbe.
Other FKTs track feats like running loops around lakes, or up-and-back times for tackling single peaks. There are FKT routes posted from across the globe.
FKT seekers post reports to the site and use tracking devices to verify their routes and timing. Lawry, Beaupre, and Soares kept track of their winter record for hiking the state's 4,000-footers through daily logs that included summits reached, miles hiked, elevation gain, hiking time, and driving time.
Their shortest day comprised just under 13 hours of trail time to cover five peaks (mounts Cabot, Hale, Field, Willey and Tom) and 27 miles, plus just over two hours of driving time. Their longest day was a remarkable traverse of the Pemi Loop: nearly 38 trail miles and over 20 hours of hiking, with weather ranging from cold rain to winter sunshine to heavy snow.
"We set out on our biggest hike of the week with low energy, but fully determined to crush it," Lawry wrote in the trip report on the FKT site. "And by 'crush it,' we mean 'complete it without dying.'"
In a conversation with the three hikers last week, two months removed from their epic adventure, Soares credited their success on that day to the many miles and hours they've spent in the mountains and on the trail.
"It was all by experience that we made it across that," he said.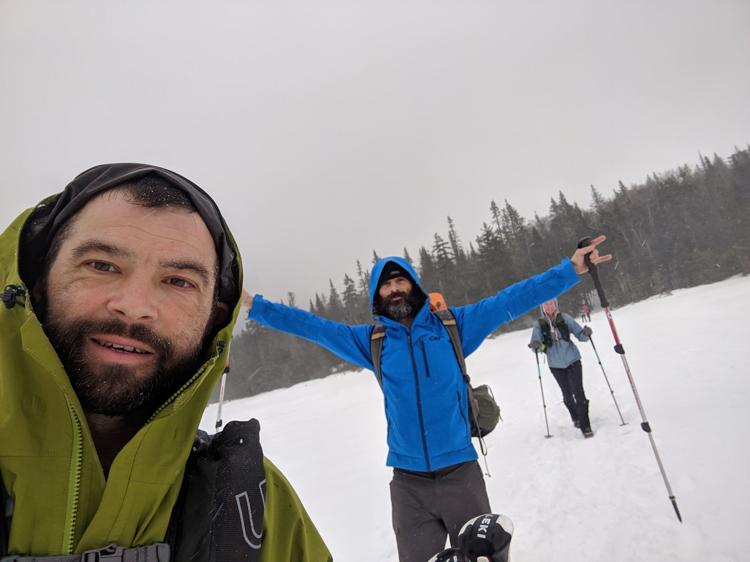 Hiking resumes
Experience is something the trio has in spades. Their hiking resumes are staggering.
While Lawry started hiking only a few years ago, Beaupre and Soares, both 39, have been hiking together for the past eight years. Both started small. Soares, who lives in Fall River, Mass., began by simply walking to waterfalls and gradually increasing the distance and elevation he would hike.
Beaupre, who lives in Sanford, Maine, started hiking after high school.
"I just started with a small little mountain," he said. "I kept repeating the same thing. Eventually I moved up to the 4,000-footers."
From that small start, both men have put in thousands of miles on the trail. As Lawry puts it, "Jason and Andrew are kind of legends in the hiking community."
That's for good reason. Both men have completed the New Hampshire 48, the New England 67 (the 4,000-footers in New Hampshire, plus 14 in Maine and five in Vermont), the Adirondack 46 (highest peaks in New York's Adirondack Mountains), and the Northeast 115 (compilation of the NE67, ADK67, and two more New York mountains). They've also completed a NH48 Grid — hiking each 4,000-footer in every month of the year — and are working on a second grid.
Soares has also through-hiked several long-distance routes: the Appalachian Trail, Vermont's Long Trail, the Pacific Crest Trail, the Cohos Trail, and the Colorado Trail. He's also completed a White Mountains Direttessima, which is a traverse of all 48 4,000-footers by foot – no driving between trailheads. (That's roughly 250 miles and 100,000 feet of elevation gain.)
While Lawry, 35, of Ascutney, Vt., came later to hiking, she has been making quick work of checking off hiking lists. She has completed the NH48, NE67, Northeast 115, ADK46, the New England Hundred Highest (as it sounds, the highest peaks in the region, including several without trails), and is working on her first NH48 grid.
All three have day jobs (although Soares readily admits, "I try to work just enough so that I can go have fun"), which means hiking time is fit into days off. But they've been known to hike through any weather and overnight to get the miles in.
Chasing the Winter 48 FKT
There was plenty of bad weather and hiking in the dark during their FKT adventure. There was plenty of planning, too.
"We decided last summer that we were going to make a go for it this winter, but we didn't know for sure when exactly we would do it," Lawry said. "We planned out a schedule together that we felt would be the most efficient way to hike the 48, minimizing drive time and trail miles as much as possible."
When the weather forecast for the days after Christmas meshed with good trail conditions, the three prepped their packs and hit the trail.
They set out the morning after Christmas, stepping onto the Rocky Branch Trail at 5:48 a.m. That day they covered 31.5 miles and tagged seven summits: Isolation, Wildcat D, Wildcat A, Carter Dome, South Carter, Middle Carter, and Moriah. They were on the trail for nearly 15 hours.
They spent that first night at a friend's house. It would be the only good sleep they got during their adventure. After Day 2's 28.2-mile traverse of the Presidentials, they tried sleeping in Beaupre's truck, which was rocked by wind and peppered with sleet all night.
After five days and 149 trail miles covered in 73 hours of hiking, the group had made it to the top of 31 high mountains. Then came Day 6 and the Pemi Loop, which comprises 12 mountains on the NH48 list: mounts Flume, Liberty, Lincoln, Lafayette, Garfield, Galehead, South and North Twin, Zealand, West Bond, Bond, and Bondcliff. (There are other 4,000-plus-foot mountains in the loop, but because there is less than 200 feet of elevation difference between those peaks and their highest neighboring peak, they don't make the NH48 list.)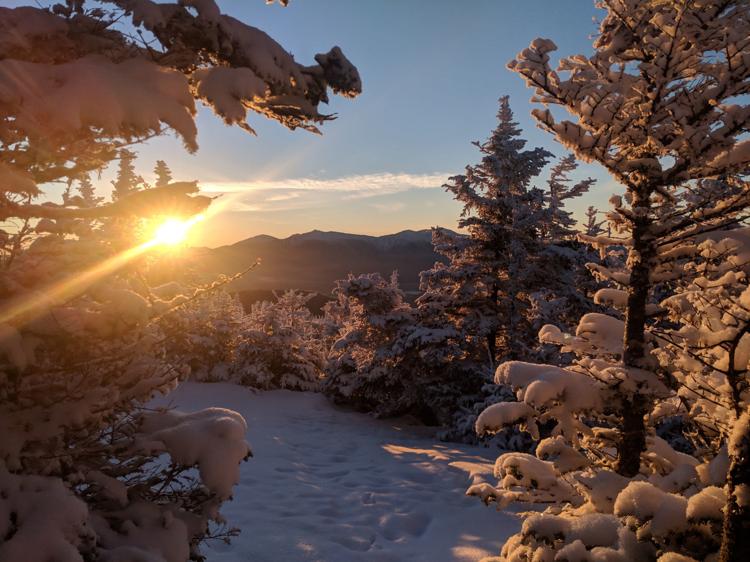 This would prove the most challenging day of the FKT effort.
"We were socked in on the first couple of summits, but by the time we got to Franconia Ridge, we had beautiful blue skies," Lawry noted in the FKT report. "The snowstorm started rolling in late in the day, and we hiked from Guyot through the bonds in the dark in blinding snow. The snow piled up so fast that we had to wear our snowshoes to break trail on the Lincoln Woods Trail on the way out."
Hikers of the 4,000-footers know the long, relatively flat Lincoln Woods Trail to be harsh after a long day of climbing, even in the best conditions. Lawry, Beaupre, and Soares each remember this as the worst part of their trip.
"After having wet feet for so long… our feet felt like the soles were being ripped off with every step," Lawry wrote. "It was the most brutal slog out of Lincoln Woods any of us have ever experienced."
The next day, their last of the trip, there were five peaks to complete, but they were a bit scattered: North and South Kinsman, Cannon, Moosilauke, and Tecumseh. They woke to mixed rain and snow and had to break trail for part of the way on a day that included nearly two hours of drive time, and almost 13 miles on the trail to cover the last 27 miles of hiking.
"Our biggest motivation throughout the whole day was our goal to finish in under seven days," Lawry said.
They managed to do the Winter NH48 in six days, 21 hours, and 4 minutes, beating the standing FKT by 20 hours and 3 minutes.
"We all love challenging ourselves and going after big goals. We love trying to break records or do things that no one has ever done before," Lawry said. "This particular challenge was the hardest thing any of us has ever done, and even we can't believe that we actually did it. It was grueling and agonizing, but it was also just so much fun. I guess that's why we do it – for the very fulfilling sense of accomplishment and the good times we have doing crazy things in the mountains together."
Other hikers may rest on their laurels after such and epic journey. But Lawry, Beaupre, and Soares are each going for a second lap of the Winter NH48 this season, a rare feat, although this time they're not looking to set any FKT records. Lawry and Beaupre expected to complete their final five peaks for round two this weekend. Soares has about a dozen left.
"Since we did one round so quick, we're each trying to do a double," said Soares.