COLEBROOK — Over a career with New Hampshire Fish and Game that spanned three decades, Wayne Saunders has been shot, charged by moose, and participated in hundreds of search-and-rescue missions.
Now in a busy semi-retirement, Saunders is sharing his tales from the woods in what he believes to be the first and only internet podcast in the U.S. by a game warden that also features interviews with game wardens from around the country.
Saunders launched the "Warden's Watch" podcast earlier this year and as of the end of October, he had some 6,000 listeners.
A native of the Lakes Region who now resides in Stark, Saunders is known for surviving the Aug. 19, 1997 shooting rampage of Carl Drega in Colebrook, and more recently, for being the on-air face of Fish and Game, both in newspaper and television interviews, and on the reality TV show "North Woods Law."
During an interview last week at Don Noyes Chevrolet, Saunders said his public persona has evolved thanks to his experience as a Fish and Game conservation officer.
Saunders, who served with the agency from 1995 to 2018, said he found himself increasingly in front of the cameras and microphones, providing the media with information about whatever the incident of the day was.
And then came "North Woods Law," which gave Saunders an even larger audience and ultimately led to the "Warden's Watch" podcast, which airs twice per month for one or more hours.
"I talk about being a game warden," said Saunders, "I talk to game wardens," adding that Col. Kevin Jordan, his former Fish and Game boss, was his first podcast guest.
Saunders said he has learned much, including that acoustically speaking, his wife Lorie's closet is a great place to record the program.
Based on their feedback, listeners, too, have learned a couple things about being a conservation officer in northern New Hampshire, said Saunders, especially about how extensive and intensive Fish and Game searches and rescues can be and how agency officials are frequently faced with making life-and-death decisions.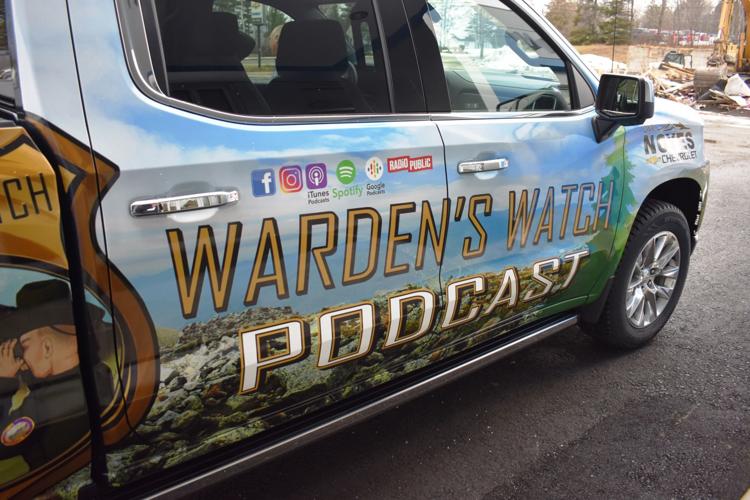 Saunders, who is both a Coos County deputy sheriff and a part-time Fish and Game CO, drives his pickup with the vanity plate "PODCAST" far and wide. The podcast is also touted through logos on the 2020 Silverado 1500 LTZ pickup truck, which Saunders purchased from Noyes.
He recently attended an International Wildlife Crimestoppers conference in Annapolis, Md., where he was a keynote speaker. Saunders is also a former president of the group, which works to stop animal poaching.
Noyes, who has known Saunders for some 20 years and has previously supported Fish and Game's "Operation Game Thief" initiative, said he wants his friend's podcast to be successful. He and his dealership teamed with Saunders, at a cost of some $3,000, to retain Seventh Street Graphics of Berlin to "wrap" Saunders' truck in eye-catching graphics promoting "Warden's Watch."