LANCASTER - Maybe asterisks would help.
Rescue officials think asterisks — or some other indication that not all North Country roads are open to cars in the wintertime — would help keep GPS-dependent drivers out of trouble when summer roads become winter snowmobile trails.
It was bad GPS information that left a Massachusetts family stranded for seven hours Dec. 28 on a snowmobile trail that their car's satellite location system said was a road.
According to Fish and Game Conservation Officer Matthew Holmes, Dattu Prajapati, 45, of Burlington, Mass., his wife and five children had finished skiing at Bretton Woods when he consulted his vehicle's GPS for the best way to return to their hotel in Gorham.
The GPS directed him to proceed onto nearby Base Station Road — which ultimately leads to the Cog Railway — and then to turn from it onto Jefferson Notch Road.
The GPS pointed out, correctly, that Jefferson Notch Road connects the area of Route 302 in the south with Valley Road and Route 2 in the north, which makes it a good shortcut for anyone wishing to travel northeast.
The GPS also was correct in that it considered Jefferson Notch Road to be a road, but it failed to note that when winter rolls in, it becomes a snowmobile-only trail until the trail can no longer be maintained by a groomer.
The road is "open" to permit snowmobiles and groomers to use it, but to keep four-wheel vehicles out, the New Hampshire Department of Transportation posts multiple orange "NO HIGHWAY VEHICLES ALLOWED" signs at both ends.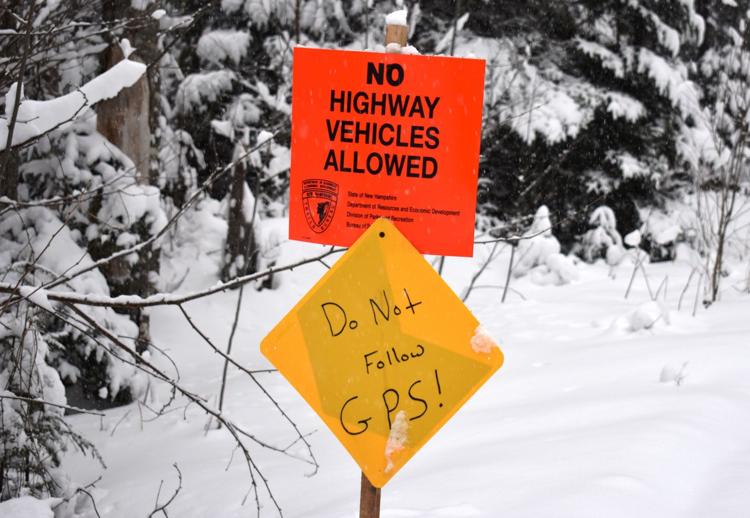 Each year, just before the end of snowmobile season and the start of mud season, the NHDOT closes the gates on either end of Jefferson Notch Road, said Fish and Game Lt. Mark Ober, to prevent what happened to the Prajapatis from happening to someone else, albeit in mud.
A 14-year veteran of Fish and Game's Lancaster office, which he has led since June 2018, Ober said he and his fellow conservation officers respond to about a half-dozen GPS fails each year in the central White Mountains.
The No. 1 problem spot is Jefferson Notch Road, he said, followed by Pinkham B/Dolly Copp Road (which connects routes 2 and 16) and Old Cherry Mountain Road.
Beginning in the late spring, all three roads become through roads for motor vehicles, but once the snow flies, they're for snow machines only, a fact that Ober would like GPS companies to share with customers.
"It's almost always GPS-related," he said, when a car, truck, SUV or minivan tries — and fails — to make it up one of those three seasonal roads, "which has led me to consider contacting the GPS companies" about placing disclaimers in their directions.
(Online, Google Maps indicates both Jefferson Notch and Dolly Copp roads as "closed in winter," but not Old Cherry Mountain Road.)
Having Fish and Game officers respond on snowmobiles to a car or truck stuck on a snowmobile trail is a frustrating, sometimes futile endeavor, said Ober, because a snowmobile doesn't have enough power to pull a vehicle out of a tight spot.
Fish and Game can call for the resources needed to retrieve a vehicle, he said, but otherwise the officer has little to do at the scene.
Ober stressed that Fish and Game will always respond to a call for help if someone's safety is at risk. In the Dec. 28 incident on Jefferson Notch Road, he said, the Prajapatis' vehicle was running low on fuel, the weather was cold and the family had already been stranded for a long time.
While giving Dattu Prajapati the benefit of the doubt about how he wound up on Jefferson Notch Road, Ober said conservation officers nonetheless cited him for operating a conventional vehicle on a snowmobile trail.
GPS misinformation aside, Prajapati missed three "NO HIGHWAY VEHICLES ALLOWED" signs before driving off the road some 2.4 miles in, "which is a long way," said Ober.