Maybe my love of February break is left over from my youth, when a week of snow and skiing — and no school — stretched out before me.
I no longer get a week off from regular responsibilities at the end of this shortest month, but the last days of February remain a sweet spot of winter. The days are getting longer, the snow is superb — we've been getting a daily refresh here in the mountains this week — and there is no shortage of fun and wintry things to do.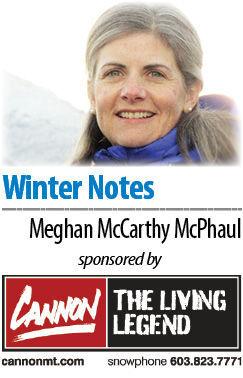 Here's a sampling of some of the fun planned for February vacation weeks.
Skiers and riders who want to go both big AND fast should check out the Abenaki Parks Skier/Boardercross at Attitash this Saturday. Registration opens at 8 a.m., and the competition kicks off at 11.
For the uphill-downhill crowd, Ski the Whites is hosting a Last Skier Standing event at Black Mountain in Jackson Saturday into Sunday. The gist is skiers and splitboarders have an hour to complete each lap and return to the start area. Those who don't make it in that time are eliminated. The race continues until one racer is standing at the start. Two-person teams may join a 24-hour relay. The event starts at 10 a.m. Saturday.
Early risers can catch a first chair and make it to church at Waterville Valley Sunday morning. The Valley Run Quad starts loading at 7:30 a.m. for folks to ski to the Sunny Side Timber Lodge for an 8 o'clock church service.
At Loon on Sunday, freeskiers 14 and under can hop into the Lil Plankers competition in the Little Sister Park. The fun runs from 11 a.m. to 1 p.m.
King Pine has a February vacation calendar chock-full of fun events for all ages. Highlights include a Silly Slalom on Monday the 17th, Belly Bag Races (don a garbage bag and slide down a snowy slope) the 18th and 25th, and a campfire and s'mores the 21st and 28th. King Pine will be open for night skiing 4-9 p.m. nightly from Feb. 14 through Feb. 22, as well as the 25th, 28th and 29th.
Pats Peak extends its popular POP (Pay One Price) offering from Feb. 15 right through the end of the month. The POP fun starts at 3 p.m. each day (except Sunday the 23rd) of February break, with $52 covering lift ticket, rentals, lesson tips and snowtubing. Lifts are open until 9 p.m. or 10 p.m.
Back at Loon, skiers and riders can make after-dark laps in the Little Sister Park and the Burton Progression Park from 6 p.m. to 9 p.m. Feb. 19-21.
On the 22nd, Cannon adds fireworks to its weekly Family Fun Night.
Also that day, Waterville hosts the Changes in Altitude Ski-a-thon to benefit the Waterville Valley Adaptive Sports Program. See how many runs you can fit into five hours — and help a good cause.
The Nansen Ski Club hosts its annual Winter Carnival Feb. 21-23. The fun kicks off Friday with a bonfire and ice skating from 6:30 p.m. to 8:30 p.m. at the Milan ice rink. On Saturday, kids can try ski jumping on small jumps, using either cross-country or alpine skis, at noon. The annual Artsled Rally starts at 1 o'clock on the lower portion of the Big Nansen landing hill. The carnival wraps up Sunday with skiing, sledding and snowshoeing at Milan Hill State Park from 10 a.m. to 1 p.m.