T HE CLOCKS have sprung ahead, there's sun in the forecast, and next week we arrive at the spring equinox. While college basketball fans tend to get caught up in the March Madness of NCAA tournaments this time of year, there's a whole different kind of madness happening at ski areas.
Since the earliest days of schussing in New Hampshire, skiers have grown a bit loopy as the days grow longer and the snow gets softer. From the beginning of skiing time, there have been colorful Easter parades, slopeside shenanigans, and silly contests. Back in the day, most of these were impromptu celebrations of spring.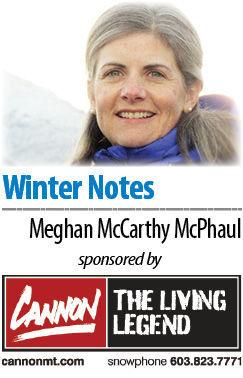 Now, many ski areas plan a full calendar of spring events, filling each weekend with pond skimming contests, fun races, and neon-centric '80s days.
Here's a sampling of upcoming spring festivities so you can plan your own calendar of skiing madness through March and into April.
Splash ponds
Pats Peak kicks off New Hampshire's pond-skimming season Saturday, with prizes for best splash, best skim, and best costume. (www.patspeak.com)
Cranmore's Spring Splash Bash is slated for March 23. Spectators are welcome, of course, and can watch the action slope-side (maybe wear a rain coat to protect from wayward splashes) or from the deck at Zip's Pub. (www.cranmore.com)
If you're making a circuit of splash ponds, hit up the Attitash Splash Pond (www.attitash.com) or Sunapee's Slush Cup (www.mountsunapee.com) March 30. That day also features the Annual Bretton Woods Beach Party, which includes, of course, a Slush Pool. King Pine's Pond Skim is March 31, which is also that area's last day of ski season operations — a good chance to go out with a bang. Or make a big splash. (www.kingpine.com)
'80s Days
Cannon Mountain goes big — big hair, big color, big tricks — March 30 with its always-epic '80s Day & Old School Duel. Keep the one-piece suits and bright headbands handy to keep the neon celebration going at Loon's '80s Day the following weekend, April 6.
Cardboard Box Races
There are plenty of opportunities to up-cycle those cardboard boxes in the garage. In fact, you'll find some version of a cardboard box race each of the next four weekends.
Loon Mountain holds its annual Cardboard Box Derby this Sunday, and the King Pine Cardboard Box Derby is March 24.
Crotched Mountain wraps lots of March Madness into one day, with its March 30 Spring Carnival: Cardboard Box Derby, Slush Cup, barbecue, face painting and more. (www.crotchedmtn.com)
Sunapee's Intergalactic Cardboard Sled Race on April 6 completes the cardboard box circuit for the season.
Miscellaneous madness
They probably won't pull any daffys or backscratchers, but the top mogul skiers in the nation take to the Lower Bobby's Run trail at Waterville Valley this weekend for the U.S. Freestyle Championships.
This is definitely a spectator-friendly event. So, grab a spot on the hill between your own runs to watch these skiers bump it up and throw some sweet tricks. The individual men's and women's events go off Saturday, with the dual events Sunday. Waterville will also host the slalom and giant slalom events of the U.S. Alpine Championships March 23-26. (www.waterville.com)
BodeFest happens at Cannon Mountain Sunday, when kids get a chance to ski with world and Olympic champion (and one-time Cannon Mountain kid) Bode Miller. The day includes a kids' run with Bode, a fun race for all ages, and an afternoon autograph session.
Finally, for a strength workout and plenty of fun, get your team together for Cannon's annual Tug-of-War Competition on April 6.