You've probably seen them around when you're schussing down the trails at your favorite ski area: the Uphillers. While many of us relish the thrill of the descent — and the convenience of reaching mountain tops via chairlift, tramway, or gondola — these folks put their skis on to go UP the hill.
Uphill skiing — also known as alpine touring, or AT — has become increasingly popular in recent years. So popular, in fact, that many ski areas have official uphill policies and routes. Now, Waterville Valley is jumping aboard the uphill ski train with a new Out of Bounds program, launching Jan. 17.
"A lot of people are intrigued by uphill skiing, but don't really know how to get started," said Jen Holloway, a PSIA-certified ski instructor who helped develop and will lead the program. "We wanted to create a program that gave people a safe space to learn about backcountry skiing — and to create a community around backcountry skiing."
Holloway said there are many reasons people opt for uphill skiing. Alpine touring can be a way to continue training through the winter for warmer-weather sports like cycling and running. It can help prepare skiers for trips to bigger mountains out West or abroad. Or it may simply be a different way to enjoy being on skis, either at a resort or as a means to access backcountry lines.
Out of Bounds is a six-week program, and participants may opt for a Friday or Saturday series, both held in the afternoons. Holloway said the series will introduce skiers to various aspects of alpine touring, including equipment options and how to use the backcountry-specific equipment, technique for uphill travel, and safety.
While avalanche training is not part of the program, Holloway plans to share resources for avalanche education and courses with participants who want to pursue backcountry travel in steeper areas that are prone to slides.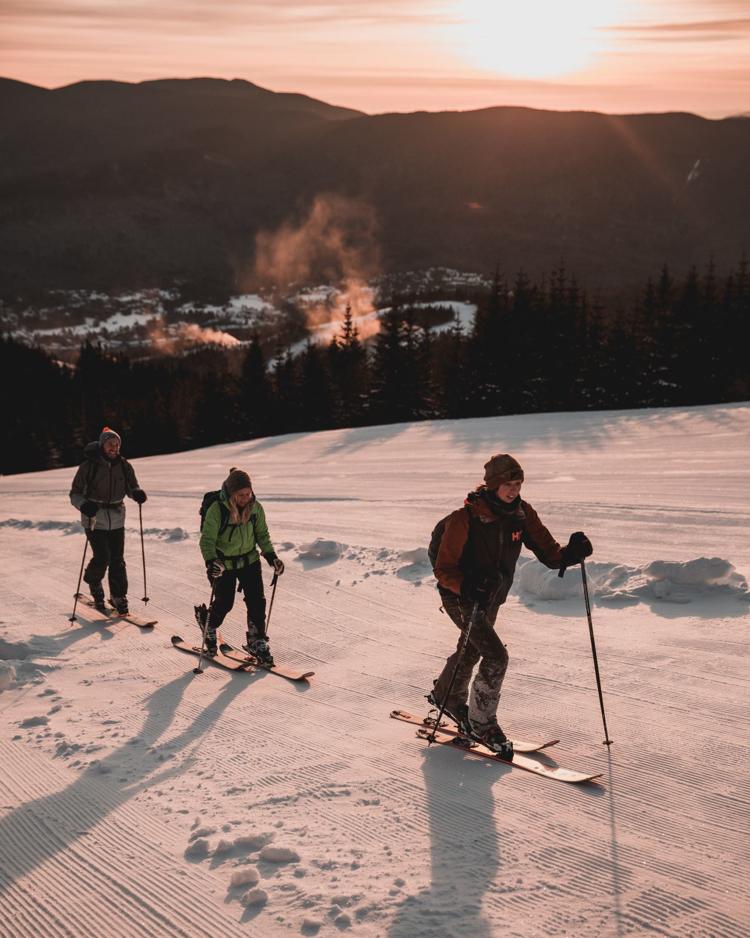 During the Out of Bounds series, skiers will explore trails at the Waterville Valley ski area — which is currently working to implement a formal uphill policy — as well as routes along the nearby former ski area, Snow's Mountain, and within the White Mountain National Forest.
The cost for the six-week program is $199, and drop-in skiers or split-boarders are welcome to join one or more weeks at $49 per session.
Participants will need either AT gear, telemark ski gear, or split-board (uphill-ready snowboard). Village Ski & Sport in Lincoln is offering discounted rentals to Out of Bounds participants. Holloway said she will send a specific gear list, terrain overview, and meeting location to participants ahead of each week's program.
Each session will end with an après-ski gathering, and the series will culminate with a party at the mid-mountain Schwendi Hutte restaurant at Waterville — after participants ski up the mountain to get there, of course.