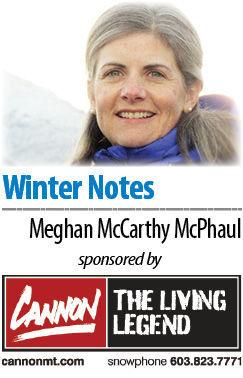 S houlder season — that stretch between true winter and spring's first bloom — can be tough on an outdoor enthusiast.
The skiing is still great — some days. But the ice is iffy, the snow in less-protected areas is dissipating, and the promise of milder weather has us looking toward other, warmer-weather outside adventures.
We can look forward as much as we like, but the landscape hasn't transitioned enough to allow us to pack up the skis and pull out the bikes — unless it's a fat bike. Other good shoulder-season gear: waterproof hiking boots, some binoculars — and, well, the flexibility to roll with this in-between season's indecision, which shows up as everything from snow squalls and chilly to sunshine and 60s.
Here are five things to do during Shoulder Season — depending, of course, on the weather:
Skiing
It's no surprise that I'll lead off with skiing. Even when my own driveway is a bog of mud and there's nary a trace of snow left in the yard, I know the skiing can still be fantastic at the mountain — or the Nordic center.
Alpine areas pile the manmade snow up during the coldest days early in the season to ensure a base that will last into spring. Even after the recent warmup, when the thermometer nearly reached 60 degrees in the mountains and then dropped back to the teens a day later, the grooming crews worked their magic to churn up the hard snow and make it grippy again.
The only thing that beats fast, sweeping turns in soft snow this time of year is a spring powder day. I'll happily take either. And while folks further south may be noticing crocuses poking up through the thawing ground, there is still great coverage at many Nordic areas throughout the state, too.
Ski NH provides conditions, updated daily, for most alpine and nordic areas in the state at www.skinh.com/conditions. You'll also find a calendar of fun ski area events there (or check out last week's Winter Notes).
Maple sugaring
March is Maple Month in New Hampshire, because this is traditionally the time of year when sugar-makers tap maple trees to collect the sap they'll boil down to sweet, delicious maple syrup. Like any crop, this process is weather-dependent; sap flows best when the days are warm and the nighttime temps drop below freezing.
But whatever the weather, maple producers around the state open their sugar houses to the public for programs and syrup tastings throughout the month, and this weekend is New Hampshire's annual Maple Weekend.
The Rocks in Bethlehem, where the New Hampshire Maple Experience tour (Saturdays and Sundays through March, plus April 6) includes a horse-drawn wagon ride through the historic estate, learning to identify different tree species (to pick out the sugar maples), a chance to tap a tree, a visit with the resident sugar-maker in the working sugar house, and of course, a maple syrup tasting. www.therocks.org
Prescott Farm in Laconia hosts an interactive maple sugaring program Saturdays through the month. Participants will learn how to identify sugar maple trees and determine which ones are suitable for tapping, discover the history of sugar making and how it's changed over the years, and watch the process of boiling sap into syrup. www.prescottfarm.org
Bird watching
This time of year, attentive nature-observers may notice more — and different — birds flitting about, as migratory species begin to return and seek out nesting territory. Even the year-round residents change their routine as the days lengthen, as evidenced by the chickadee's switch from its winter call to its cheery springtime song.
"Migration really tends to start ramping up in mid-March, as days finally start warming," said Pamela Hunt, avian conservation biologist for New Hampshire Audubon. "This time of year, we see the arrival of blackbirds, killdeer, woodcock, turkey vultures and a few other raptors, and lots of waterfowl. Things like tree swallows and eastern phoebes aren't far behind."
Various chapters of New Hampshire Audubon have field trips and birding outings planned this month and further into spring. Check the schedule at www.nhaudubon.org/calendar.
Hiking
Hiking is almost always an option in my mind — as long as the trails allow it. If you're hitting the trail during this season of intermittent freezing and thawing, make sure you check trail conditions before heading out. Hiking during shoulder season can be tricky — mud in some places, packed snow and ice in others, and slushy-soft snow on warmer days.
If you're out on a warm day along a trail with deep snow, you'll want snowshoes to help keep you from sinking in. On cold days during the freeze-thaw-freeze season, it's a good idea to pack microspikes for extra traction on firmer trails. If you come to muddy sections of trail, stay in the middle of the path — don't cause trail braiding to avoid getting muddy boots — and try to step along rocks when you can.
"It's so hit or miss," Emily Davenport, an Appalachian Mountain Club guide, said of hiking during shoulder season.
Although winter conditions prevail around Pinkham Notch, where Davenport spends her work days, lower elevations are already seeing mud and thawing. And an early spring day could start off cold, with firmly frozen trails, but turn warmer — and mushier.
Davenport recommends adding trekking poles and gaiters to hiking gear this time of year, along with a couple pairs of extra socks. She said hikers should use extra caution on — or avoid — water crossings, where thawing ice means walking across is not safe and snowmelt causes higher water flows.
No matter what season you hike, it's crucial to always check the weather forecast for the elevation you'll be traveling and the most recent trail conditions to ensure you're prepared. The AMC updates trail conditions daily at www.outdoors.org, and conditions and other information is available at both the Highland Center (603-728-4453) and the Pinkham Notch Visitors' Center (603-466-2721).
Fat biking
Just like with hiking, the fat biking option this time of year depends much on what the weather was like yesterday — and what it will be like today. Riding groomed, snowy trails during warm weather will ruin the fun for everyone, so fat bikers should note trail closures and signs. But if the temps stay chilly, the riding should be great.
Some Nordic ski areas allow fat bikes on their groomed trail systems. Just be sure to stay out of the tracks set for classical cross-country skiing — and check the current trail report before you head out.
Whether you're biking at a ski area or on trails specifically groomed for fat biking, if you're leaving a rut in the snow, that means conditions are too soft. Go earlier in the day when the snow is firmer, or just wait for the temperature to drop again and allow the groomed snow to set up.