HUDSON — Family and friends, fellow service members and state dignitaries on Saturday remembered Air Force Capt. Ryan Phaneuf, 30, who died Jan. 27 in a plane crash in Afghanistan, as a dedicated mentor, music lover and expert pilot.
The Rev. Gary Belliveau of St. Kathryn Parish in Hudson gave the funeral homily to a packed church, which included Phaneuf's wife, Megan, his parents, Donald and Nancy Phaneuf, and sister Christina Larsen, as well as Gov. Chris Sununu, U.S. Reps. Chris Pappas and Ann Kuster, Maj. Gen. David Mikolaites, Bishop Anthony Libasci and state Sen. Sharon Carson.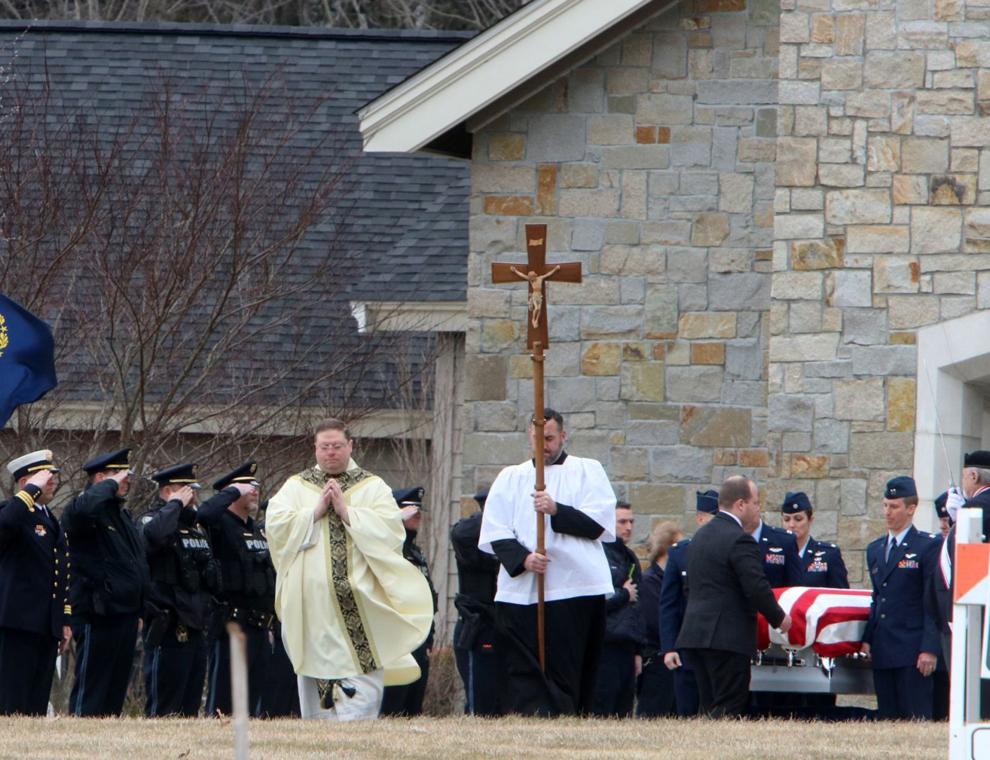 "We all have different images of Ryan in different ways," the Rev. Belliveau said.
He recounted watching Phaneuf grow up while serving as his pastor in Hudson, and how, even as a young boy, he loved to stand on a chair and pull the rope to ring the church bell at the end of Mass.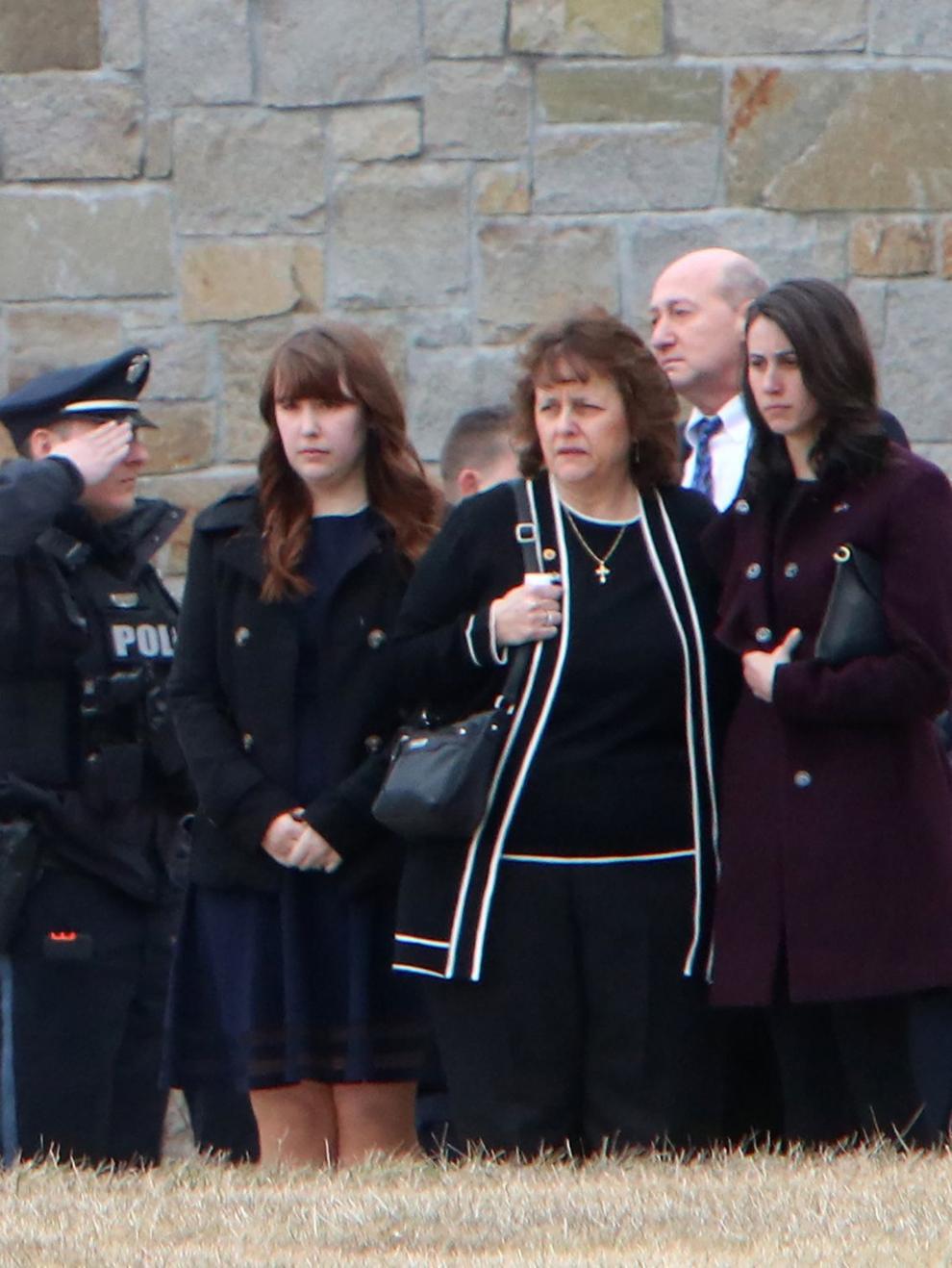 Retired Air Force Col. Kevin Grady recounted how Phaneuf was an inaugural member of the Junior ROTC program the colonel had founded at Alvirne High School. Phaneuf was an active part of every new venture the group undertook, and he would come to the school at 6 a.m. to practice his drills, Grady said.
Grady, and other former ROTC cadets who shared their memories, described Phaneuf as a mentor to many, taking underclassmen under his wing and giving one-on-one attention to fellow students who needed extra help.
Grady said the purpose of the ROTC program was to build character. "I suppose, as I look back, I didn't need any help molding Ryan into a citizen of character. He was already there on the first day," he said.
Maj. Dan Garrison talked about Phaneuf as a friend and fellow Air Force pilot. He said Phaneuf loved to share his passion for music and his wry sense of humor.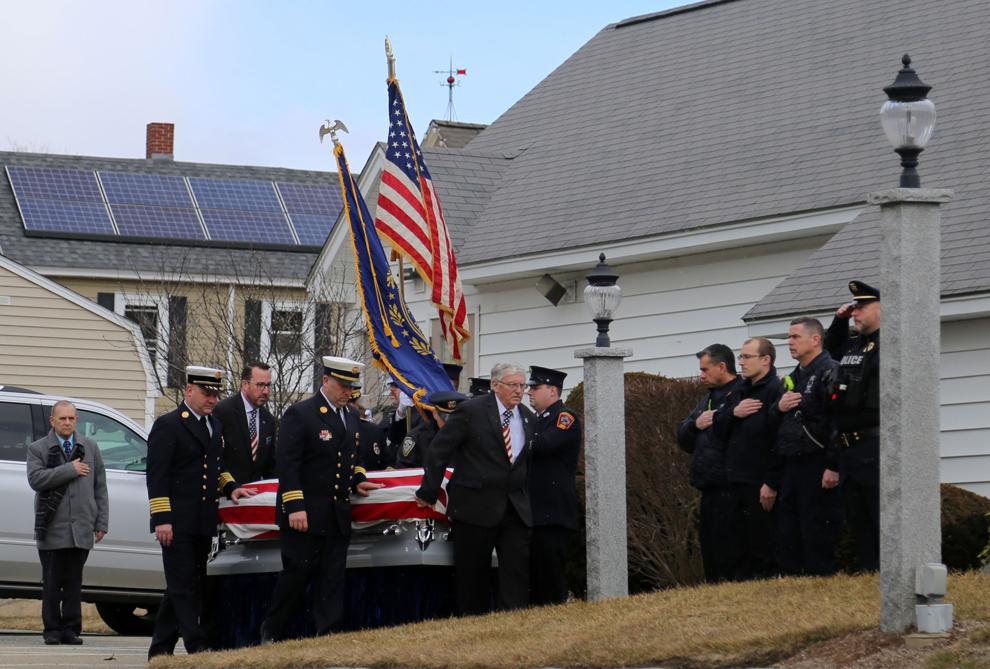 Garrison said the first person he met when arriving at Laughlin Air Force Base in Texas was Phaneuf, who always looked "like he has a secret plan, a half grin of mischief, but the warmest and most sincere 'Hey, so what music do you listen to?' "
He said Phaneuf was an avid video gamer, loved riding motorcycles and riffing on his guitars. But most of all he "loved slipping the surly bonds on whatever pointy-nosed aircraft the Air Force would let him fly."
Throughout his career, Phaneuf flew four different aircraft, accruing more than 1,300 flight hours, according to his obituary.
Garrison recalled that one day when he was flying wingman just 7 feet off Phaneuf's wingtip from Del Rio to College Station in Texas.
What started as a clear day became filled with heavy cloud cover, and Garrison, who was more accustomed to flying helicopters, was struggling to keep up with Phaneuf.
"It was during one of the particularly long turns in the sky when Ryan trimmed off all of his controls in a perfect 30-degree level bank and decided to look back to see how I was doing with a typical Ryan smirk, because he had known that he had done something pretty incredible," Garrison said. "He then proceeded to wave to me then with both hands and then looked like he was reclining back watching a show or a sunset."
Garrison said Phaneuf flew effortlessly with a rare talent and ability that he had never seen before.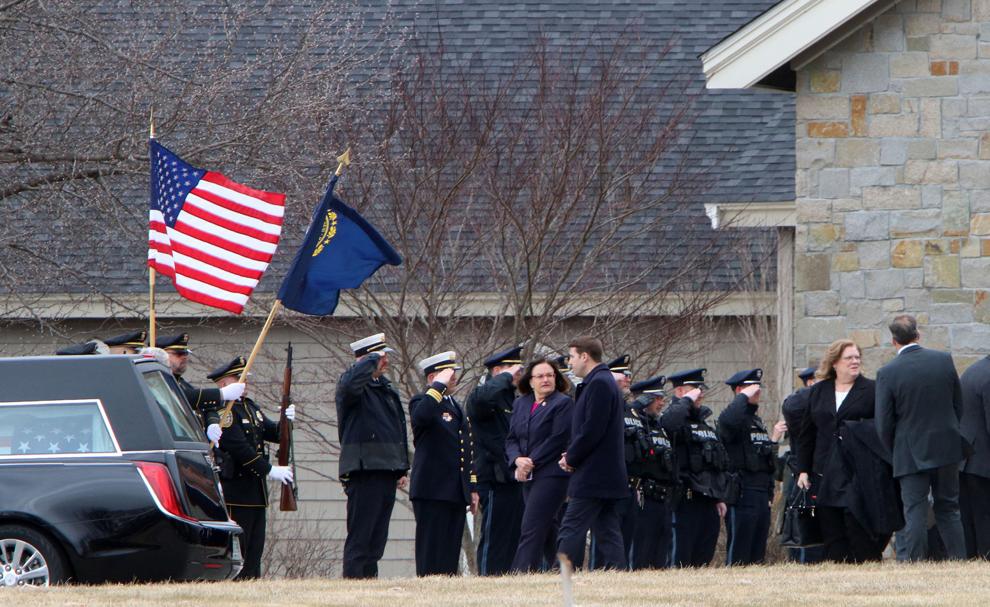 Gov. Sununu reflected on Phaneuf's sacrifice and the legacy he left behind before presenting the New Hampshire Medal of Honor to both Phaneuf's parents and his wife.
After the homily, attendees sang the hymn "On Eagle's Wings."
Dozens of uniformed service members attended and participated in moving the casket and folding the flag that was draped over it. The Knights of Columbus provided an honor guard and several Hudson police officers directed traffic and parking; Hudson Police Chief William Avery and Fire Chief Robert Buxton attended the ceremony.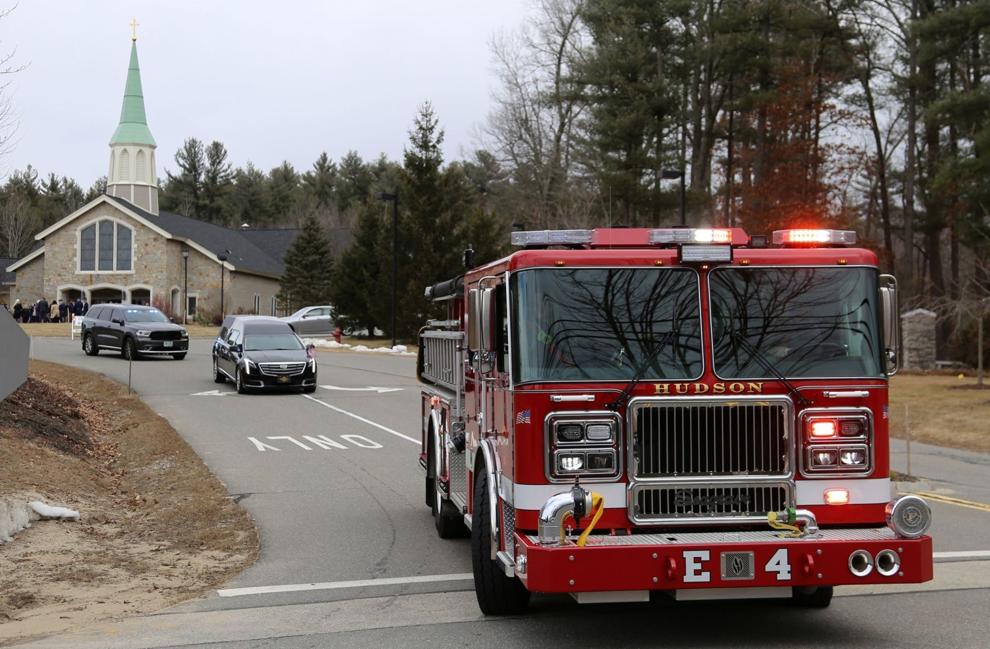 The day prior, hundreds attended visiting hours at the church to pay their respects, and several businesses along Lowell Road wrote messages on their signs that read "Rest in peace Captain Phaneuf," including the Presentation of Mary Academy, where Phaneuf attended elementary and middle school.
Ever the teacher himself, Phaneuf became a flight instructor at Laughlin after graduating from the pilot training program in 2014, and served there until 2017, during which time he earned the call sign "Phantom," according to his obituary.
Phaneuf was later assigned to the 37th Bomb Squadron at Ellsworth Air Force Base in South Dakota, which flies the Rockwell B-1 bomber, where he earned the call sign "FOGG."
After graduating from training to fly the Bombardier E11-A in November 2019, he deployed with the 430th Expeditionary Electronic Combat Squadron in Afghanistan.
Phaneuf was co-piloting an E11-A surveillance aircraft with Lt. Col. Paul Voss on Jan. 27 when their plane crashed in Ghazni Province. The Pentagon says it is still investigating the cause of the crash.
Phaneuf will be buried with full military honors during a private ceremony at Arlington National Cemetery on March 9.