Former Gov. Stephen Merrill — a passionate public servant, devoted husband and father, and good friend to many — has died at 74.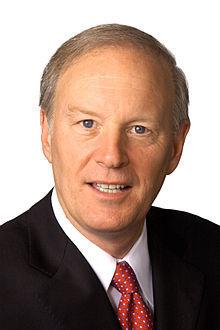 His family said the former governor and state attorney general died at his Manchester home early Saturday morning. His wife Heather and sons Ian and Stephen were at his bedside.
His close friend and former law partner, former Supreme Court Chief Justice John Broderick, said Saturday, "I loved Steve Merrill. There's no other way to say it."
The two men met in 1978 at a Manchester law firm and "really hit it off," Broderick said. Their friendship deepened for decades, despite the fact that Merrill was a staunch Republican and Broderick a devout Democrat.
"He was a really gifted public servant," Broderick said. "He was a talented lawyer, and you couldn't ask for a better friend."
Gov. Chris Sununu on Saturday directed all flags on public buildings and grounds in the state to fly at half-staff, effective immediately, to honor the former governor.
"Governor Steve Merrill was a dear friend who had an incredibly positive impact on the citizens of our state," Sununu said in a statement. "He will be missed by everyone who knew him."
Merrill and Broderick started their own law firm in Manchester in 1989. Merrill was elected governor in 1992 and appointed Broderick to the state Supreme Court three years later. "He changed my professional life," Broderick said. "He was just a great human being, and I will miss him greatly."
Merrill previously served as legal counsel for former Gov. John H. Sununu, who appointed Merrill attorney general.
In a phone interview Saturday, Sununu, father of the current governor, said, "Nancy and I are truly sorry to hear that Gov. Stephen Merrill has passed away."
"Steve loved the state of New Hampshire and served it well, as my legal counsel when I was governor, as attorney general and as governor for two terms," Sununu said. "The state of New Hampshire has lost a great public servant, and Nancy and I have lost a dear, dear friend. We send our love and prayers to Heather and all the Merrill family."
In a statement, U.S. Sen. Jeanne Shaheen, D-N.H., said, "I join all Granite Staters in mourning the loss of Steve Merrill."
"A proud New Hampshire native, Steve faithfully and honorably served New Hampshire families through a life in public service," Shaheen said. "I was fortunate to have the opportunity to work with Steve when I served in the State Senate and he was Governor. When I succeeded him, Steve was a reliable confidant who offered insight and advice — one Governor to another.
"Billy and I offer our sincerest condolences to his family during this difficult time," Shaheen said. "He will be sorely missed."
Secretary of State Bill Gardner said he has fond memories of the years Merrill spent around the State House, first as Sununu's legal counsel, then as attorney general and finally as governor. "It was always fun to be around him," he said. "He could tell a joke or two, and often they were self-deprecating.
"He was a smiling governor, and he got those who were with him to smile," Gardner said.
Former Gov. John Lynch and his wife Susan were among those who called Merrill a friend.
"Susan and I are so sorry to hear about the passing away of Steve Merrill," Lynch, a Democrat, said in an email Saturday. "We have been friends with Steve and the Merrills since both our kids went to pre-K school together over 20 years ago.
"Steve and I were friends both during his tenure as Governor and during my tenure. And our friendship actually grew stronger after I left office. We regularly rang the bells together for the Salvation Army during the Christmas season," Lynch wrote.
Merrill, Lynch said, did a lot for New Hampshire. "And I will miss his smile and gregarious personality. Our thoughts and prayers go out to Heather and the entire Merrill family."
Joseph W. McQuaid, Editor at Large and retired publisher of the New Hampshire Union Leader, said Merrill "was, in many ways, the essence of New Hampshire."
"He knew every inch of it, was proud of it, and was its fierce defender," McQuaid said. "My wife and I were lucky to count him as a friend. We have lost one of New Hampshire's best."
Former Gov. Judd Gregg called Merrill "a good friend."
"He had a tremendous commitment to New Hampshire," Gregg said. "His service as attorney general and as governor was exceptional and made New Hampshire a better place to live, raise a family and work."
Merrill coined the phrase "New Hampshire advantage," Gregg said, "which so succinctly expressed the specialness of our state."
"He will be missed," he said.
U.S. Sen. Maggie Hassan, D-N.H., another former governor, said Merrill served the state and country with distinction. "Steve will be deeply missed, by those under the golden State House dome that he loved and by the people he touched all across New Hampshire," she said.
Hassan recalled the last time she saw Merrill was at an event marking the bicentennial of the State House. "I was grateful for the opportunity to join him and our fellow former governors to share memories and laughs about our time in office," Hassan said. "Most of all, though, we discussed the profound honor that we all shared of getting to serve the people of this remarkable state."
Merrill was raised in Hampton and went to the University of New Hampshire. He earned his law degree from Georgetown University in 1972 and served in the U.S. Air Force as a lawyer from 1972 to 1976. He was legal counsel to the Secretary of the Air Force for two years.
Merrill was New Hampshire's attorney general from 1984 to 1989 and governor for two terms, from 1993 to 1997. During his first term, he signed into law an overhaul of the state's business tax structure in response to the first Supreme Court decision on state support for public schools. It cut some existing taxes and fees while creating a Business Enterprise Tax that for the first time required all firms, large and small, to pay something.
After Merrill left politics, he became president of Bingham Consulting Group.
Broderick said he visited Merrill at his home Thursday, and his friend was in good spirits. He told Merrill to get dressed so they could go to the Back Room and offered, "I'll pay."
"It's about time," Merrill replied.
"He never lost his sense of humor," Broderick said. "That's who he is."
State House Bureau Chief Kevin Landrigan contributed to this report.