WORCESTER, Mass. — What do you say to a mom whose 12-year-old son hanged himself?
What does it take to preserve the dignity of someone retelling horrendous acts they committed while battling opioid addiction?
How do you convey hope while reporting about social workers checking on young children who have experienced extreme trauma?
Those are the kinds of questions New Hampshire Union Leader and Sunday News senior reporter Shawne K. Wickham faced for a year as she reported about mental health and addiction issues for the newspaper's "Beyond the Stigma" series.
On Thursday, the New England Newspaper & Press Association named Wickham the AP Sevellon Brown New England Journalist of the Year at the 2019 New England Newspaper Conference in Worcester, Mass.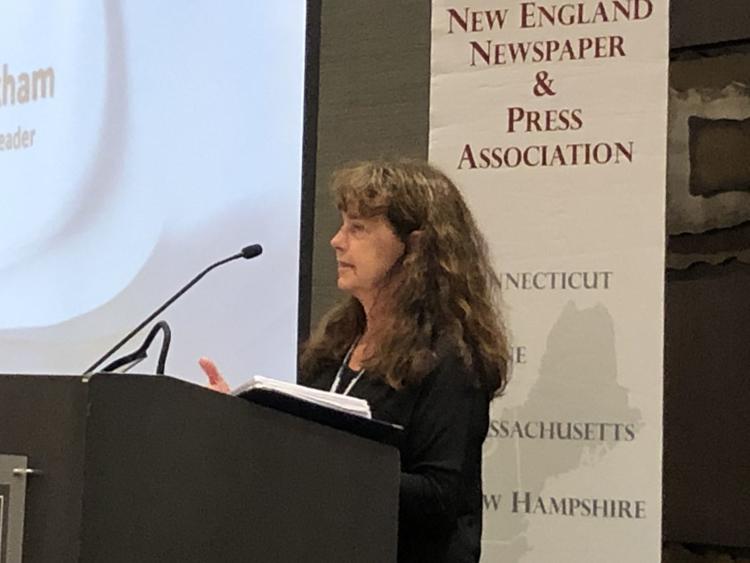 Wickham's entry consisted of five stories selected from the Beyond the Stigma project, which was sponsored by the New Hampshire Solutions Journalism Lab at the Nackey S. Loeb School of Communications.
The project was funded by the New Hampshire Charitable Foundation, Dartmouth-Hitchcock Medical Center, NAMI New Hampshire and private individuals.
"Last year, I had the extraordinary opportunity to undertake a yearlong, grant funded project to look at solutions to New Hampshire's substance use and mental health challenges," Wickham said during her acceptance speech.
"We looked at what was working, programs that were making a difference in the lives of people struggling with these issues."
In May, the New Hampshire Press Association also named Wickham as its Journalist of the Year.