Dave Roberts had surgery on his spine four days before seven motorcyclists were struck and killed in a horrific crash in Randolph earlier this summer.
It was the latest medical procedure for the 53-year-old Lebanon native who has spent 33 years in pain after suffering a traumatic brain injury in an attack while serving in the Marines in the 1980s.
The life-changing injury left scar tissue around his spine and has posed physical challenges, but when Roberts asked doctors what he could do to help him heal, he was told to walk.
On the Saturday after the June 21 motorcycle tragedy, he began walking — not only for himself, but for the victims.
Since he began walking, he has been raising money through people he has met along his walks and others who heard about his mission. Some businesses have also donated to his cause.
"I still can't lift over 20 pounds, but I can walk," he said Tuesday while resting during one of his daily walks.
Roberts has walked 876 miles since the crash and plans to hit the 900-mile mark by the time he arrives at American Legion Post 51 in Epping on Sunday.
That's when the achievement will be celebrated and where he plans to give the money he's raised to the families of the victims during an event from 11 a.m. to 4 p.m. Money is also being given to the three motorcyclists who were injured, but survived. Roberts said he would like to be able to give $1,000 to each of the three survivors and to each of the seven families of those who were killed. Roberts has raised $7,400 so far, but hopes to reach $10,000 before Sunday.
The Epping post, located at 232 Calef Highway (Route 125), was like a second home to Lee resident Albert Mazza Jr., who was one of the motorcyclists killed.
Volodymyr Zhukovskyy is charged with swerving a pickup truck towing a car trailer on Route 302 into the eastbound lane and hitting the motorcyclists. He has been charged with seven counts of negligent homicide.
The riders were Marines and Navy Corpsmen from the Jarheads Motorcycle Club, and their loved ones.
"Being a Marine myself, I saw a bunch of Marines go down. Our first call of duty is to protect our Marines and our families at all costs," Roberts said.
With an American flag sticking out from his backpack, Roberts walks at least 10 miles a day. Some days he logs more than 20.
His walks have taken him to towns and cities all over New Hampshire and Vermont, and they will prepare him for another upcoming surgery.
"The passion just drives me so much to walk. This has just been so moving and I feel so fortunate to be the person out there doing this to try to make a difference," said Roberts, who was born and raised in Lebanon but moved to White River Junction, Vt., a few years ago.
Roberts walked 90 miles from the crash site to Laconia during the "Ride for the Fallen 7" held in July.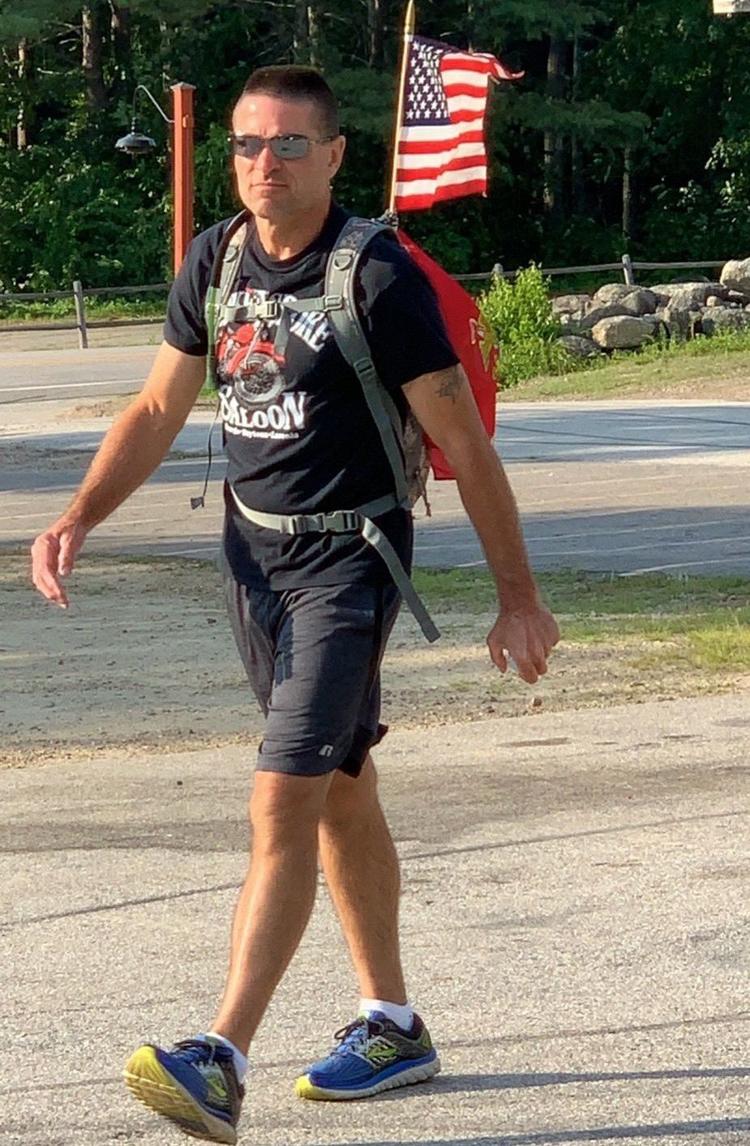 He said the walk is one way for him to remind people about the tragedy, as many have moved on with their lives while those close to the victims continue to grieve.
"I feel kind of blessed in a way that I'm helping keep it alive so people can really understand how tragic this loss was," he said.
Brian Desimone of Derry was one of the organizers of the memorial ride that attracted thousands of motorcyclists. He has also helped organize this Sunday's event, which will include food, music, a 50/50 cash raffle and other raffle prizes.
The event has a $10 cover charge with proceeds benefiting the victims, their families, and a Jarheads memorial being planned.
"My pledge from Day One was to make sure these victims and their families were never forgotten," said Desimone, who also helps run the "Fallen 7" Facebook page.
Desimone, who nearly died in his own motorcycle accident in 2016 that left him with a brain injury, has contacted families of the victims and said most are planning to attend on Sunday.
"I just think what he's doing is fantastic," he said of Roberts.
Anyone who would like to donate to Roberts' walking campaign can send donations to Twin State Detachment MCL ℅ Allen Olmsted, 273 U.S. Route 5 North, Windsor, Vt. 05089.