Washington drank here, and you can, too
EXETER — Beer for History returns to the American Independence Museum from 6 to 8 p.m. today (Thursday)on the Folsom Tavern lawn.
Bringing together the region's craft brewers, Beer for History 2021 events feature local breweries. It kicks off with Pipe Dream Brewing, based in Londonderry.
The museum recently flattened the lawn and created pathways that connect the tavern, where George Washington is said to have once enjoyed a beer, said the site's executive director, Emma Stratton.
Cost is $15 for members and $20 for non-members, while those under 21 get in for $5.
Tickets include beer (for those 21 and older), entertainment and light snacks.
Phil goes 'From Darkness to Hope'
SALEM — New Hampshire Philharmonic Orchestra is celebrating a journey "From Darkness to Hope" with shows at the Seifert Performing Arts Center at Salem High School, 44 Geremonty Drive, at 7:30 p.m. Saturday and 2 p.m. Sunday.
The orchestra last performed in public in February 2020, and this program is a reflection of "all the transformations we've all experienced since our last concert in February 2020," according to an orchestra news release.
There will be contemplative, haunting and ultimately triumphant notes.
It opens with Beethoven's bold full-orchestra "Coriolan Overture," which was inspired by Heinrich von Collin's play "Coriolan," itself based on one of Shakespeare's less frequently performed tragedies, "Coriolanus."
Next is Samuel Barber's "Adagio for Strings," which has been featured in scenes of grief and mourning in movie and television shows.
The final leg of the trip is Tchaikovsky's 5th Symphony, which moves from melancholy to inspiration and victory.
Tickets need to be purchased in advance. Cost to each show is $30, or $25 for seniors, $8 for students, and $5 for children in kindergarten through the 12th grade.
Sunday afternoon's performance also will be available at nhphil.org. Cost is $15.
Let's talk history in the cemetery
HOPKINTON — Hopkinton Historical Society presents its eighth Cemetery Walk at the Clement Hill Cemetery on Saturday and Sunday at 1 p.m.
Visitors will hear from 27 of Hopkinton's former residents, portrayed by local actors in period costumes.
They will tell stories of how the community changed from farms to summer camps to summer residences, of soldiers from every war from the American Revolution to the Civil War, and of thieves and murderers.
"The event is not scary; instead, it is a glimpse of Hopkinton's rich heritage through the lives of its citizens," the historical society said in a news release.
The all-local cast is directed by Beth Spaulding, with research and writing of the script done by Lynn Clark and Beth Spaulding.
The cemetery is on Clement Hill Road between Sandy Beach Campground and Bass Lane. Bring a folding chair and wear comfortable shoes. The event will be held rain or shine.
Artisans and crafters show off in Milford
MILFORD — The Great New England Fall Craft and Artisan Show runs from 10 a.m. to 4 p.m. Saturday, Oct. 23, and 10 a.m. to 3 p.m. Sunday, Oct. 24, at the Hampshire Dome, 34 Emerson Road.
More than 125 vendors from throughout New England will be on site. That includes artists, crafters and specialty food purveyors.
There also will be food trucks, a cafe and live music.
Admission is $5 for both days, or free to ages 14 and younger.
Nashua celebrates Artweek Oct. 16-24
NASHUA — City Arts Nashua kicks off ArtWeek Nashua 2021 on Saturday with some colorful in-person events, and then segues into a host of virtual programming through Oct. 24.
Well-known muralist Eric Escobar will be creating a piece at 30 Temple St., starting at 10 a.m. Saturday.
Visitors also can take self-guided tour of the Nashua International Sculpture Symposium. Maps are available at the Picker Artist Studios, 3 Pine St.
In addition, artwork also will be on display in the windows of some downtown locations, where QR codes will let people learn more about the artists. Locations include: Bar Harbor Bank, 188 Main St., with work by Janice Donnelly, Madeleine LaRose, Nona Angelini, Carol Lake and Joseph Bryant; DesignWares, 206 Main St., with work by Brenda McDougald; and work by City Charter School for the Arts students at the Nashua Area Chamber of Commerce, 60 Main St., Suite 200.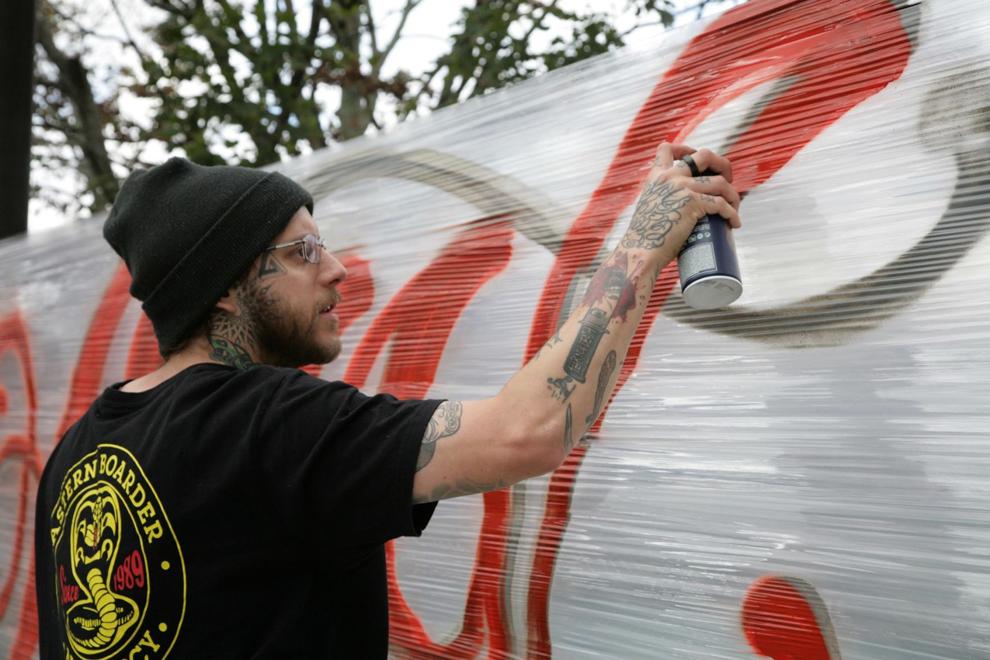 Meanwhile, scores of photographers, musicians, theatrical performers, painters and collage artists are participating in this year's virtual programming, from splatter-painter from Douglas Huntley to the father-daughter blue-brass band Bitter Pill.
ArtWalk programs will be televised on Access Nashua Community Television's channel 96, streaming on accessnashua.org and cityartsnashua.org and shared on City Arts Nashua's social media sites — Facebook, Instagram and YouTube.
KidsWeek also is back, and programming includes a scavenger hunt and arts activities.
Look also for concurrent events planned through Great American Downtown from 11 a.m. to 5 p.m. Saturday. The Oktoberfest-inspired celebration will feature food trucks, games and music in Renaissance Park.
In addition, Rotary Club of Nashua West will host its annual Duck Derby race at 11 a.m. in Nashua River, as well as art classes, exhibits and demonstrations on Main Street.
Rick Wakeman is 'even grumpier'
DERRY — Rick Wakeman opens his Even Grumpier Old Rock Star Tour at the Tupelo Music Hall, 10 A St., at 8 p.m. today.
The keyboard wizard, broadcaster and song and film-score writer made a name with progressive-rock epics — and was named by Queen Elizabeth II as a Commander of the Order of the British Empire for his storied career.
At Tupelo, he'll perform solo works and tunes from his stint in Rock & Roll Hall of Fame band Yes through session work on recordings by David Bowie, Elton John, Lou Reed and Al Stewart. He'll also share stories on his life and the people he's met along the way.
'Spamalot' at Majestic Academy
Derry — Majestic Academy of Dramatic Arts looks on the bright side of life with "Spamalot: School Edition," a take on Monty Python's movie classic "Spamalot."
"Spamalot" is a gleefully irreverent retelling of the legend of King Arthur and his Knights of the Round Table. The book and lyrics were written by Monty Python's Eric Idle, with music by John Du Prez.
Show times are 7 p.m. Friday and Saturday and 2 p.m. Sunday at the Derry Opera House, 29 West Broadway.
Tickets are $18 for adults, $15 for seniors age 65 and above, and $12 for youth 17 and under.
It's an entertaining sideshow of a gala
Harrisville — The comic sideshow known as Doctor Finnegan's Circus will give audiences its theatrical take on Sword Swallowing, the Bed of Nails and the Human Blockhead at Monadnock Music's fundraising gala from 6 to 8:30 p.m. Wednesday, Oct. 20, at Aldworth Manor.
There also will be appetizers, a champagne toast and musical interludes as well as a silent auction of spa packages, art and weekend getaways.
Tickets to the outdoor event are $125 for general admission or $85 for members. Info: monadnockmusic.org.
Do the Time Warp again in Intervale
Intervale — "The Rocky Horror Picture Show," the 1975 campy, cult classic that inspired countless fans to bring props to movie theaters and join in on the outrageous dialogue over the years, is taking a stand at the Theatre in the Wood on Saturday.
Doors open at 7:30 p.m. Saturdays, Oct. 16, 23, and 30 and Friday, Oct. 28. Show time is 8 p.m.
Prop bags are available for purchase. Patrons must be 16 or older to attend; those 16 and 17 must be accompanied by an adult.
Tickets are $15 for general seating and $20 for premium seating.
Dance under the stars in Lebanon
Lebanon — DJ Sean and the Livemixking will be beaming a "silent disco" to dancers in Colburn Park.
Patrons dance to music broadcast to wireless headphones, keeping the party going while keeping down the volume. It's a surreal sight to behold.