SALEM — The Fun Squad at Canobie Lake Park was renamed the "Social Distance Squad" this year, and they had plenty of disinfectant to share with patrons who showed up on opening day Thursday morning.
Visitors lined up outside with pre-purchased tickets, reservations and face masks. Then they fielded five health questions and had their foreheads scanned with infrared thermometers.
"This is not what a typical July day would look like," Canobie Brand Manager Chris Nicoli said.
Canobie opened about a month after the state issued its guidelines for amusement parks to safely open at 25% capacity.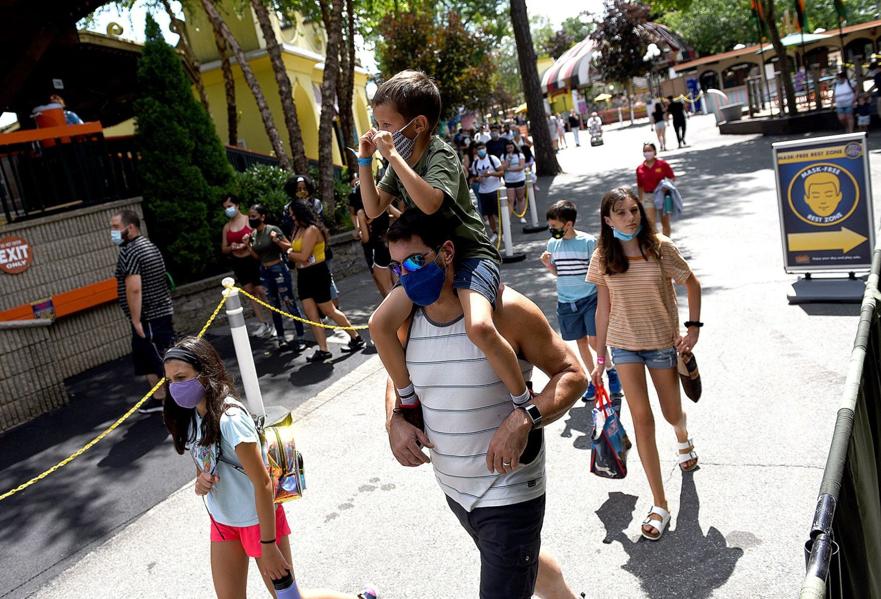 Opening safely comes with constant reminders. Through a loudspeaker, a voice repeated recorded messages: "Be sure to keep a 6-foot distance," and "A face covering must be worn by every person over the age of 3."
Nicoli said the park found ways to make safety reminders fun and quirky. The Fun Squad typically roams the park doing tricks or engaging children with Hula-Hoops and limbo sticks. This year, as the Social Distance Squad, the comical troupe of four enforcers is equipped with a clown car, a booming sound system, bright uniforms and large canisters and backpack sprayers of disinfectant.
They keep it lighthearted, but Nicoli said reminders can be more pointed if necessary. If an employee sees a guest with a mask pulled under their chin they ask them to pull it up over their nose, and if people start to congregate in one spot, workers will intervene to spread them out, he said.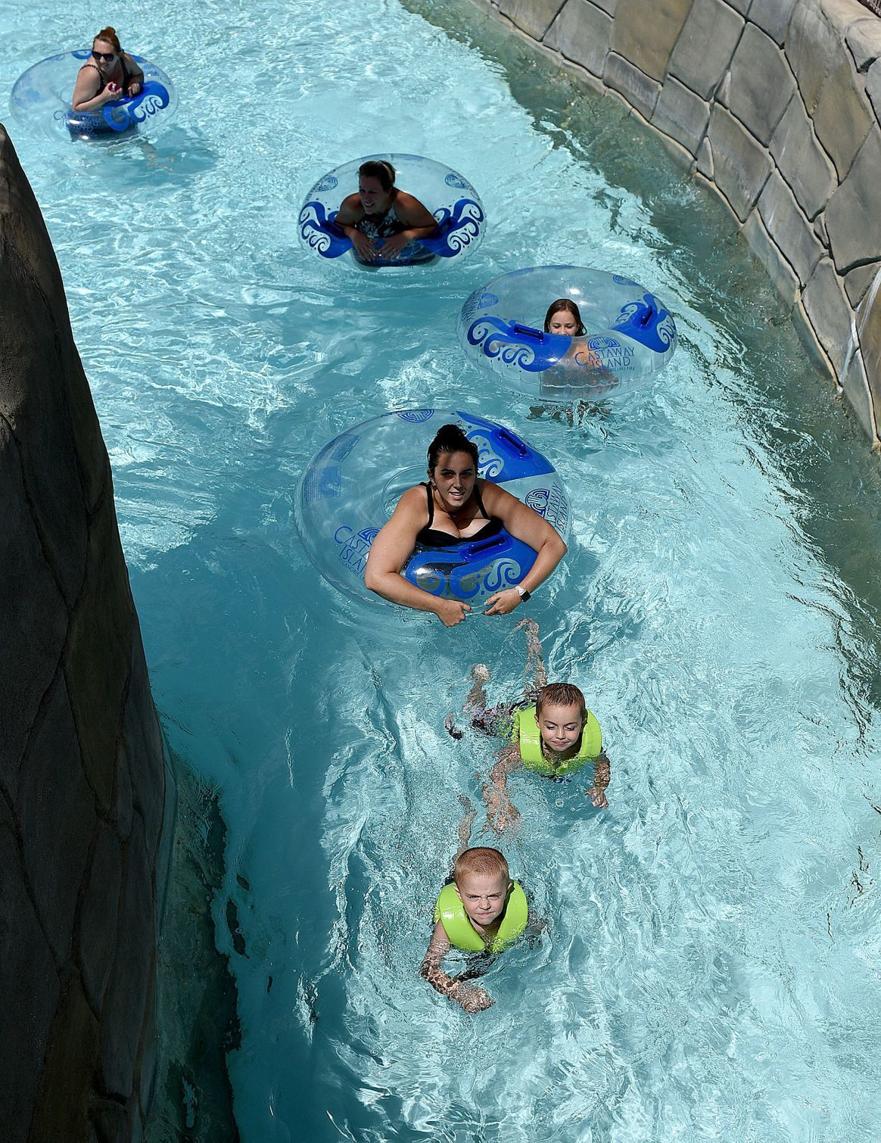 About 75% of the 65-acre park's roughly 100 attractions, including 50 rides, were operating. Some attractions are being overhauled. Park crews didn't have time in the spring to complete the projects because of the pandemic. Nicoli said Canobie hopes all the rides will be open before the season ends.
Paul Bruch of Phoenix brought his kids to the park while visiting with family in the area.
"We've been talking about it all year. A little bummed that some of the rides are closed," Bruch said.
He said he had been promising his youngest son, who is 4, that he'd be able to ride the Wave Blaster if he eats all his broccoli at dinnertime. Sadly, the Wave Blaster was not in operation Thursday.
Katie Crepeau of Lewiston, Maine, came to the park with a couple of her friends. Her first stop was the line for the Yankee Cannonball, the wooden roller coaster that has been at the park since 1936 — 34 years after Canobie Lake Park first opened.
"I haven't been here since I was a kid," Crepeau said. "We just wanted to do something fun and it was opening day."
Kimberly Gish of Allenstown didn't have daycare for her kids Thursday so she took the day off and brought her two boys, ages 3 and 4, to play in the water park.
"They're loving it," Gish said.
She normally comes to Canobie every year, but coming on opening day was just a coincidence, she said.
Gish said she recently recovered from COVID-19. While she said the park is taking some good precautions, she said not every visitor was keeping their distance in the line outside, and she questioned why masks aren't required in the water park section.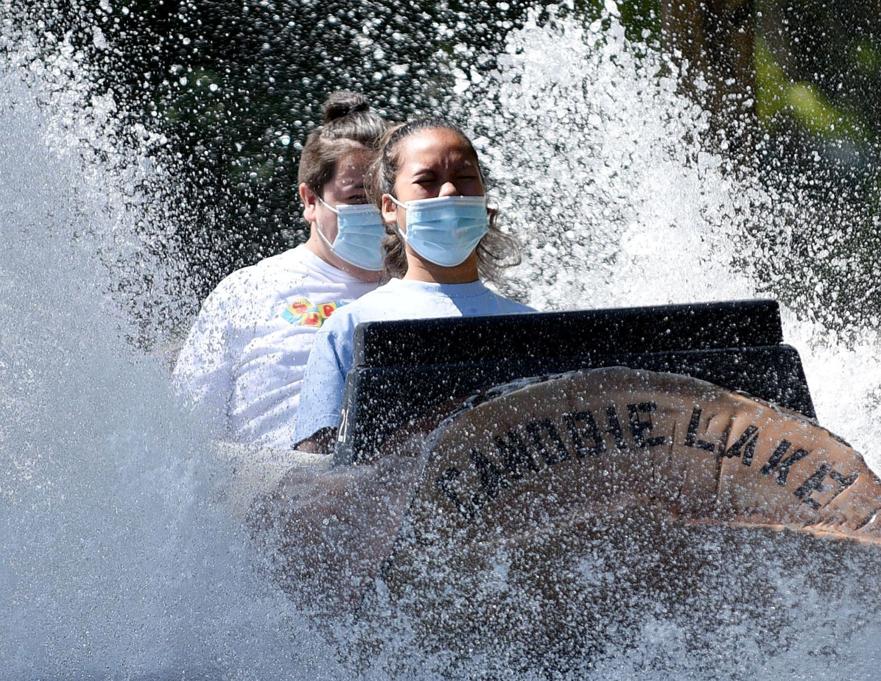 Nicoli said the cost of preparations to make the park safe and follow state guidelines was "astronomical." He estimated the cost to buy and install signs and plexiglass barriers, adjusting dozens of procedures and providing additional staff training via Zoom meetings has added up to tens of thousands of dollars.
"This is absolutely not the year that we're going to be making money," Nicoli said. "Some people will choose not to come this year, and that's OK. … 2021, that's your year."
Throughout the course of its season, the park employs about 2,000 workers, Nicoli said. So far, they've hired about 650, and he expects it will cap off at about 1,000.
As people start coming, Nicoli said, park officials expect word of mouth to bring more visitors.
"I think what it takes is people need to come out and try it," Nicoli said.
The park website will have up-to-date info on attraction availability. Nicoli said the reservation dates for August will be posted at the end of this week.