Disney's highly anticipated Star Wars: Galaxy's Edge, a 14-acre expansion at both Disney World in Florida and Disneyland in California, will debut earlier than expected.
The opening dates — May 31 for Disneyland and Aug. 29 for Disney World — were unveiled Thursday during Walt Disney Co.'s annual shareholders meeting.
Until then, the company's only reference to timing was summer for Anaheim and fall for Orlando. Bob Iger, Disney's CEO, told shareholders the opening dates are "earlier than planned."
Disney fans will have to wait a bit longer, however, to experience the entirety of Galaxy's Edge, which will include two new signature rides. The ride known as Millennium Falcon: Smugglers Run will be ready on each park's opening day, but Star Wars: Rise of the Resistance will open later this year, Disney said.
What you'll experience
When you enter the land of Star Wars: Galaxy's Edge, you'll be faced with a choice.
Walk around a bend — and under an archway crafted to look centuries old — to discover the starship the Millennium Falcon, nestled comfortably under hand-sculpted mountains designed to evoke the petrified forests of New Mexico.
Or wander into a marketplace, one inspired by Moroccan and Turkish bazaars. Intergalactic creatures are said to live in the ramshackle, factorylike apartments above the shops, presented as stalls, creating a cacophony of life and noise.
Consider this the "Star Wars" equivalent of Main Street, U.S.A. Instead of quaint stores, there are catlike creatures in cages and toys that feel patched together from found parts.
If you bypass the town, you'll enter a forest where the Resistance, the "good guys" in the "Star Wars" universe, have set up a camp, hiding ships among shrubbery and building a base inside alien ruins — a twisting cave where digital schematics clash with remnants of a long-lost civilization.
But you might not make it that far if you accept a mission. A smuggler needs some info — and you, if you have a smartphone, have the scanner to get it. Disney's theme park interpretation of "Star Wars" puts an emphasis on personal decision-making, active participation and gamelike scenarios.
You fly the Millennium Falcon. You choose to help the Resistance. You opt to align with the evil First Order. You get thrown in a detention room of an imposing Star Destroyer.
Star Wars: Galaxy's Edge is designed as a place to engage, recognizing our culture's shift to experience-based entertainment and the generational shift in today's guests — and certainly those of tomorrow — increasingly weaned on games.
If you want to bring home a droid, you build it in a cavernous warehouse with tool-shed-like fixtures. Guests, for instance, will fish for robot bits from an assembly line. Want a lightsaber? Hunt down a not-so-secret shop where you and just 13 others will learn how to construct and use one under the guidance of a Jedi Knight sympathizer.
And if you want to join the fight, you can do that too by using your phone to hack data ports. Then try to stay one step ahead of other guests in a constant tug-of-war for control of the fictional town of Black Spire Outpost.
If the land meets the ambitions of the Walt Disney Imagineers who designed it, Star Wars: Galaxy's Edge may be the boldest statement yet that play has become the defining narrative of our generation.
Visitors to Disney's theme parks, says Scott Trowbridge, the Imagineering executive who has overseen the development of Galaxy's Edge, are "interested in becoming more of a participant and less of a spectator, and playing more of an active role in the experiences they have."
This represents a shift for a modern Disney park, using the land not just as a home for shows and rides, but as a locale for deep, interactive exploration. For guests who seek it, there is essentially a persistent, living game baked into the land.
For Imagineering, it represents the culmination of about a decade of smaller, stealthier play tests throughout the Disney parks, perhaps most notably in Anaheim with the short-lived, live-action role-playing game that was 2014's "Legends of Frontierland."
"In the beginning it was a little experimental. People are used to coming to a Disney theme park to be entertained. So how are they are going to feel about this shift in their role? We were blown away," says Asa Kalama, who has overseen the interactive experiences of Galaxy's Edge and was instrumental in the development of the gamelike flight simulator ride Millennium Falcon: Smuggler's Run.
"This is a thing we all grow up doing, playing in our backyard with a cardboard box and imagining that it's a spaceship," he said. "As we get older, we tend to think we no longer have that capability, but it's in there."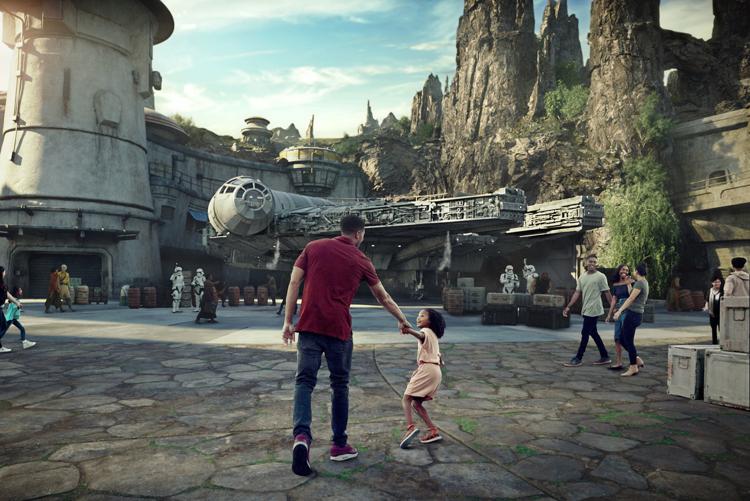 Down to the details
During a media tour of Galaxy's Edge two weeks ago at Disneyland, crews still had some concrete to lay and at least one of the petrified-looking spires was in need of some final carving.
What's present, however, is the detail. Look down, and you see a bevy of droid tracks in the stone, with some of the impressions coming directly from rubbings of the original creations built for 1977's "Star Wars: Episode IV — A New Hope." The many domed buildings, some constructed as if they're extensions of the land's towering fossils, are dotted with Neanderthal-like carvings while tattered textiles stretch across many of the concourses.
Expect to see a fair amount of animatronics. In an antiques store — with early art showing a cluttered, pawn-shop-like place full of Galaxy's Edge-exclusive collectibles — the owner, the hammerheaded Dok-Ondar, a lizardlike creature , grunts, growls or bows at guests depending on the respect they show his business.
In a break from most other Disney lands, the staff will be in full character. Ask them, for instance, how their day was, what they think of the First Order or if they believe in the Resistance, and those working in Galaxy's Edge are expected to have answers and back stories.
"We're training our cast member trainers right now," said Margaret Kerrison, a story editor with Imagineering. "We give them a setup of the story of the land, but we're encouraging them to create their own identities and personas."
Well, within reason, of course.
While Kerrison says "we want to empower them to be able to play like never before," she's quick to add that "a lot of them are 'Star Wars' fans, and they are so incredibly excited that they're making up things where we're like, 'Wait, wait, wait. Hold on! You can't be Han's second cousin.' We do have to set guard rails and perimeters for what that can be, but this is the most we've been asking of our cast members."
That sort of theater will help imbue the land with a sense of history, and with different cast members offering rumors and gossip, turn it into a puzzle. Kerrison likens it to childhood playsets sprung to life. "Your action figures are now actually responding and interacting with you," she says.
But play brings with it a set of challenges.
The land, for instance, will sell full Jedi-like robes and heavily detailed First Order costumes, but Disney is still in the process of clarifying whether such outfits could be worn in Galaxy's Edge and change the way the cast interacts with customers.
Trowbridge acknowledges the park will need to walk a careful balance.
"When we're all playing a video game or something, we may make very extreme choices," he says. "We're playing with different versions of ourselves. Some people want to do that when they come to the parks, too. It's amazing how many people want to play as a Dark Side character. It's great to exercise that side of our personality. But not everybody wants to do that when you're with your family or with grandma."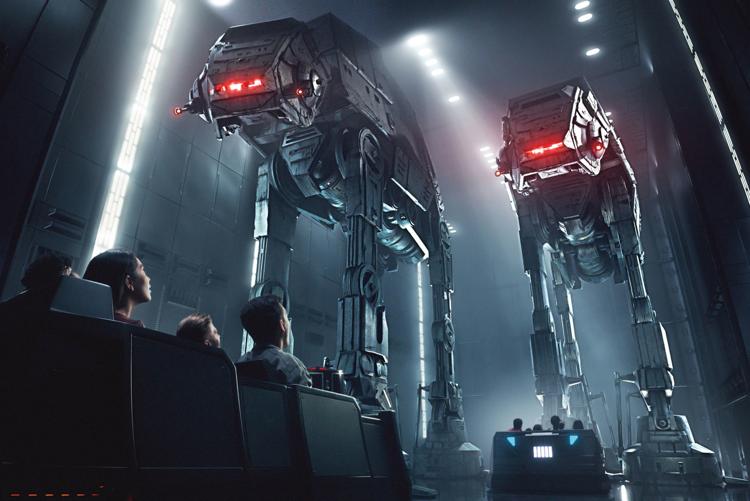 Centerpiece attractions
When it comes to participation and gamelike activities, the land's two centerpiece attractions — Millennium Falcon: Smuggler's Run and Star Wars: Rise of the Resistance — will be opportunities for those who wish to inhabit a role.
While past attractions have taken cues from video games, rides such as Toy Story Midway Mania! do so in a relatively personal manner, inviting guests to point essentially a toy gun and zap at digital creations. Smuggler's Run goes one step further, putting six guests in the flight cabin of the Falcon, each inhabiting a different role — pilot, gunners and engineers.
The attraction, home to a lifelike pre-show animatronic of the smuggler Honda Ohnaka, will be an Instagrammer's paradise. The Falcon's lounge — where one will find the famed holographic game table — is faithfully re-created, complete with metal floorboards that clank and echo as if they're hiding something beneath them.
Monitors here look a bit pre-1980, tapping into the vintage look of the original "Star Wars," and these quarters are where guests will be allowed to roam free for photo ops before they board, walking through a runway ramp that's pumping cold air to re-create the sensation of a spaceport.
Once seated, it's time to game — or fly. Ohnaka has given users a transport mission, and though there's no fail point, Imagineers promise that how well guests fare on the quest will affect their reputation throughout the land (it's assumed this will be handled via the Disney app, but no details were provided). No Disney attraction will feel as much like a video game, but with levers to pull, buttons to push and weapons to fire, the ride emphasizes tactile touch as much as screens.
Those not wedded to their phones will still encounter a sense of play.
The build-your-own lightsaber experience, for instance, which Beatty says will last about 20 minutes or so and include plenty of special effects, is part of Imagineering's goal to turn shopping into an attraction.
"We've tried recently to blur the lines more and more between what we consider an attraction or merchandise experience," Beatty said. "I think that's an exciting thing you're starting to see within Disney parks. It promotes play."
Ultimately, that's what connects Galaxy's Edge to Disney's original mission.