JACKSON — A dog giving itself a bath was among the winning entries at the 20th annual New Hampshire Sanctioned & Jackson Invitational Snow Sculpting Competition at Black Mountain Resort.
The competition drew 14 teams from throughout the Northeast who had two days to transform an 8-foot high, 4-foot round mound of snow into a work of art.
Team Chapin, comprised of Paul and Samantha Chapin of Windham, Maine, won the Invitational portion of the competition for their "Snow Tubbing" sculpture, which featured a dog in a tub of soapy bubbles.
Team Hall and Fraise won the NH Sanctioned event for a musically-inspired sculpture, while Team Shafner and Mallette of Massachusetts won the People's Choice award for its whale-of-a-tale masterpiece.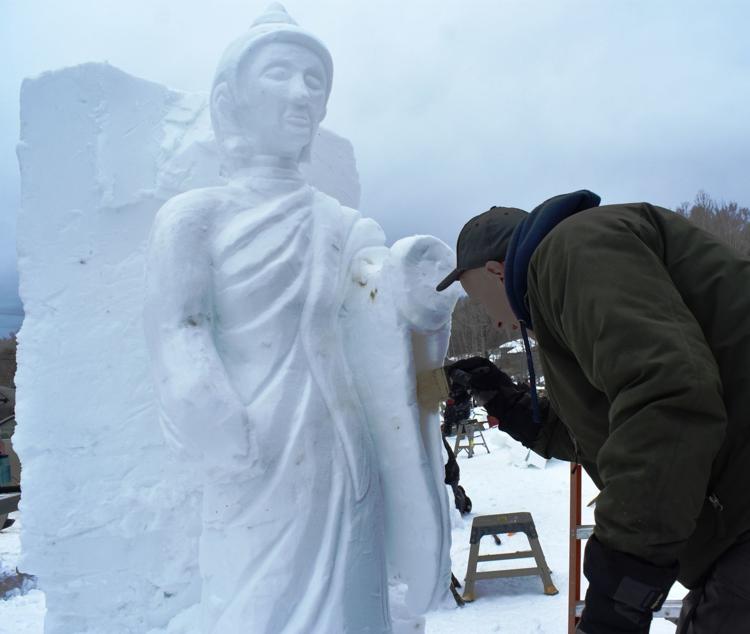 Kathleen Driscoll, executive director of the Jackson Area Chamber of Commerce, said the snow sculpture contest is the chamber's second most popular annual event, behind only the Return of the Pumpkin People, in which participants use pumpkins as the artistic medium.
"This is the most amazing group of people I've ever met in my life," Driscoll said of the 14 teams that competed. "They're so talented and humble."
In 2017, the Chapins won the People's Choice award for "Doggone Cozy," which featured a dog curled up in front of a large fireplace.
Paul Chapin said competing in Jackson "is like coming home and seeing your family. It's awesome."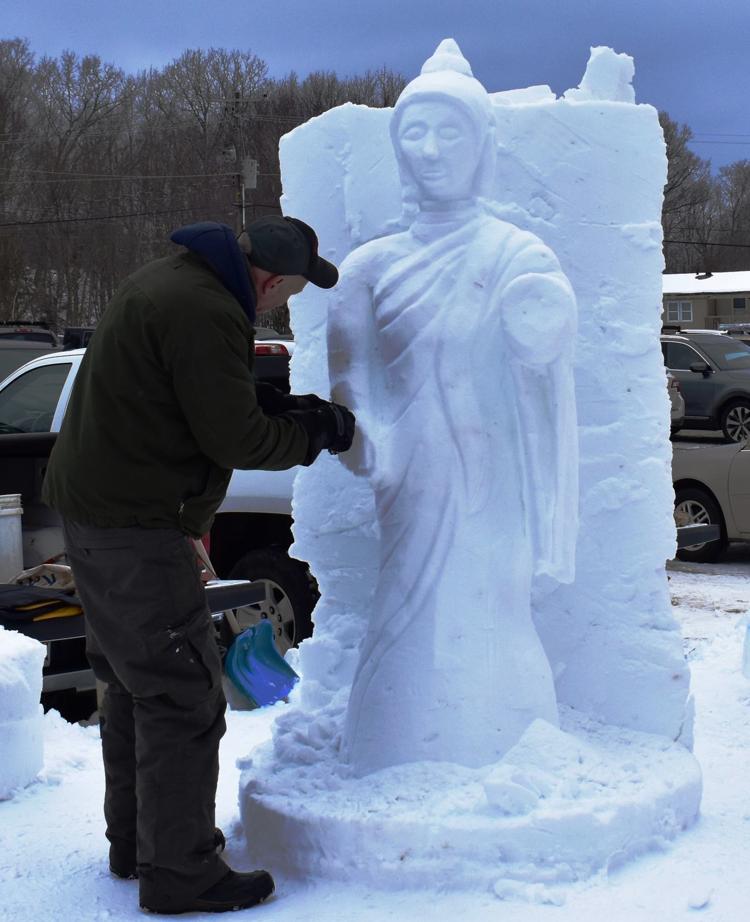 Wade Parsons, a retired electrical worker from Wakefield, Mass., agreed, saying the event is all about the camaraderie.
Parsons raised some eyebrows three years ago when he sculpted a diorama with President Donald J. Trump as its focal point. The diorama included a bust of the president, a right hand giving a thumbs up, and a wall on which "USA" was written. His entry did not win.
A multiple People's Choice winner, Parsons returned this year with a less-controversial creation: a walking Buddha. Alas, that sculpture also didn't win, though it garnered a lot of attention.
"The snow is awesome and easy to carve," said Parsons, who added that his inspiration came from his sister and assistant carver, Gail Johnson, who had recently traveled to Myanmar.
"She said they (walking Buddhas) are everywhere," he said, "and that I should do one."