GREEN'S GRANT — Thirty-two years after being hired to do a job that he believed he was unqualified for, Howard "Howie" Wemyss will step down on May 16 as the general manager of the Mt. Washington Auto Road, the oldest manmade attraction in America and among the most popular in New Hampshire.
Wemyss, 69, who is also GM of the Great Glen Trails Outdoor Center, will be succeeded by Tobey Reichert, who is a descendant of Elihu Libby, who in 1900 or so, purchased the land across from the Auto Road, and six years later bought the Auto Road itself.
Opened in 1861 as the Mt. Washington Carriage Road, the privately owned 7.6-mile-long road brings visitors — whether in their own vehicles or as passengers in an Auto Road van — to the summit of Mount Washington, which at 6,288 feet is the tallest peak in the Northeast.
Born in Cambridge, Mass., and raised in Maine, Wemyss, who is Scottish ended up in the Mount Washington Valley because he didn't want to move from Maine back to the Bay State with his parents, the late George and Edith Wemyss.
After graduating from Biddeford High School in 1968, Wemyss enrolled at Colorado State University, but didn't earn a degree and instead was drafted into the U.S. Army, eventually serving two years in Germany with the tank corps.
Because his commanding colonel knew he was from New England and assumed that he could safely get him around in the snow, Wemyss was tasked to drive a Jeep, not a tank.
Toward the end of his time in Germany, Wemyss also worked as a member of the ski patrol at the Garmisch ski area, and when he was discharged from the Army in January 1971, he settled in North Conway. He eschewed the chance to live with his parents in Massachusetts and took a ski-patrol job at Wildcat Mountain in the winter while doing landscaping in the summers and falls.
One year, friends from Wildcat told him about opportunities at the nearby Auto Road, and Wemyss soon after started driving passengers on guided tours. As a driver, he familiarized himself with the history of both the Auto Road and Mount Washington, and in short order, "fell in love" with that history and being able to relate it to visitors.
"I was hooked," he said during a March 2 interview at the Auto Road Base Lodge, adding that he started collecting memorabilia and quickly realized that the foremost collection of what he was hunting was owned by Doug Philbrook, who had been the Auto Road's general manager since 1964.
Upon his retirement, Philbrook telephoned him, Wemyss recalled.
Wemyss thought Philbrook wanted him to come back as a van driver, but Philbrook wanted him to run the Auto Road outright.
Over the course of two interviews and despite Wemyss protesting that he didn't have a college degree, Philbrook prevailed, telling Wemyss that "You don't have to have a business degree; you have common sense."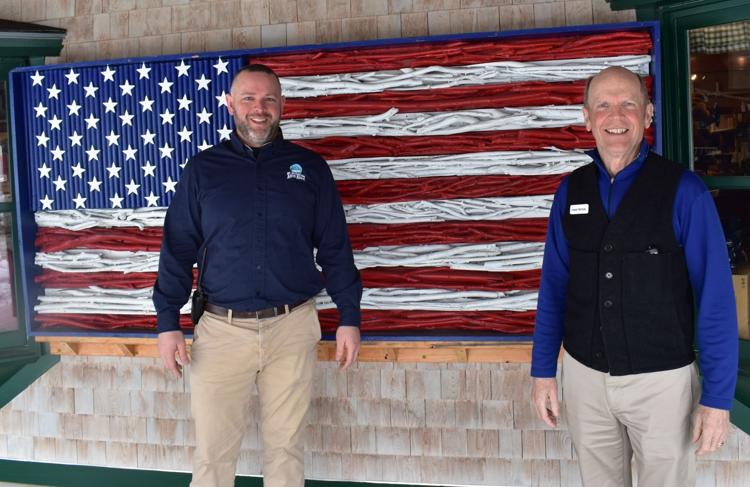 When he took over as general manager, the Auto Road was a lot different than it is today, said Wemyss, operating seasonally from May through October and with only one outside event, what is now the Northeast Delta Dental Mount Washington Road Race.
But the number of events continued to grow and in the mid-1990s, the four families that own the Auto Road and its 1,100 acres on both sides of Route 16 conducted a public master-planning process that considered a wide range of development options.
Among the options, said Wemyss, were a campground, an alpine ski area, a golf course, a hotel, single-family housing and an airport.
"You name it, it was put on the table and discussed," said Wemyss, before the Auto Road owners decided that "they wanted to do what was right for the history and the future" of the Auto Road, which was to build a new Glen House Hotel and to promote non-motorized activities, which led to the opening of the Great Glen Trails Outdoor Center.
The Glen House was set to launch in 2007 but when Auto Road officials approached the business's bank in 2008 for financing, the bank, said Wemyss, asked "are you out of your minds?" and pointed to the then-ongoing Great Recession.
A decade later, however, the time was right for the 68-room hotel and it opened in September 2018, across Route 16 and just north of the Base Lodge.
The hotel incorporates "cutting-edge sustainability," said Wemyss, and is a testament to the Auto Road owners' good judgment in that regard and also to their commitment of being good stewards of their property, and of looking to a long-term return on their investment.
Wemyss is proud of the many "firsts" that occurred at the Auto Road in his time there, including the installation of one of the first electric-vehicle charging stations in New Hampshire and the re-introduction in 2011 of the Mt. Washington Hillclimb on a regular basis.
Also known as the "Climb to the Clouds," the race was first run in 1904, according to the Auto Road, but only sporadically through 1961. It returned annually between 1990 and 2001, when it took a sabbatical for a decade. Now on a triennial cycle, the 2020 race will be held July 12-20.
Cognizant that the summit of Mount Washington is a congested place, with the Auto Road and the Mount Washington Cog Railway carrying visitors there, as well as hikers coming up on their own, the Auto Road "is building," said Wemyss, "without bringing more people to the top of the mountain."
In recent years, the valley has hosted gatherings of the Ferrari, Lamborghini, Porsche, Corvette and Mini Cooper car clubs, he said, as well as other events, including several well-known fundraisers.A resident of Randolph, Wemyss said he and his wife, Sue, will continue to live there because they love hiking and skiing in the area. Albeit in a diminished capacity, Wemyss will continue working on some projects for the Auto Road, but he declined to elaborate on them.
As to challenges facing Reichert, Wemyss said congestion at the top of Mount Washington will continue to be an issue, although it's one that the State of New Hampshire, which owns Mount Washington State Park, must address with all parties.
"I'll miss the day-to-day excitement" of working on the Auto Road, Wemyss said, "because you never know what's coming at you next."
Reichert shares that outlook.
A native of Gorham, where he lives with his wife Danielle and their son Camden, Reichert, 42, is a certified police officer who works with three law-enforcement agencies in the North Country. His father, James, was a longtime member of the Auto Road's road crew.
"Growing up, I've always wanted to be more involved in the family business," Reichert said. But, he said, he didn't know where to enter. Reichert — following a conversation some four years ago with Wemyss and Sam Appleton, the president of the Auto Road — learned that he'd be coming in at the top, but only after Wemyss retired.
In the meantime, Reichert was assigned to the road crew, which he concluded was "a good way to learn the company from the ground up."
Combining that experience with what he learned in law enforcement, in particular "how to deal with people in different situations," will help him greatly as general manager of the Auto Road, he said.
Asked about his priorities, Reichert replied that "honestly, my goal is to maintain (the Auto Road) at the level we're at," adding he and the other owners are "very pleased" with where Wemyss has it already.