FRANCONIA — Franconia Notch State Park is so popular that people are being turned away daily from both the Flume Gorge and Echo Lake Beach — to their considerable displeasure.
"With increasing frequency, those without reservations and those who did not plan well have been rude and or unruly as the summer has gone on," said John DeVivo, general manager of the park and Cannon Mountain for 13 years.
Because of COVID-19 safety measures, both the Flume and Echo Lake now require reservations, DeVivo said. A lot of people don't know about the restrictions or other changes, like the new hiker-overflow parking location at the Aerial Tram.
No park employees have been threatened, he said, but the tension is there.
"We just keep on smiling. We've been very polite but very blunt, and we advocate that people pull out their phone and check the internet" before pulling out of their driveway to come to Franconia Notch.
DeVivo is encouraging visitors, especially hikers, to "plan ahead and roll in early."
DeVivo said park employees are positioned at parking lots within Franconia Notch, which has many hiking trails both to the west on Cannon Mountain and to the east on Franconia Ridge. Employees try to steer hikers to park at the overflow lot at the Tram, but not everyone complies, DeVivo said.
The parking lots fill up quickly, and hikers have been parking their vehicles illegally on the highway, he said. As people walk up the highway or cross it to get to the trails, they risk getting run over, which DeVivo said keeps him up at night.
DeVivo said he and other park employees have wondered at many hikers' lack of information and preparation.
"Some people are asking us where the White Mountains are, where Franconia and where 'the Ridge is,'" he said, "and our first sentence is 'You're already here.'"
"We've had folks rolling in at 3 or 4 p.m." still intent on a multi-hour hike, wearing "the wrong footwear" and bringing just "a Snickers bar" to sustain them, DeVivo said.
Not only are those hikers not prepared for the quickly changing weather conditions in Franconia Notch, they're also not prepared for "any glitch in their plan," DeVivo said.
Another major change is the elimination of the hiker shuttle to lots at Franconia Notch State Park as well as the main and overflow lots at Cannon. Begun in 2019, the pilot program was seen as a way to eliminate illegal parking in the highway.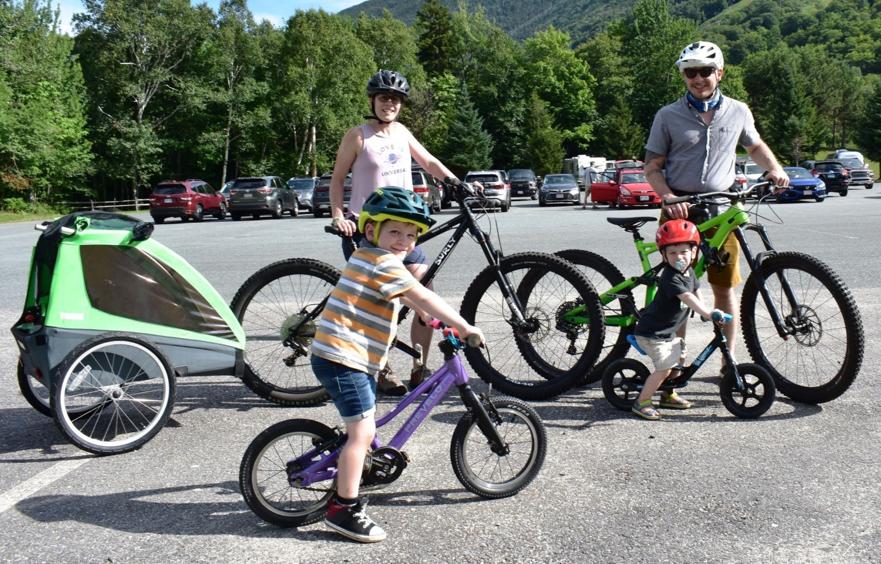 While the changes can be challenging — hikers who park at Cannon now have a longer walk before getting to trails at and below the Tram — they have upsides, too, DeVivo said. He noted the Tram lot is open because the Tram is not running.
Danielle Allee of Windham was in Franconia Notch State Park on Tuesday with her husband, Ezra, and sons Duncan, 2, and Lincoln, 4, to do some bike riding.
She said her family recently stayed at the Lafayette Place Campground in the park when it was at 50% capacity because of COVID-19 restrictions.
Ezra Allee said his family is following all the safety recommendations and he and his wife check out their destinations online before heading out.
"We're comfortable with that," he said.
DiVivo said when the park is full, employees are providing visitors with maps that show nearby trails and attractions outside Franconia Notch.
He recommended the website alltrails.com for an in-depth listing of hiking trails in and around the area.