The runway at Portsmouth International Airport at Pease (PSM) is the launching point for commercial airlines shuttling Granite State families south as they look to temporarily trade the frigid New Hampshire temperatures for some warm Florida sunshine.
This same runway also serves as the launching point for the Air Force's next-generation refueling aircraft, the KC-46 Pegasus as part of the New Hampshire Air National Guard (NHANG) 157th Refueling Wing.
PSM's diverse aircraft mix is typical of joint-use airport facilities where commercial, cargo and corporate jet operations share the same pavement with military aircraft.
Over the past 20 years, the scheduled pavement maintenance has not been enough to offset the constant wear and tear from that diverse aircraft fleet, from an 1,100-pound Piper J3 Cub to a 550,000-pound Russian Antonov AN-22. The runway needed reconstruction to ensure continued safe operations for all.
Hoyle, Tanner was entrusted with providing the economic alternatives analysis, engineering design, environmental permitting, and the construction administration services required to reconstruct the over 2-mile-long runway pavement.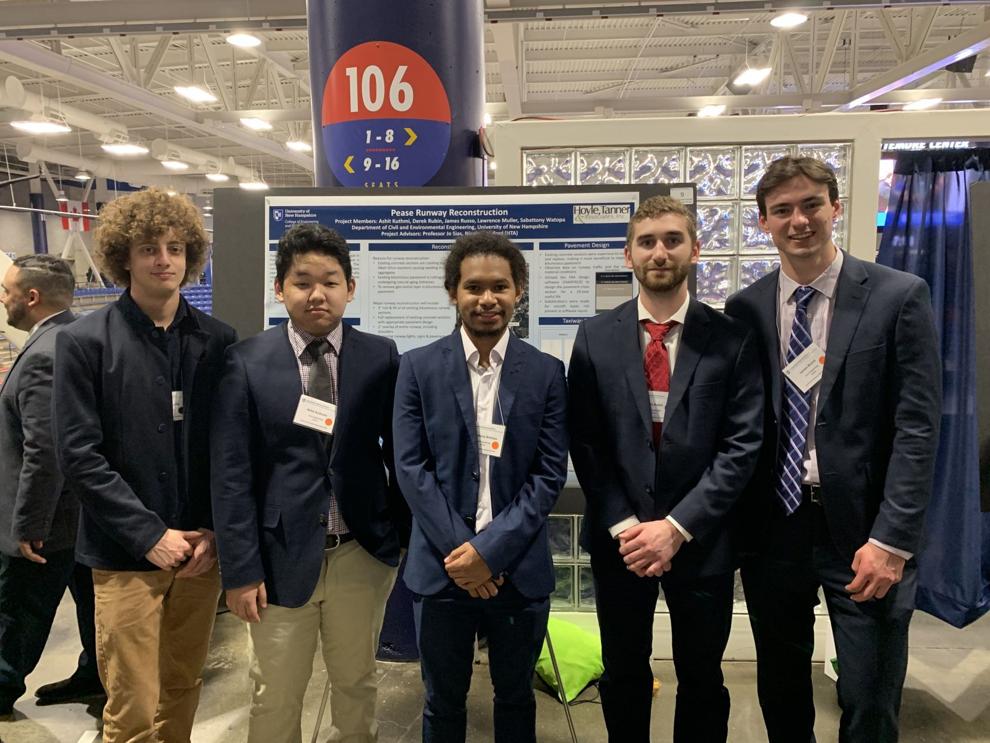 Addressing FAA's and NHANG's distinct design criteria added a layer of complexity not usually found in other runway reconstruction projects. During the planning process, Hoyle, Tanner prepared an economic funding analysis that was instrumental in successfully tracking and quantifying nearly 400 distinct project elements associated with four separate funding agencies: Pease Development Authority (PDA), New Hampshire Department of Transportation (NHDOT), FAA, and NHANG.
As part of the design process, Hoyle, Tanner developed an innovative construction phasing approach allowing the contractor to lay down 104,500 tons of bituminous pavement while also minimizing the runway closure time. This aggressive paving schedule was made possible in part by establishing a temporary, portable asphalt paving plant located on the airport, allowing for quick delivery of high-quality asphalt. The design team also worked diligently with FAA and NHANG to incorporate the first FAA-funded LED High-Intensity Runway Edge Light system in New England. This lighting system reduces the airport's electricity load and provides operating cost savings.
This project's location and scale presented an ideal opportunity for our design team to share their enthusiasm for engineering with five seniors participating in the University of New Hampshire senior capstone program. The students were provided with the project objective, base files, and FAA design criteria; under our engineers' guidance, they participated in the design process.
The students were introduced to airport design that is not traditionally integrated into the engineering curriculum, including learning how to use FAA pavement design software. A site visit and review of this 2-mile-long runway also provided the UNH students with an appreciation for the magnitude of pavement reconstruction being undertaken.
Creating a collaborative design environment was a key factor in this project's success. Working closely with the Pease Development Authority and our teaming partners, Hoyle, Tanner completed the runway reconstruction 30 days ahead of schedule and $2.8 million under budget.
Nicole Crawford, PE, ENV SP, is an airport engineer with Hoyle, Tanner.