FUN FACT: The League of NH Craftsmen's annual fair is the oldest continuously running craft fair in the country. Before the fair was a reality though, a League shop opened in Wolfeboro in 1932. The first Craftsmen's Fair took place one year later, in 1933.
Dixville Notch Music, Arts and Crafts Festival — Colebrook May 25
Spring into Summer this Memorial Day weekend with high-end, custom-made arts and crafts, flavorful foods, majestic scenery, and manicured lawns. Among the arts and crafts you'll find wood carvings, maple products, native flutes, hand-woven baskets, clothing and much more. The festival will feature live musical performances highlighting local female musicians befitting the festival's "Springtime Songbirds" theme for 2019.
2019 Squam Art Fair — Holderness June 8
Enchanting ambiance and a wide selection of arts, crafts, housewares, textiles, and vintage items await you at the Squam Art Fair. There's also an impressive assortment of wools, hand-dyed yarns, knitted goods, hand-carved spoons and linens, pottery, hand-sewn journals, glass and much more for you to explore.
broke, the Affordable Art Fair — Peterborough June 8
broke, the Affordable Art Fair, takes place at the Town Hall and invites everyone to come experience this special fair where "art is for everyone" and all artists must sell their work for $50 or less. The fair will feature more than 50 artists showing and selling handmade quality items like luxurious chocolates, pottery, glassware, photography, paintings, personal care products, wreaths, jewelry and so much more.
Larry Siebert White Mountain Art, Artisan and Music Festival — Jackson June 29-30
The White Mountain Art, Artisan and Music Festival is a two-day celebration of the arts in the Jackson area that was inspired by the White Mountain School of Art and its artists. Come to Jackson Village to see handcrafted arts by more than 40 juried artisans working in sculpture, glass, ceramics, jewelry, fiber arts and more. Look for artist demonstrations, a kids creating tent, woodworking, art classes and more. There will also be live music, fair food and more.
Summer Craft Fair at Gunstock — Gilford - June 30-July 1
More than 75 talented exhibitors are set to showcase their exceptional handcrafted fine jewelry, wildlife photography, soy candles, cedar wood furniture, hand painted feather art and more. And don't miss the alpaca exhibit! Drink in the mountain views and musical entertainment while indulging in homemade fudge and other delicious food and refreshments.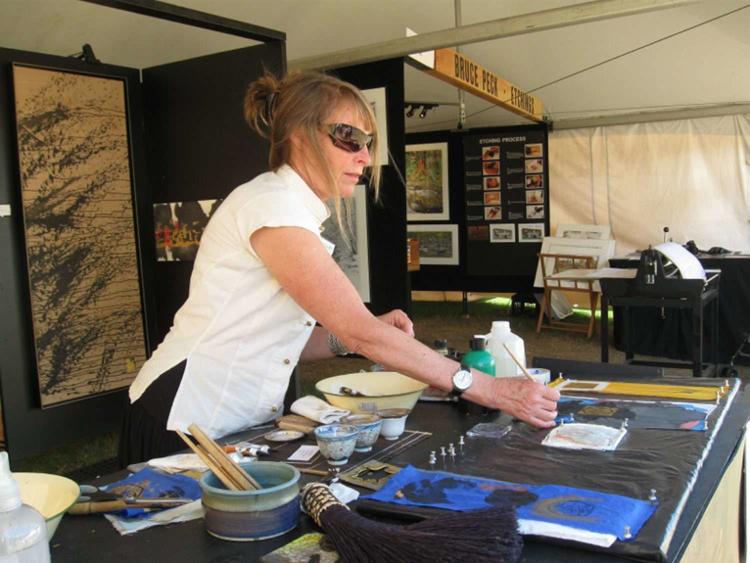 League of New Hampshire Craftsmen's Fair — Newbury - Aug. 3-11
Have an all-day affair at the League of New Hampshire Craftsmen's Fair at scenic Mt. Sunapee and partake in one of the most prestigious and the oldest craft fair in the nation. Nine full days of juried craftspeople and artisans demonstrating their talents in woodworking, glass, leather, metal, and more. For some of the artists, this fair is what they work for all year.
2019 Greeley Park Art Show — Nashua - Aug. 17-18
The Nashua Area Artists' Association hosts this 60th annual art show at historic Greeley Park. Talented artists sell their wares beneath tents. Fine jewelry, glass, pottery, paintings, watercolors, photography, metal sculpture and designs, books, note cards, and more. There will also be two art competitions — one for adults, another for kids ages 6-18. Kids are welcome to participate in the Come Paint with Us program that gives kids freedom of creative expression, and a good reason to paint.
46th Annual Apple Pie Crafts Fair — Newport - Aug. 24
This annual event presents visitors with over 100 booths displaying handmade wares by amateur and professional local artists. Features an apple pie contest and sale, live music, and concessions — as well as the Richards Library Festival book sale. This fair is also in the running for one of the longest running craft fairs in the country.
2019 Lakes Region Fine Arts and Crafts Festival — Meredith - Aug. 24-25
This juried fine arts and crafts festival is held in downtown Meredith annually. Main Street will be closed to vehicular traffic for the event. More than 80 artisans will be showing and selling their fine works. Now in its 40th year, this is the event of the summer! You'll discover arts and crafts of all types, including metal, basketry, mixed media, pottery, fine jewelry, woodworking, glass, fiber, sculpture, leather and more. In addition, there will be live music, entertainment and food.
50th Annual Littleton Art Festival — Littleton - Sept. 21
Watch Main Street come alive in a celebration of art and culture. Now in its 50th year, the festival features live music, family-friendly activities, and skillful artists in the mediums of pottery, jewelry, photography, painting, drawing, sculpting, stained glass, and fiber.