FUN FACT: What became the Mountain View Grand Resort in Whitefield conjures up a very old story. Two weary travelers were on their way to Boston when their stagecoach overturned. They stopped at an old farmhouse and the owners took them in and, although they originally planned to be away for one night, once they saw the spectacular views of the White Mountains, they decided to stay for a week. The year was 1865. That is how the Mountain View Grand Resort became a destination and a most enchanting establishment.
The Common Man Inn & Spa — Plymouth
The Common Man Inn & Spa is a veritable full-service oasis offering spa treatments ranging from massage to remineralizing baths and facials to body wraps, makeup and hair, and more. There is also a light therapy relaxation room, sauna, and a waterfall hot tub, as well as pet-friendly suites, rustic elegance, and fine dining — everything you need to unwind. Nothing spells relaxation better than a cozy room and spa.
Human Horse Balance Ranch — Center Conway
Human Horse Balance Ranch is a holistic ranch connecting the minds and hearts of horses and humans. Offering integrated horsemanship programs, Reiki clinics, one-on-one life coach sessions and workshops for you — and your horse.
Cruise on Lake Sunapee — Sunapee
Climb aboard the MV Mt.Sunapee II tour boat and take in the calm and serenity of Lake Sunapee, one of the cleanest lakes in the state. Relax and appreciate the unobstructed views as the Captain narrates the history of Grand Hotels, legends and landmarks — like three lighthouses — of the lake and area surrounding the "waters of the flying goose."
Mountain View Grand Resort and Spa — Whitefield
The Mountain View Grand Resort and Spa has been offering endless White Mountain activities since 1865. Their award-winning spa, state-of-the-art health and wellness center, yoga studio, pools, sauna, hot tub, kids activities, golf, tennis, restaurants and a 6,300-bottle wine cellar await you.
Steele Hill Resorts — Sanbornton
Steele Hill Resorts is the ideal destination for year-round relaxing and recreating. Offering a variety of amenities including in-room massages, indoor/outdoor pools, whirlpools, saunas. And if that doesn't relax you, there's always activities like golfing, fishing, racquetball, tennis, and a health club and onsite restaurant.
Flag Hill Winery & Distillery — Lee
Flag Hill Winery invites you to sample award-winning local wines and spirits in their tasting room, housed in the original 17th century post-and-beam barn. Take your time and take in the scenes of the vineyards. Or, if you are more interested in the process, go behind-the-scenes with a guided walking tour available every weekend year-round.
Dragonfly Yoga Barn — North
Dragonfly Yoga Barn encourages you to "find yourself off the beaten path" by way of their 250-year-old restored barn nestled in the foothills of the White Mountains, the ideal setting for restorative yoga weekends, retreats, workshops, and events.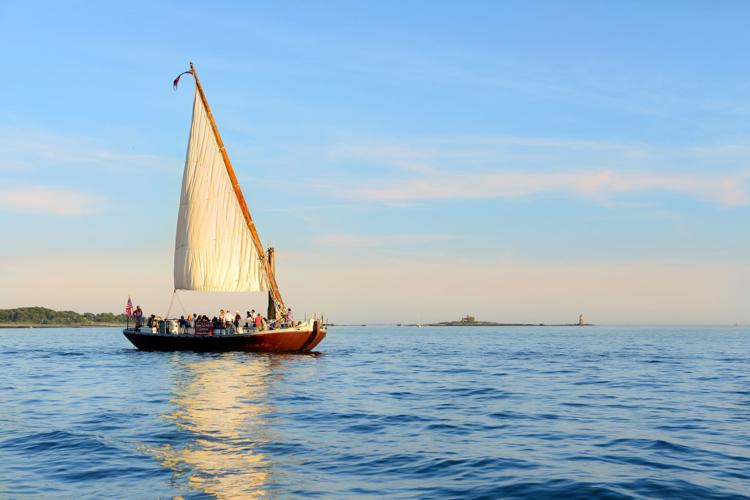 The Gundalow Company Sunset Cruise — Portsmouth
The Gundalow Company, located on the Piscatacua River, requests the pleasure of your company onboard a traditional reproduction of a gundalow sail boat for a two-hour sunset cruise. The skies of Portsmouth glow during the summer with pinks and purples, providing the perfect backdrop to relax at the end of a long day. Bring your own picnic dinner, help the crew hoist the sail, and help steer the ship. It's part of the journey.
The Manor on Golden Pond — Holderness
The Manor on Golden Pond is a restored English Manor on 13-acres in the picturesque town of Holderness. Offering the perfect combination of a charming Bed and Breakfast Inn and a luxury hotel, you'll find the Manor to be a peaceful getaway that will take you away. Savor the panorama of the nearby White Mountains and spectacular views overlooking Squam Lake of "On Golden Pond" fame. The Seasons Spa will help you unwind with divine paraffin foot treatments, massages, scrubs, glows, hot rocks, facials and more.
Lake Opechee Inn and Spa — Laconia
Take some time to indulge in you at the Opechee Inn and Tranquility Springs Wellness Spa. This lakeside getaway has seven treatment rooms designed for total relaxation. The separate mens' and womens' locker rooms even have infrared healing saunas. They offer something for whatever ails you from massages, several kinds of facials and salt scrubs to moisturizing foot and hand treatments, mud and seaweed body wraps, and so much more.