FUN FACT: Waterville Valley Legend has it, Chief Chocorua chose to stay and fight for his land when conflict with the white man rose up. After the death of his son, who was being cared for by colonial settler Cornelius Campbell and his family when he died, Chocorua killed Campbell's family in retaliation. Campbell sought revenge and Chocorua fled to the peak of Mt. Chocorua, cursing local settlers. He then jumped from the mountain's peak.
Waterville Valley Resort — Waterville Valley
This fine resort is scenic in nearly every direction, but it's not just the views that make this THE spot to visit if you're activity-minded. A multitude of activities will draw you outdoors — from hiking to mountain biking and boating to golf. Plus, at the heart of it all, you'll find a packed town square offering shopping, dining, live music on the Gazebo stage, and fireworks over Corcoran's Pond. This is the ultimate family destination for visitors to the Granite State.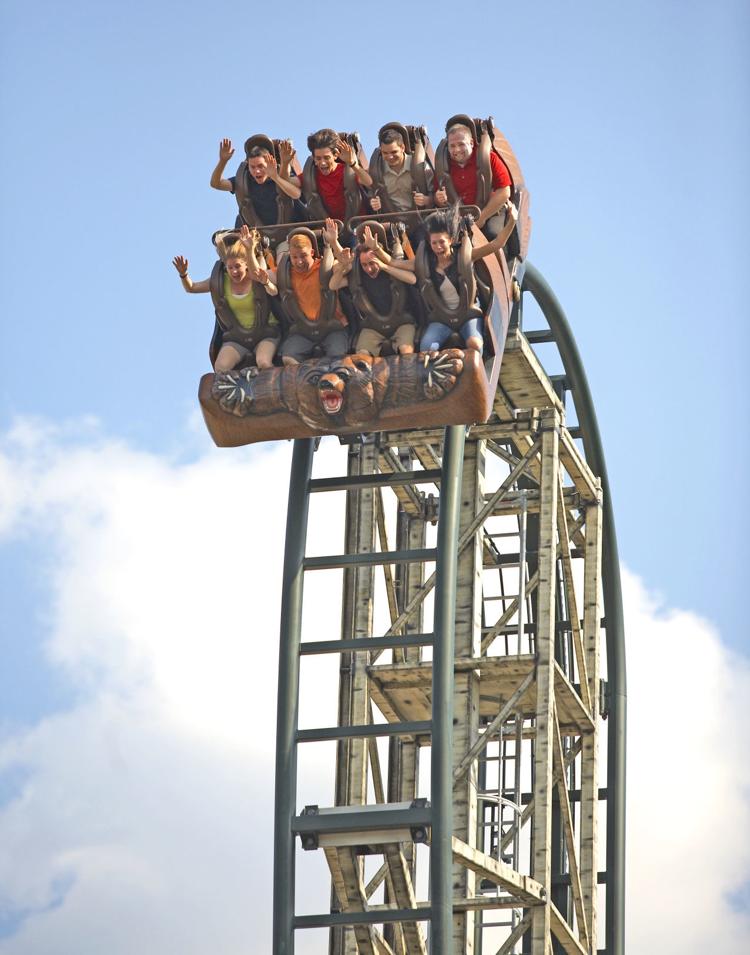 Canobie Lake Park — Salem
Canobie Lake Park promises a grand day out for the whole family with its 85 rides, the recently expanded Castaway Island waterpark, dedicated Kiddieland, indoor-outdoor games, arcade, and live entertainment on two stages.
Saco Bound — Center Conway
Saco Bound offers years of experience in river sports with six private riverfront facilities and complete canoe, kayak, tube, and SUP board rentals. Enjoy the scenic beauty of the New Hampshire rapids with an exhilarating whitewater rafting adventure.
2019 Master Sand Sculpting Classic — Hampton Beach
This free event is like a pop-up art gallery made of sand. With world class artists and sculptures created from 200 tons of imported sand. In its 19th year, the three-day event is lighted nightly for viewing and culminates in an awards ceremony and special fireworks display. Come take a class on how to build your own.
NH1 Go Karts — Seabrook
This adrenaline-fueled, eco-friendly, "no fume" electric go kart racing facility is the only one of its kind in New Hampshire. The 49,000-square-foot venue features a lengthy quarter-mile track, rooms for parties, and even an arcade. Experience what it's like to race to your (pounding) heart's content.
Alpine Slide at Attitash — Bartlett
Alpine Slide at Attitash Mountain Resort is a New Hampshire icon that features two luge-like chutes that offer thrills for days. With the longest slides in North America, the alpine slides are easy to operate and provide an unforgettable experience for the whole family. Beside the slides, a mountain bike trail features more than a mile of scenic rolling slopes, straightaways, and S-turns surrounded by the picturesque White Mountain National Forest.
Clark's Trading Post — Lincoln
Clark's is a delightfully different amusement park. From their famous black bear shows to their astounding Chinese acrobats, bumper boats to clown acts, Segways to steam trains, old time photos to turn-of-the-century museums, Clark's is a New Hampshire standout. Keep your eye out for the legendary Wolfman — he prowls along the train route — and experience the unforgettable magic of Merlin's Mystical Mansion, a childhood favorite.
Story Land — Bartlett
Story Land is New Hampshire's premiere amusement park for children, featuring more than 30 attractions geared towards the young and young at heart. For more than 65 years, the "Land Where Fantasy Lives" has been helping families make memories that last a lifetime. www.storylandnh.com
Polar Caves — Rumney
The Polar Caves will find you weaving your way through and around granite boulder passageways as you "slip between the rocks of time and explore the underbelly of the earth." The park features nine caves, two climbing attractions including a 50-foot vertical rock climb, mining sluice, animal park, and a maple lodge for the sweetest part of your day.
Conway Scenic Railroad — North Conway
The Conway Scenic Railroad delivers an authentic old-fashioned railroading experience for young and old alike. Depart from the stunning 1874 station, a regional landmark, and journey historic rail routes in vintage passenger cars through the valley or over sheer bluffs and steep ravines.