I SUPPORT Paid Family Medical Leave and have worked with stakeholders, advocates and members of both parties to develop a plan to get it done.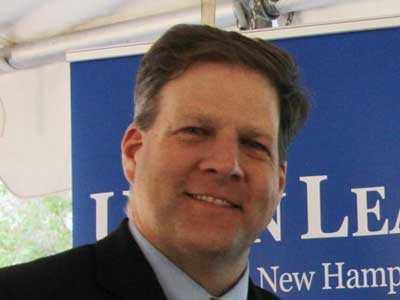 Virtually everyone agrees that paid family medical leave offers an incredible opportunity to promote a work-life balance for many workers in New Hampshire struggling to meet the demands of the workplace while also meeting the needs of their families and their own health. When done right, paid family leave is a sound policy that benefits children and families — and a critical tool in retaining our future workforce. Something we can all get behind.
The Legislature's solution to paid leave — Senate Bill 1 (SB 1) — is an income tax and, make no mistake, the people of New Hampshire will not support that approach. Democrats are quick to claim it is not an income tax, instead calling it "a premium on wages."
Let's be clear — the Democrats' mandatory paid leave plan that automatically deducts wages from the paychecks of all New Hampshire's hardworking citizens runs against our 'Live Free or Die' spirit and is a direct tax on income. Under SB 1, you would have had no choice, money would have been taken out of your paycheck to pay for another government-run insurance program.
Most concerning is that this bill opened the income tax door in New Hampshire, allowing future legislatures and unelected bureaucrats the ability to raise it at any time. The end result was my unequivocal veto.
We can take a different and more innovative route to deliver paid family medical leave for families. Our plan — the details of which are thoroughly laid out in my proposed state budget — is a truly voluntary opt-in program, does not have administrative barriers or burdens, is available to all who want it and is forced upon no one who does not.
It's simple: The State of New Hampshire would provide a paid leave benefit to all state employees — free of charge. In return, this base pool of participants is large enough that premiums are driven down and any business in the private sector can choose to provide the benefit for their own employees. If a business decides not to provide the benefit, any individual employee can still choose to buy into the program on their own.
In short, regardless of employment situation, individuals will have the opportunity to access an affordable paid leave plan.
This common sense, innovative solution to paid leave is a win for families and taxpayers alike. Neither the State of New Hampshire nor I will ever support an income tax. I will continue to work with Senate Democratic leadership to incorporate my voluntary paid family medical leave plan into the state budget. Any ideas to improve my plan are welcome.
The working men and women of New Hampshire are counting on us to get this right, and I am confident Democratic leadership will help get this done.