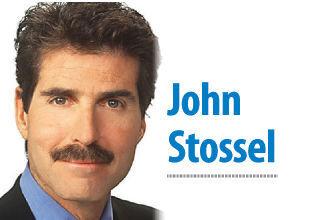 AFTER A recent hurricane, Puerto Ricans desperately needed fuel.
Fortunately, an oil tanker was right offshore.
Every Tuesday at JohnStossel.com, Stossel posts a new video about the battle between government and freedom. He is the author of "Give Me a Break: How I Exposed Hucksters, Cheats, and Scam Artists and Became the Scourge of the Liberal Media."
Wednesday, March 15, 2023
IF YOU search for "safe space" on the Foxnews.com website you'll get over 46,000 results. All of them aren't about those woke snowflakes who need trigger warnings and cry rooms. But a whole lot of them are.
I TALKED to a friend last week whose Lutheran church in Minneapolis is trying to attract people of color. Lutherans have been white for centuries, coming as they did from Scandinavia and Germany, countries that were never great colonial powers and didn't grab big chunks of Africa and Luthera…
IN LATE 2019, Politico asked a high-ranking Biden aide about the candidate's age. "If Biden is elected," the anonymous adviser said, "he's going to be 82 years old in four years and he won't be running for reelection."
WHEN DISNEY began lobbying against a parental-rights bill in Florida that would prohibit public school teachers from discussing sex, sexual orientation or so-called gender identity with prepubescent kids in kindergarten through third grade, Gov. Ron DeSantis proposed a special session of the…
THE TRAGIC killing of two U.S. citizens this week in the border town of Matamoros, Mexico, should, in a just world, refocus American attention on the glaring problem of transnational drug cartels' de facto control of large swaths of our perilously porous southern border. That the two America…
GOVERNMENT imposes a million rules. Americans seem to want more!
Wednesday, March 08, 2023
IN CASE you're wondering why I was not in church Sunday morning, I was in the Omaha airport at 6:30 a.m. waiting for a flight back to New York, listening to an announcement that unattended baggage would be confiscated, eating a breakfast croissant and blueberry yogurt, drinking coffee, which…
FOR AT LEAST the last 20 years, politicians in Washington, at the behest of green energy groups, have spent some $100 billion of taxpayer money to fight climate change and reduce greenhouse gas emissions. How is that going for us so far?
THE HOUSE Select Committee on the Strategic Competition Between the United States and the Chinese Communist Party held its first hearing last week.