THE NEW HAMPSHIRE Republican primaries for our two congressional seats are proceeding down two distinctly different paths.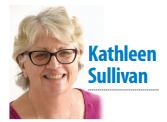 The Second District is suffering from a lack of attention from the Republican National Committee and the National Republican Campaign Committee. The district covers western New Hampshire, much of the North Country, and most of the Massachusetts border communities.
Incumbent Ann McLane Kuster is in her 4th term, having won in 2018 with a decisive 55.5% of the vote, beating her nearest rival, Republican Steve Negron, by some 13 percentage points. Negron is looking for a rematch, but faces two primary opponents, Berlin elementary school librarian Eli Clemmer and former state representative Lynne Blankenbeker. Blankenbeker came in third to Negron in the 2018 GOP primary, but by less than 2,000 votes.
The lack of interest in the 2nd District by Republicans is understandable. It is a Democratic-leaning district that voted for Hillary Clinton in 2016, and where Kuster cruised to victory in 2018. Moreover, as of Dec. 31, Kuster had more than $2,000,000 in her campaign bank account, compared to Negron's $6,120 and Blankenbeker's $40,195.
The 2018 results and the 2020 campaign fundraising are the type of numbers that turn off the spigot from donors and national campaign committees. Barring some drastic change, the Republican nominee will not have much help from an uninterested national party and a state GOP with few resources.
In District 1, however, national Republicans have taken an interest, but they may be focusing their interest in the wrong direction.
The district leans Republican, so the GOP sees it as a possible pickup. However, in 2016 Democrat Carol Shea Porter defeated incumbent Frank Guinta. In 2018, Democrat Chris Pappas defeated the GOP nominee, Eddie Edwards, by more than 8 percentage points. It is not an easy race for Republicans.
There will be a primary for the GOP nomination and the Republican congressional campaign arm, the NRCC, has chosen to get involved.
It was known for months that Matt Mayberry, a former New Hampshire GOP vice chairman, intended to run in the 1st District. Mayberry, an Air Force veteran, served three terms on the Dover City Council, and was a Trump delegate at the 2016 National Republican Convention. He works in the private sector for Carlisle Capital in Portsmouth.
His endorsements include former Gov. Craig Benson and state Senators Jeb Bradley and Chuck Morse. If he were to win the nomination, it would be the first time that an openly gay Republican would face off against an openly gay Democrat in a congressional general election.
One would think that is a resume Republicans in D.C. could get behind. But then appeared Matt Mowers, saying that he had been encouraged to run by people in Washington.
Mowers served as executive director of the New Hampshire Republican State Committee about 6 years ago, arriving from New Jersey in 2013. He stayed through the November, 2014 election, after New Hampshire bucked the national Republican trend, re-electing Governor Maggie Hassan and Sen. Jeanne Shaheen.
He returned to New Jersey; then Donald Trump gave him a political appointment at the State Department. As recently as 2018, Mowers was registered to vote in Washington. Not much New Hampshire on his resume.
The NRCC has named Mowers to its Young Guns on the Radar program, which is a stamp of approval and a message to national donors. It is in effect putting its thumb on the scales for Mowers.
Given New Hampshire's record of rejecting recent arrivals (see, e.g., Scott Brown and Walt Havenstein) in general elections, it really does not make sense why the NRCC has made this move.
Mowers message does not make much sense, either. He says he is fighting to combat radical socialism. Ironically, Chris Pappas is a small business person who has provided employment to many New Hampshire residents. More than half his bills in congress have been co-sponsored by Republicans, including measures to improve veterans' care.
Until he left the State Department, Mowers' entire work history consisted of political appointments, either for Christie, Trump, or GOP organizations. With that record, his message against Pappas, who is a well liked, well known New Hampshire businessperson, will not be credible.