HANOVER — Reid Cashman, who has spent the last two seasons as an assistant coach with the Washington Capitals, was announced Monday as the new head hockey coach at Dartmouth College.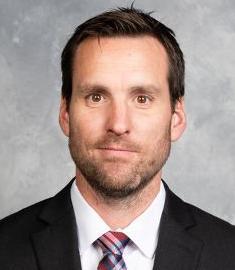 Cashman is the 22nd head coach in program history. He succeeds Bob Gaudet, who retired in April after 23 seasons on the job.
A former defenseman, Cashman is a 2007 graduate of Quinnipiac, where he was an All-American, a First-Team All-ECAC selection and a Hobey Baker Top-10 Finalist (2005).
Following his pro playing career, he returned to his alma mater as an assistant coach, helping the Bobcats reach two Frozen Fours, in 2013 and 2016.
"I feel like I have been given the opportunity of a lifetime to be the head coach of the Dartmouth men's hockey program," Cashman said. "For 114 years, Dartmouth has competed at the highest level and has produced Olympians, All-Americans and NHL players. Along with the great history on the ice, Dartmouth College has been one of the finest institutions in the world for more than 250 years. It is truly an honor to be given this prestigious opportunity."
While in the Washington organization, Cashman was integral in bringing along the franchise's young talent, as he was responsible for building staff and running the Capitals' Development Camps. On the bench with the Caps, Cashman oversaw the defense and penalty kill.
Before making it to the NHL on Todd Reirden's staff, he was an assistant with the Hershey Bears — the Capitals' AHL affiliate — for two seasons.
A native of Red Wing, Minn., Cashman and his wife Stefanie have two daughters, Maggie (3) and newborn Sophia.
Cashman will remain with the Capitals through the end of the Stanley Cup Playoffs that are set to begin this summer, joining the Big Green on a full-time basis shortly after the conclusion of the team's postseason run.