UPDATE: The UNH-Merrimack series scheduled for this weekend will not be played, Hockey East announced on Thursday night.
HOCKEY EAST teams know all about University of New Hampshire forward Angus Crookshank but this might be the year he breaks into the national spotlight, coach Mike Souza said.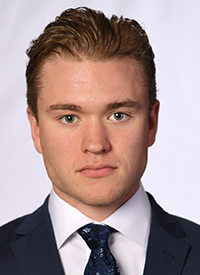 The 5-foot-11, 179-pound wing from North Vancouver, British Columbia, opened his junior campaign by illustrating why the Wildcats coaching staff has such high expectations for him this year.
After logging a game-high seven shots in UNH's 1-1 tie with rival Maine last Friday — but no goals — Crookshank followed up with a two-goal performance in the Wildcats' 6-2 triumph over the Black Bears the next night.
His first-period power-play goal tied the game at 1-1 and his second goal, a highlight-reel score that came 3:23 into the third frame, built a 4-2 UNH advantage.
UNH is scheduled to host Merrimack College Saturday at 3:30 p.m. before visiting Lawler Rink for a 2 p.m. matinee with the Warriors on Sunday.
Crookshank, a fifth-round pick of the Ottawa Senators in 2018, entered this season as the Wildcats' No. 3 returning scorer after posting a team-high 16 goals and six assists as a sophomore last year.
"He scored his two goals on Saturday but he probably had more chances on Friday," Souza said of Crookshank. "We could be sitting here saying, 'Hey, Angus had a good four, five-goal weekend.' And that's the type of player he is. You're going to notice him, he's a threat all the time and he can score goals.
"We need him to score goals and to be a threat for us. He knows that."
Crookshank said he has benefited from skating alongside classmate Jackson Pierson and senior Patrick Grasso. The three combined for three goals, two of which came on the power play, and two assists in last Saturday's victory.
"I'm pretty fortunate I get to play with two of the smarter guys or hockey brains on the team," Crookshank said. "I mean, they make my job pretty easy as one of their linemates."
Crookshank said he wants to improve his defensive game this year to become a more well-rounded player. Souza said he and his staff are working with Crookshank on developing the forward's play away from the puck and using his teammates more.
"He's as hungry an athlete as I can imagine anyone can coach," Souza said of Crookshank. "He just wants to be a player so bad and he's willing to do whatever he can. He represents our program so well all the time."
Stevenson, Cipollone day-to-daySouza said sophomore forward Chase Stevenson and junior forward Joe Cipollone are day-to-day and he is unsure if either will be available for this weekend's series with Merrimack. Both suffered upper-body injuries in last Friday's tie with Maine and did not play last Saturday.
Every team makes HE tourneys
Hockey East announced Tuesday that all eligible teams will qualify for the men's and women's conference playoffs.
Every regular-season game, including those that were previously designated as "flex games," will count toward the final standings, which will determine tournament seedings.
These decisions were made due to schedule changes that "gave way to the possibility that teams could end the year without an opportunity to play all opponents an equal number of times," according to Hockey East's media release.
"Hockey East is so unique in the fact that literally anyone can beat anyone on a given night, especially in these crazy times that we're living in right now," Crookshank said. "It just kind of stresses the importance of playing to our best ability every single game and trying to finish as high in the standings as we can."
NH notables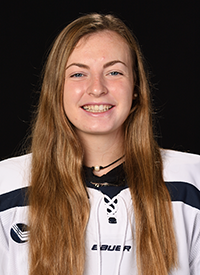 UNH forward Ciara Wall, a freshman from Hampton, has three assists and owns a plus-3 plus-minus rating through the Wildcats' first five games. Wall recorded her first career point by assisting on Tamara Thierus' first-period goal in a 4-1 loss at Boston College on Nov. 21 and tallied a helper in both UNH's 4-3 win over then-No. 8 Boston University on Dec. 5 and 2-1 loss to Maine last Friday.
Holy Cross goaltender Julia Pelletier, a senior from Pelham, saw her first game action this season in a 4-1 loss to then-No. 9 Providence College on Dec. 5. Pelletier made 43 saves against the Friars in her 30th career start.
Wall and the Wildcats (1-5, 0-4 Hockey East) will visit Vermont Saturday (7 p.m.) and Sunday (6 p.m.). The weekend series will mark the beginning of the season for the Catamounts. Vermont announced last month that its hockey and basketball teams would not begin their respective seasons until Dec. 18 due to an increased number of COVID-19 cases in the state.
Pelletier and the Crusaders (2-4) will play a home-and-home series with No. 3 Northeastern (1-1) this weekend before visiting Durham to play UNH next Wednesday.