UNH 87, Bryant 76 (OT): In Durham, junior Sean Sutherlin poured in a team-high 21 points and grabbed 20 rebounds, and the Wildcats outscored Bryant 13-2 in the overtime session. Nick Guadarrama added 15 points, Jayden Martinez 14 for the Wildcats, who improved to 4-3 overall.
Franklin Pierce 86, Assumption 78: In Rindge, Falu Seck (20), Doyin Fadojutimi (19), Isaiah Moore (17) and Sean Bresnan (13) all hit double-figure scoring for the victorious Ravens (3-2 overall, 1-1 in the Northeast-10).
New England College 101, Rivier 71: In Henniker, Izaiah Winston-Brooks paced the Pilgrims with 23 points and six rebounds. Larry McKinney added 20 points and five rebounds for NEC (3-3). 
Plymouth State 88, Colby-Sawyer 83: In Plymouth, Dante Rivera's 22 points paced the Panthers. The Manchester trio of Joe Simpson (15 points), Manny Alisandro (15 points) and Jaylen LeRoy (nine points) also contributed for PSU (4-2). Omar Boone's 21 points paced Colby-Sawyer (3-2).
Colby-Sawyer 73, Plymouth State 58: In Plymouth, the Chargers' Lexie Hamilton scored 21 points to surpass 1,000 for her career. The senior from Sunapee added 10 rebounds as Colby-Sawyer improved to 5-1. The Chargers' Joslin Wainwright poured in 22 points to lead all scorers. PSU (3-3) was led by Isabelle Earle's 21 points.
Assumption 66, Franklin Pierce 62: Izzy Lipinski's 18 points led the Ravens, who fell to 3-3 overall, 0-2 in the Northeast-10.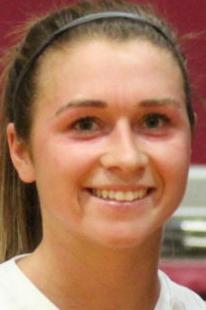 Bristol CC 98, NHTI 81: Colebrook's Michaella Biron scored 26 points for the Lynx, including the 1,000th of her college career. Biron is averaging 23.3 points per game, which is fourth in the U.S. Collegiate Athletic Association. Mary Grzanna of Sunapee added 14 points and 15 rebounds for NHTI.
Plymouth State 8, Saint Michael's 3: In Plymouth, senior Alexis Fagan notched a hat trick to lead the Panthers (3-5-0). Bow's Caitlin Connor and Surry's Sophie Streed also scored for PSU. 
Dartmouth's Teevens earns Ivy League coaching honors
Dartmouth College football coach Buddy Teevens on Tuesday was named Ivy League Coach of the Year.
Teevens led Dartmouth to a share of the league title with a 6-1 record (9-1 overall). The crown was the fourth in his 20 years on the job.
The Big Green picked up 16 All-Ivy selections, tying with Princeton for most by any team. The first-team honorees were cornerback Isiah Swann, linebackers Jack Traynor and Nigel Alexander, defensive linemen Niko Lalos and Jackson Perry, and offensive lineman Zach Sammartino.
Swimmer Connor Hopkins wins NE-10 honor
Windham's Connor Hopkins, a senior at Saint Michael's College, on Tuesday was named the Northeast-10 Conference Swimmer of the Week.
Hopkins won six times while recording the top times in the league this season in four events over the weekend in the North Country Invitational. He leads the team this season in overall (14) and solo (nine) victories and is tied for the top spot in relay wins (five).