PORTLAND, Maine – Samad Taylor hit a game-tying homer in the top of the eighth inning, his team-leading eighth long ball of the year, but the Portland Sea Dogs plated an unearned run in the bottom half to take a 5-4 win over the New Hampshire Fisher Cats on Wednesday night at Hadlock Field.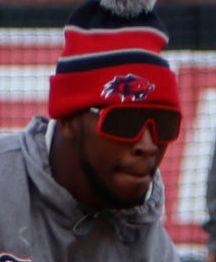 Through two games this week in Portland, Taylor is 5-for-6 with two homers, a double, and three walks.
Trailing 4-3 in the eighth, Taylor led off with a blast over the fence in left center to tie the game, but the Sea Dogs regained the lead on an error and back-to-back singles, including an RBI base knock from Ryan Fitzgerald.
The Fisher Cats scored in the top of the first, as Gabriel Moreno drove home Samad Taylor to make it 1-0. The Sea Dogs would equalize on a sacrifice fly from Tanner Nishioka in the bottom of the second.
The early innings went by hastily, as Sea Dogs starter Frank German retired 13 straight batters, and Simeon Woods Richardson worked four straight scoreless innings with the aid of Gabriel Moreno, who threw out two consecutive would-be base stealers.
Woods Richardson struck out five batters in five innings, holding the Sea Dogs to one run on three hits.
In the top of the sixth, the Fisher Cats would chase German from the game after Nick Podkul and Samad Taylor singled. Zach Kelly's first action in relief was a pickoff throw to first base which evaded Tristan Casas, and Nick Podkul scored on the error. After Otto Lopez reached on a fielder's choice and advanced to second on a balk, Gabriel Moreno drove him home with his second RBI single of the night to put New Hampshire up 3-1.
In the bottom of the sixth, Portland drew three walks and cashed in with a two-run double from Joey Meneses. Jon Harris entered in relief and allowed only one inherited run to score through two hitless innings, which put the Sea Dogs up 4-3.
The series continues in Portland through Sunday. The Fisher Cats return home on Tuesday.