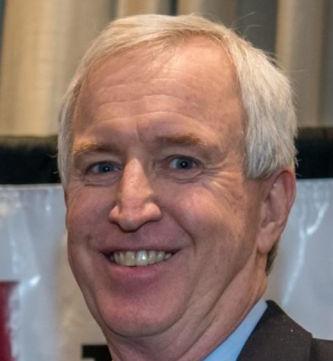 MANCHESTER — Less than two hours after receiving his award at the New Hampshire Union Leader's "The Leaders: A Celebration of New Hampshire Sports Champions" banquet Sunday, Paul Hogan was on the NHTI court coaching the Lynx men's basketball team.
Before donning his coaching whistle, Hogan, who is also NHTI's director of athletics, attended the Leaders event at the DoubleTree by Hilton Manchester downtown hotel to accept the James W. Desmarais Special Recognition Award, which is given out at the discretion of the New Hampshire Union Leader Board of Judges.
Hogan, who became NHTI's AD in 1999, transformed the school's sports programs from club to intercollegiate level.
Hogan said he moved the original time of NHTI's home game against the College of St. Joseph Sunday to make the annual event, which is sponsored by Apple Therapy Services, Express MED and Bedford Ambulatory Surgical Center.
"I want to leave you with one message because this is such an incredible event with so many wonderful people here," Hogan said. "We're all in the business of developing critical thinking. It's one of the buzz phrases right now in education but if you think about athletics and you think about coaching, you think about officiating, you think about all the things that go on every day, we have to make critical choices and we're teaching our athletes to do that same thing."
Along with the special recognition award, the 2018 Union Leader Athlete of the Month and Athlete of the Year recipients, officials and coaches were also honored.
Timberlane of Plaistow wrestler Connor McGonagle, who was the March Athlete of the Month, received the Robert "Red" Rolfe Male Athlete of the Year award. May Athlete of the Month Amanda Bickford, who played softball at Saint Anselm College, was named the Jenny Thompson Female Athlete of the Year.
The Athlete of the Month and Athlete of the Year award winners are chosen by the New Hampshire Union Leader Board of Judges.
Then a junior at Timberlane, McGonagle won both the National High School Coaches Association Junior National Championship and New England Championship in the 132-pound weight class last March. Timberlane coach Barry Chooljian believes McGonagle, a Danville resident, is one of two New Hampshire high school wrestlers to ever win a national championship.
Then a senior at Saint Anselm, Bickford batted .395 (17 of 43) with seven runs scored, five RBIs and one walk last April. The Salem resident collected eight hits over five games in the NCAA Division II tournament in Salem, Va., where the Hawks finished as the runner-up. She graduated with the program record for career hits (237) and hits in a single season (88).
Bill Boynton, Michelle Pritchard, Nancy Eastman, of Newmarket, Butch Munce, of Berlin, and the late Lou Athanas, Sr., of Laconia, received the John R. Clark Officials Award.
The 2018 Walter A. Smith Coaches Award recipients were Keene State College baseball coach Ken Howe, former Sanborn of Kingston and current Timberlane field hockey coach Mim Ryan, former Gorham High School boys' soccer coach and current AD Bill Goodrich, Manchester Swim Team coach Steve Van Der Beken, Franklin High School softball coach Skip DuBois and Merrimack Valley of Penacook track and field co-coach Bob Mullen.
Mullen's father, Donald, who coached at Concord High School, received the same award in 1986.
DuBois helped start Franklin's Pop Warner Football program and also previously coached Lassie League softball and girls' youth basketball. After accepting his award, DuBois credited all the players he has coached over his career
"I'd like to thank the athletes — the young men and women that I've coached through the years — because they are what helped make me look so good," DuBois said.
Manchester West seniors and twin sisters Corinne and Julia Robitaille both received the William Loeb Scholar-Athlete Award, which honors athletic and academic performance. The Dartmouth-bound identical twins both run track and cross-country at West, hold leadership roles in both the National Honor Society and student council and will graduate as co-valedictorians of their senior class.
Lifelong Manchester resident John H. Trisciani was posthumously honored as the 49th recipient of the Carl Lundholm Award, which is presented annually to a New Hampshire citizen for their volunteer efforts to sustain athletic programs in their community.
Trisciani, who died this past September at age 82, began his coaching career with the Manchester Pony League in 1963, serving as either the league's president or as one of its coaches for 13 years. He was also the first coach of the Manchester West Rockets football team and went on to serve as the line coach for the Manchester Vikings football team.
"If my father was here, what he would probably say is he was just a guy who enjoyed helping other people's kids and giving them opportunities to be in first-class athletic programs," said Trisciani's oldest of four children, John C. Trisciani, who is an assistant coach with the Saint Anselm football team.