I THINK it was Henry David Thoreau who made the observation that some anglers fish their whole lives without realizing it is not fish that they are pursuing. Similarly, Zane Grey noted that "If I fished only to capture fish, my fishing trips would have ended long ago."
These ideas inspire us to ponder the question of why we fish and the least thoughtful conclusion for me is that I do it to catch fish.
With the wisdom of age, my appreciation for angling is vast and I try to take just such an inventory after each angling adventure.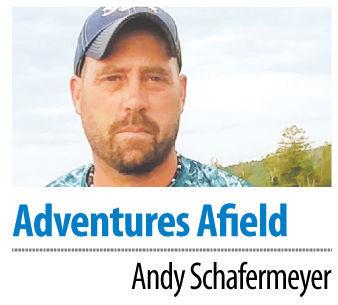 This spring has forced me to examine my true motivation more than most. For starters, winter simply won't leave despite wearing out its welcome weeks ago. Even though the ice has left our lakes and ponds, the water remains cold and uninviting. Rivers and streams exemplify this greater by the constant rain that keeps them high, cold and often discolored.
The logical conclusion is that fish are hard to come by and catch rates might be slow for a while. That conclusion is hard for me to accept.
Recently, I have been in several small trout streams while waiting for the larger rivers to calm down a bit. By June, I have normally filled my personal quota of wild brook trout and officially "knocked the dust off" of my fly fishing gear after sitting dormant for a few months.
Bearing in mind that winged insects are still scarce, I like to fish small but heavy nymphs like a Copper John. This type of finesse fishing rarely involves fly casting in the typical sense, but rather dropping the fly with an outstretched arm into slow-moving pocket water.
Trout seem to know that winter is over and a relatively short growing season lies ahead. When presented correctly, the fly is quickly gobbled up and I gently set the hook.
The tenacity of these small trout is amazing and I think that half of their fight is fueled by the frustration that they mistook a food source. Small streams can be quite barren in the winter months and locating an edible aquatic insect is difficult. When bugs start to emerge from the substrate, the trout are certainly ready for a long-overdue meal.
In a few weeks, I can switch to dry flies and an exciting new approach can be employed for these small trout streams. Casts must be controlled and calculated. The landing zone is also significantly small and an overcast can end up tangled in a clump of alders. When everything comes together and a dry fly lands in the correct manner and location, the excitement can be hard to describe. Usually drifting for not more than 5 seconds, an aggressive trout will hit it with a splash or the drift will go unnoticed slowly moving downstream.
Catching a couple of fish in this type of scenario is obviously fun and occasionally serves as a validation of my know-how. Considering the weather conditions of this spring, I consider myself lucky to have located and landed a few small-stream brookies.
I enjoyed the challenge as much as the results and realize that the process of catching these fish had inspired me to go and keep me coming back. A fish in hand is just a bonus.