MIKE RAMSHAW would have been preparing his staff for a big weekend home series against Binghamton.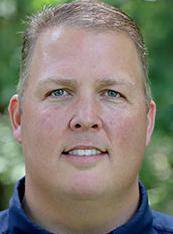 Instead, the Fisher Cats president, with mascot Slider in tow, on Thursday headed out to join a rockin' and rollin' vehicle parade, one of those kids birthday celebrations that have become commonplace in our neighborhoods. No doubt, Slider was a hit.
Yes, things are different over at 1 Line Drive during a pandemic. They're doing their best to stay relevant without baseball games in May and possibly in June, July and August.
"It's quiet. It's weird," says Ramshaw.
That's not to say it's not busy. It is busy, just in different ways, says Ramshaw, like ticket voucher programs with portions of the proceeds going to COVID-19 relief, and T-shirt sales with some of that money going to the New Hampshire Food Bank.
"What happened for us," says Ramshaw, "is right when this pandemic started, our account executives and ticket sales executives started reaching out to fans, not to sell them, but just to say, 'Hey, we're in this together. If you need anything, even to talk, we're here.'
"We have reps who have created their own newsletters," says Ramshaw. "They're sending them out with weekly updates for fans about things that are going on around the ballpark, the programs, the videos, the parades that we're a part of. We want to make sure people know we're here."
Minor league baseball has always been about the teams and the people who watch them play, often in communities far smaller than Manchester. And it's affordable as well as fun. Generally, an average family can enjoy a Fisher Cats game on a nice summer night — throw in a few hot dogs, sodas and a maybe a baseball cap, too — without breaking the bank.
"Everyone's missing the sports element, being outside and enjoying everything," says Ramshaw.
And for how long will fans be forced to miss baseball? Will there be a season, in Manchester, Boston or anywhere else? That's the million-dollar question, literally and figuratively. There are plenty of educated guesses out there from baseball insiders, but nobody can really know what a 2020 season would look like — if there's a season at all — for either Major League Baseball or the minors. MLB owners and players will have to overcome their well-documented differences, including important health concerns, before any pitches are thrown at any professional level.
Most MLB return-to-play models don't include fans in the stands. Realistically, minor league ball would struggle to operate without fans, even in the short run. Some officials have labeled minor league baseball pointless without crowds.
"Unlike major league sports that can rely on TV revenue, we don't have that," says Ramshaw. "So it's important for us have people in the stands eating hot dogs and buying merchandise, having a good time and spreading the word to get more and more people to come out."
The pandemic, says Ramshaw, will change how teams operate as businesses. Digital tickets will be the way to go. Cashless transactions inside the stadium. Social distancing as the norm, post pandemic.
"We pride ourselves on being safe, affordable family entertainment," says Ramshaw. "Safe being the number one thing."
Shalin out for a while
Our Boston-based columnist, Mike Shalin, is on the disabled list. Normally, you'd see his opinions today in the Sunday News, but Mike is battling through some health problems, so keep him in your thoughts.
We know Mike's fans miss him. We will pass along an address for get-well cards once he is settled.
Trivia time
On May 4, 1975, why did the Houston Astros' Bob Watson, a runner at second base, sprint all the way from second to home plate to score on Milt May's homer? (It was not an inside-the-park homer.) Answer at end of column.
New coaches
Two notable coaching hires to report.
Colby-Sawyer College announced Devon Quattrocchi as its new women's basketball coach. She is only the fifth coach in the college's 40-year basketball history, succeeding George Martin, who spent the last 26 years at the helm in New London.
Quattrocchi comes from the College of New Jersey, where she spent the last two seasons as an assistant coach. She also spent a couple of years as an assistant and graduate assistant at Smith College, where she starred as a player.
The other hire comes from Plaistow, where Timberlane Regional High promoted Dan Donovan from assistant to head coach of the wrestling team. A two-time state champ and 1988 Timberlane grad, Donovan replaces Barry Chooljian, who retired after 34 seasons, 613 wins and 10 New England titles.
NHTI Hall of Fame
NHTI is accepting nominations for the 2020 NHTI Athletics Hall of Fame Class. The hall was founded to honor those individuals who have shown leadership, sportsmanship, commitment and achievement during their time as an athlete, coach or supporter of NHTI teams.
More on Joe Sullivan
We enjoy hearing readers reflect on the Friday columns by the late Joe Sullivan. Not a week goes by without someone passing along a nice memory or a followup story that complements the column.
Joe's columns are timeless in that their messages apply to life in 2020 (OK, maybe before the pandemic), but they also cover moments in time, snapshots worth remembering. Case in point: The 2008 column about the Seacoast basketball tournament had special meaning for me because my son played a good game there once.
But it's fair to say no family cherished a column more than the Sheehan family cherished Joe's 2001 column on Friday. And I'm here to say Scott Sheehan is still an integral part of our operation here as production manager, and Scott's son, Ryan, now 25, is still a huge NASCAR fan. Enjoy the Darlington race on TV today, fellas.
Trivia answer
Watson, who passed away Thursday at age 74, was in a hurry to score the one millionth run in Major League Baseball history.
As the story goes, MLB kept a daily countdown, and all the players who took the field to start play on that May 4 knew the first run of the day was the millionth.
Watson apparently nosed out the Reds' Davey Concepcion, who hit a solo homer and sprinted around the bases.
The prizes were notable. The unlikely tandem of Seiko and Tootsie Roll were the sponsors, so Watson won a nice wrist watch and a million little candies.
He kept the watch forever but donated the Tootsie Rolls to the Boy Scouts and Girl Scouts.
Watson played 19 seasons with the Astros, Red Sox, Yankees and Braves, batting .295 with 184 home runs and 989 RBIs. He went on to be the first black general manager to win a World Series, with the 1996 Yankees.