THIS TIME of year it's so tempting to get out my trout fishing gear and try for some recently stocked brook trout in several of our local waters, but after catching and releasing some of those fish, we feel cheated that these fish are a far cry from the great native brookies we used to target in places that are now not holding any amount of these fish.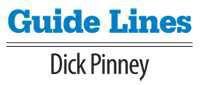 We have access to a camp in northern Maine that we owned and sold to a friend that has several local waters that do have native brookies and we occasionally do get up there and fish but year after year it's sure evident that these very valuable places are getting less and less, due to the population growing and new residential and even commercial expansion that has either ruined or severely impacted our best brook trout waters.
We do have some local trout streams that do hold some self-sustaining populations of brown trout but fishing pressure seems to keep that tiny treasure from being able to sustain anything substantial.
One place that you can find an occasional trophy brown trout is in the tidal waters. We are not going to pinpoint any actual waters because it wouldn't take much fishing pressure to kill or diminish that very small resource but if you are adventurous and have plenty of insect repellent handy, it's a fun time to spend a few hours trying to locate some of these fish.
We don't mind mentioning Berry Brook in Rye as one of the places that if you're patient and stealthy you may see some huge (for here) brown trout that have spent much of their lives in the saltwater and will migrate into the freshwater in anticipation of spawning. But we'd be lying if we said that they are successful in this endeavor as there's (not to my knowledge) any study to prove that.
We have caught and examined some big brown trout, both male and female, that have moved into Berry Brook that seemed to be intent in spawning — the females dropping an egg or two when handled and the males obviously ready to mate-up with the hens.
But the thermal limitations of our coastal streams would make any natural reproduction perilous because of high water temperatures limitations.
But it's great fun to don a pair of good sunglasses and stand on the bridge there on the incoming tide and watch some jaw-dropping sized brown trout move with the brook's currents. We do know that natural breeding has been observed but the high temperatures of the summer have no doubt made this attempt unproductive.
But it's still fun for me to linger at times on the bridges on the incoming tide and admire the huge brown trout that will often show up!
Drop us a line if you see any of them or any evidence of successful reproduction there. And please stay in touch.