RALPH COX didn't make the team. Despite an impressive resume, talent and character, he was deemed not good enough.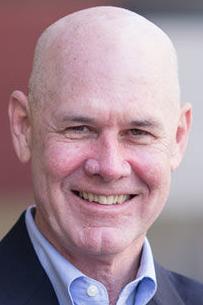 You'd be hurting, too, if you were the greatest scorer in the history of University of New Hampshire hockey, having scored 40 goals in separate seasons, been a two-time All-American and an ECAC Player of the Year.
And you'd be hurting, too, if that team, the team you had always wanted to play for while growing up in Massachusetts, went on to beat the Soviet Union in the greatest upset in American sports history.
And you'd be hurting even more when that unit, Team USA, went on to claim Olympic gold and you had to watch on your TV as joyous players squeezed onto a podium and flashed their medals.
But 40 years later, as we mark the anniversary of the 1980 Miracle in Lake Placid, Cox can tell you that everything turned out just fine. More than fine, actually. He will turn 63 next week as a man immortalized in the 2004 movie as the last guy cut by Herb Brooks, but also a successful businessman and proud father of three. And, oh by the way, he still loves the game of hockey.
It wasn't always fine, though, as Cox described in a phone interview this week.
"I remember being really upset one summer afternoon and my father was home and he knew I was down," said Cox, a founding member and principal at RedGate, an East Coast commercial real estate firm.
"He shared some stories with me. He was 17 when he lied about his age and went to World War II. He fought in the Philippines. He didn't get into great detail, but he and a whole bunch of other good people fought to make America free so that his kids could do something like play in the Olympics.
"The way he told the story ... don't feel sorry for yourself ... go live a good life. And I remember from that moment on, really feeling that."
Cox had turned down three pro contracts to play four years before adoring crowds at UNH's Snively Arena. The waiting paid off: The right wing scored 42 goals in his senior season, 1978-79, leading Charlie Holt's Wildcats to 22 wins and the NCAA final four (they didn't call it the Frozen Four yet.
Had there been a Hobey Baker Award back then, it would be sitting on his mantel these days.
Herb Brooks noticed. Then the highly successful coach at the University of Minnesota, Brooks recruited Cox to play at the World Cup in 1979 with an eye toward the Olympics.
But in the last game of the tournament, in late April against Poland, Cox broke his ankle — an injury that may have worked against him when Brooks made his final cut.
With the bad ankle, Cox was limited to off-ice workouts until September.
"Herb said, 'We're going to hook you up with a physical therapist in Boston and in September you can join the team and be one of my top 25 guys and we'll take it from there and see how it goes."
It went well in the preliminary games, with Cox, a goal-scorer like Brooks was in his playing days at the University of Minnesota, getting his share. As the weeks flew by, Brooks gradually whittled the roster down to 21. He could keep only 20, though.
And a few days before the Games were to begin, Cox was called into a hotel room in Minneapolis to receive the bad news — from a coach who, himself, was the last cut from the 1960 gold medal Olympic team.
"When he let me go, I think it was the hardest thing he ever did as a coach," said Cox. "He was a gentleman. He knew it was hard for me because we had that shared experience, which I didn't know at the time.
"It wasn't until 10 years later and Sports Illustrated did an article on Herb and I'm reading it just anybody else would read it. In the interview, the author asked him, 'Hey when that clock was ticking down and you were about to win, what were you thinking about?' And he said I was thinking about Ralph Cox. That struck me for the rest of my life."
Brooks, who died in 2003 in a car accident, was known as a taskmaster, but that was OK with Cox during the practices leading up to the Games.
"I always liked Herb as a coach and he was a good guy and I never felt any animosity toward him EVER. And I loved the guys on the team, so I really didn't have much to cry about. Gave it my best shot and just kept playing through it.
"Still a twinge because it was such a great moment and you would have loved to have been there with the guys. Every one of them has treated me like I was part of the team. We celebrated together and we still do fun things together."
Cox's linemate at UNH, Exeter's Dana Barbin, remembered his first thoughts when the big upset happened.
"Disbelief, a little," he said. "But real disappointment because our best player, Ralph Cox, had been cut from the team. My distinct feeling was how bad I felt for him. It was a sick feeling, really."
Barbin, the hockey coach at Phillips Exeter Academy, noted that Brooks selected lots of his own Gophers. In fact, the coach took nine of his own college players and 13 in total from the state of Minnesota.
"Could Brooks have taken one less kid from Minnesota and taken the best scorer in the country and won the gold medal? asked Barbin. "Yeah, probably."
Cox recalled watching the U.S.-Soviets game after a practice with his new team, the Tulsa Oilers of the Central Hockey League. He watched from his apartment with some teammates.
"I thought, 'Oh, man, I wish I was there.' It was hard to watch, but I made myself do it because I knew it was a great moment for them, my friends."
After a brief minor league career, Cox continued playing in Europe for six years, then moved into a scouting position in the 1990s — working alongside Brooks — with the Pittsburgh Penguins.
"We worked together for six years with the Penguins. We had a lot of time to talk about hockey, about life, about our families. He knew I wasn't bitter against him. And on we went."