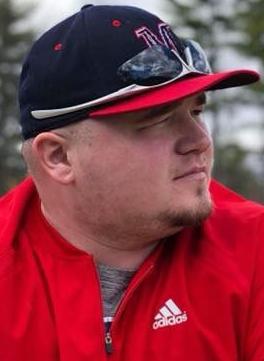 IT'S FITTING that Ryan Norton's first game as Raymond High School's varsity baseball coach will be against Campbell of Litchfield (weather permitting), since the last time he took the field as a high school player was for Campbell's 3-2 triumph over Norton and his Newmarket teammates in the 2006 Class M championship game. Those are the kind of games you never forget, and you'll gladly accept a chance for payback in any form.
Norton, 31, was offered the Raymond job last Monday, and quickly accepted.
"Put in for it about three weeks ago," he said. "A week later I had the interview and then within a week I was called and they said they wanted me. I was thrilled to get that call. Really excited for the direction of the program."
When Raymond faces Cambell, the Cougars will be led by a first-year coach as well. North Carolina-native Chris Metz, a Concord resident, was hired as Campbell's varsity coach earlier this month.
Metz, 39, is a physical education teacher at Winnisquam Regional Middle School, and coaches with the Concord Cannons travel program.
"Heard about the opening through the grapevine from some coaches I know up here in New Hampshire and I did my research," Metz said. "I was all in once I applied, knowing what has happened here in the past with Campbell baseball. Trying to get it back there is our main goal."
Norton helped Exeter Post 32 win the American Legion state championship in 2006. He served as an assistant coach for Post 32 and for Winnacunnet High School before he became the varsity coach at Nute High School in 2015 and 2016.
Norton, who lives in Gonic, also serves as the general manager for the USA Mavericks travel program.
He takes over a Raymond program that made headlines when it advanced to the 2016 Division III semifinals as the No. 16 seed. He said he plans to meet with his team for the first time after February vacation.
"Offensively, I'm definitely aggressive, but everything is going to come down to being able to defend the baseball," Norton said. "Seventy percent of my practices end up being defensive-minded just because I want to make sure we play a competent defense. If we play a competent or above-average high school defense, we'll be in every game.
"I know the program at times has been a little downtrodden. I intend to come in and turn the culture and turn the whole thing around to being a perennial team that people talk about. If they want to work, we'll win. If they work, we'll be successful."
Metz was an outfielder at Person High School in Roxboro, N.C., and has been a coach/teacher since 2005. He was the varsity baseball coach at T.C. Williams High School of "Remember the Titans" fame for three years, and also served as the varsity coach at Herndon (Va.) High School for two years.
Metz met his wife, the former Allison Mullen, when both were coaching at T.C. Williams, which is in Alexandria, Va. Allison is from Concord, and helped the Crimson Tide win the Division I girls' lacrosse championship in 2005 and 2006. They moved to New Hampshire last July.
"This is where I want to be," Metz said. "We have a family and I want to establish roots."
Campbell won five state championships in Jim Gorham's 16 seasons as the program's head coach, but hasn't had any coaching stability since Gorham stepped down after leading the Cougars to an unbeaten season and the Division III title in 2017. Metz is Campbell's fourth head coach in as many years. He takes over a program that could have as many as eight seniors who played last season.
"I'm amped up to be the head coach at Campbell with the strong history they've had in the past," Metz said. "One of my goals is to bring the town to the baseball field every time we have a home game. I just want to get it back to where it was and bring back that tradition."