Linebacker Quinlen Dean wasn't in attendance when the University of New Hampshire football team opened practice Friday. Dean won't be at any of the team's other practices leading up to the Sept. 7 season opener against Holy Cross either, since he's currently practicing with the Marshall University football program.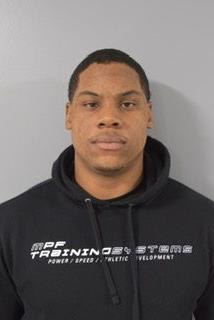 The fact that Dean moved on as a graduate transfer isn't all that surprising, considering all that has transpired since the start of the current calendar year. The timing of the transfer is a bit curious, however, since Dean was with UNH during spring practice.
Dean was among the UNH players who were involved in an incident at a UNH fraternity house in January. He was suspended from the team and went through the legal process. It appeared the matter was behind him when Dean took part in spring practice, but then came the news that he had surfaced at Marshall, where former UNH quarterback Tim Cramsey is the offensive coordinator.
Dean said he planned to wrap up his college football career with UNH this season until he found out in June — after spring practices had concluded — that he would be suspended from school for a year because of the fraternity incident. The suspension was scheduled to begin with the start of the fall semester. Since he redshirted the 2015 season and has five years to use his four years of athletic eligibility, Dean chose to enter the NCAA transfer portal.
"All along I've been loyal to Coach Mac (UNH coach Sean McDonnell), the football program and the school," Dean said. "Prior to receiving the news (about the one-year suspension) I had no reason to not want to play my last season there. (McDonnell) did what he could do for me. I have no ill-feelings toward Coach or that program.
"A mistake was made. I did everything I could to correct that mistake. I didn't want to be a poor representative of that football program or the school.
"As far as the timing (of the one-year suspension), I don't have an explanation. The only issue I have with it is they waited so long."
Dean said he completed his undergraduate work this summer. The problem he's dealing with now, he said, is that UNH is withholding his degree until 2020 (the end of the one-year suspension). That could affect his ability to attend graduate school and play his final season of college football. In other words, it could prevent him from getting on with his life.
He's hoping to have answers about his ability to take classes at Marshall and play for the Thundering Herd within the next week or so.
"The charge was reduced to a misdemeanor," Dean said. "I did community service. I was reinstated to the football team. I completed all my assignments — did everything I could to graduate. Everyone up there made it about football. It's not about football. My entire life football has been my tool to get me where I needed to go. My family can't afford to pay for me to go to graduate school."
Dean was an All-Colonial Athletic Association Second Team selection in both 2017 and 2018. He tied for the team lead in tackles last season (79), when he led the Wildcats in tackles for loss (14) and sacks (six), and also tied for the team lead in forced fumbles (three). Dean was second among CAA players in tackles for loss, 11th in sacks and 12th in total tackles last season.
"I made a mistake and I've been punished," Dean said. "I just want to move on. I want them to let me move on."
• Exeter High School graduate Kyle Ball hit .290 (49 for 169) with 20 RBIs and a team-high 16 stolen bases this summer for the Keene Swamp Bats, who won their fifth championship by sweeping Martha's Vineyard in the best-of-three NECBL championship series. ...
• The schedule for the Queen City Jamboree, which will be played at Gill Stadium on Aug. 30:
Timberlane vs. Goffstown (3:30 p.m.)
Souhegan vs. Concord (4:30 p.m.)
Manchester West vs. Manchester Memorial (5:30 p.m.)
Salem vs. Bedford (6:30 p.m.)
Milford vs. Manchester Central (7:30 p.m.)
Bishop Guertin vs. Trinity (8:30 p.m.)
There will also be a freshman jamboree held at Gill Stadium on Aug. 29. The schedule:
Salem vs. Merrimack (3:30 p.m.)
Nashua North vs. Nashua South (4:30 p.m.)
Pinkerton vs. Bedford (5:30 p.m.)
Exeter vs. Manchester Central (6:30 p.m.)
Concord vs. Manchester Memorial (7:30 p.m.)
Winnacunnet vs. Goffstown (8:30 p.m.) .
• Kari Brekke, the starting point guard for the UNH women's basketball team last season, has transferred to Bentley University, the school announced last week. Brekke started every game for UNH as a true freshman during the 2018-19 season. She averaged 10 points, 2.9 rebounds and 2.2 assists per game. Brekke led the Wildcats in points (301), 3-pointers (51), assists (67), minutes per game (36.0) and field goals made (103). She was named the America East Rookie of the Week three times.
• In case you missed it: Campbell High School's Keegan Mills will continue his baseball career at Austin Peay University, a Division I program that competes in the Ohio Valley Conference.
• The Manchester Memorial girls' basketball program has an opening for a freshman head coach.
• It's been a memorable summer for youth baseball in Nashua. The Nashua Senior American Legion team won the state tournament; the Nashua Junior legion team finished as the state runner-up and qualified for the Northeast Regional; and the Nashua 14U Babe Ruth all-stars advanced to the 14U World Series in Demopolis, Ala. Nashua improved its record to 1-1 by beating the Alabama state champion, 4-1, Saturday night. Nashua was scheduled to play Fort Caroline, Fla., the Southeast champion, Sunday night.
• Next year's New Hampshire Women's Amateur Golf Championship will be played at Bretwood Golf Course in Keene.
• The Franklin Pierce women's soccer team is ranked 14th in the United Soccer Coaches preseason national rankings, which were released last week.
• A reminder that New Hampshire American Legion Baseball will have its end-of-the-year meeting next Monday at Manchester's Sweeney Post at 6 p.m. Among the issues that will be discussed is the formation of a legion prep league for players ages 13 to 15.