Sometimes, you don't know who will be sitting next to you in a press box.
Imagine my surprise Friday when I found my seat in the revamped TD Garden press seating area and I saw "Emergency Goalie" was going to be sitting next to me.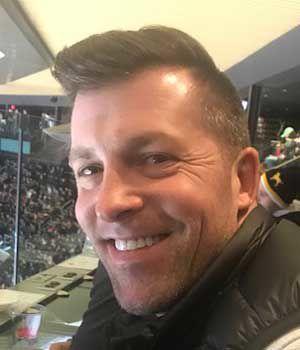 Simply put, too good to pass up.
Keith Segee, 37, has been a Massachusetts state trooper for the last 13 years. He is also one of the emergency goalies at TD Garden.
Emergency goalie? Yes, at the ready for EITHER team, to dress and sit on the bench or in the locker room after one of the game's four goalies gets hurt.
Remember last season, when Filip Chytil of the Rangers ran Tuukka Rask over thanks to a push from Charlie McAvoy? Rask had to leave the game – and Segee, also a part-time practice goaltender, got the call to go down and get dressed.
He said, "I got a call from the director of legal affairs, who said, 'I'll meet you at the elevator,'" and he was off. He didn't even get to the bench and believes he would have worn No. 70.
"I just (put the equipment on and) sat in the locker room," said Segee, who added he is one of "six or seven guys in a rotation."
There is no pay for what he does -- just a pair of seats in the press box, which is fine for this Bruins fan -- he and his brother were more than pleased when Torey Krug scored the overtime winner last Saturday.
Last year, 36-year-old accountant Scott Foster was actually needed in Chicago – and he stopped all seven Winnipeg shots over the game's final 14 minutes and was mobbed by the Hawks after the win.
Segee smiles when he talks about that — Foster having struck a note for emergency goalies everywhere.
Asked what's tougher — being a state trooper or facing a David Pastrnak practice shot — Segee says, "This would be tougher — I do (the trooper thing) every day. I've been doing that for 13 years so it's second nature for me. This would be tougher."
The former Salem State goalie, who played his youth hockey in Revere, Mass., and now lives in Lynnfield, Mass., says "probably Pastrnak" when asked for the toughest Bruins shooter. But he added that in one practice "Chara hit me in the you-know-where" and that KO'd him.
Thoughts of Bossy
Watching Pastrnak do what he's doing reminds these eyes of Mike Bossy. I covered Bossy during his days with the Islanders — always in the right spot and taking advantage of his chances. Bossy, working with the likes of Bryan Trottier, Clark Gillies and Denis Potvin, scored 50 goals in 50 games in 1980 — and Pastrnak is well in front of that pace.
Four others — Maurice Richard, Wayne Gretzky, Mario Lemieux and Brett Hull — have scored 50 goals in 50 games. And of course, the Bruins' Cam Neely scored 50 in 44 games in 1993-94.
By the way, Pastrnak just joined Gretzky (1981-82, 1983-84), Bossy (1984-85) and Lemieux (1992-93) as the only players ever to record back-to-back 12-goal months, according to the NHL. ...
Brad Marchand ripped the concussion spotter for removing him from the ice after Marchand took an elbow to the head Friday — and then apologized, tweeting, "My emotions got the best of me after today's game. I didn't want to miss any shifts with us being down 2 to 1. I know the spotters are there to help us and I shouldn't have take my frustrations out on them."
Originally, he said, "That's embarrassing. Guy's up there busy eating pizzas and cheeseburgers and can't watch the game. Maybe next time, he'll pull his head out of his butt and watch the game.''
Marchand missed practice Saturday with flu-like symptoms, while Patrice Bergeron was ruled out for a fourth straight game (lower body).
Sunday night football
The Patriots flew down to Houston Saturday with at least 17 of the players battling illness. There is also a new kicker — Kai Forbath signed as the fourth kicker this season.
The Pats had been three-point road favorites to win this game. As of Saturday morning, that had not changed.
Nick Folk experienced the cold reality of the NFL over Thanksgiving. Kicker No. 3 underwent an appendectomy — and was then released by the team to make room for Forbath.
Saturday at 4 was the deadline for Rob Gronkowski to make his return to football. The deadline came and went; hardly a shock but you know there was inner conflict for the big fella. At the deadline.
Tough day
With the fans fighting over loving or hating Kyrie Irving, Kemba Walker, the popular Irving replacement, had his worst game since opening night Friday – going 6-for-19 from the floor, 1-for-8 from 3-point range.
When it was over, Irving met with and exchanged embraces with former teammates. You know, the ones who allegedly couldn't stand having him around for two years.
"I mean, there is no hard feelings," Marcus Smart said. "I didn't hug Kyrie to get on TV. That's two guys that are trying to make a living for their families being professional athletes. That's my brother, regardless of what he did. He works hard."
Earlier in the week, Brooklyn and Cleveland teammate and long-time friend Iman Shumpert scoffed at the conspiracy theories that surrounded Irving not playing in Boston when the Nets visited. "Everybody gets to tweet whatever they want nowadays, and now they're talking about how Ky doesn't want to play against Boston?" Shumpert said. "It's like gee, y'all saw the man shoot it bad. His shoulder was bothering him. It just happens to be on the schedule." Irving was 18-for-50 from the floor in the two games before he went out.
Said Brad Stevens: "We put it behind us in June. I've said that many times. He had a right to go where he wanted to go, he's a great player. We did that a long, long time ago. I realize it's always going to be a story, but it's not a story to us."
Great line from Walker after he didn't get a foul call on a layup. "The ref said I created all the contact, which is probably right. I mean, I complain all the time, so I can't be mad at him," he said.
Encouraging news: Gordon Hayward says he's ahead of schedule recovering from a broken hand.
Looking around
• Happy 92nd birthday, the great Vin Scully! …
• From @mattysports: None of the three Boston teams (in season) have a home loss in regulation. Patriots: 5-0 Celtics: 7-0 Bruins: 10-0-4 They're a combined 22-0-4. …
• Don't look now, but Carmelo Anthony, who says he has more on his mind than this being a finale tour, has 67 points and 23 rebounds in the last three games, all Portland wins. "This ain't a damned farewell tour," he says. …
• Asked Friday if he liked alma mater Michigan's chances against Ohio State Saturday, Tom Brady said, "Man, I've lost a lot of money over the years betting, saying yes. So, I'm hopeful. I know hope is not a strategy, but I'm hopeful."
• Anthony Davis scored 41 points and grabbed nine rebounds in his return to New Orleans the other night — thus setting a record for most points scored in a return to an old team. The old record was 39 – by Kevin Durant, against Oklahoma City; Stephon Marbury, vs Minnesota; and DANNY AINGE, who scored 39 points and added nine assists and six rebounds in Sacramento's loss in Boston Dec. 27, 1989. …
• Drew Pomeranz, whose career has been resurrected since leaving Boston, took to Instagram to say, "A lot to be thankful for this thanksgiving !! Thank you to the @SFGiants and brewers for believing in me and giving me the opportunity to get back on track !! And now I couldn't be more excited to be back in San Diego." …
• The Canadiens, in Boston Sunday night, had allowed 30 goals during an 0-4-2 streak they took into Saturday's home game against the Flyers. …
• A recent quote from The Athletic had Brock Holt talking about Mookie Betts' conversion from second base to right field and was tagged "former Red Sox player Brock Holt." Holt is a free agent but hasn't left yet. …
• Old pal Dougie Hamilton had a shot on goal in his 273rd straight game Friday. …
• Modern Family's Eric Stonestreet is part of the Royals' new ownership group. …
• Steve Kerr became so frustrated with his team — formerly known as the Warriors — that he smashed a clipboard and cut his hand Wednesday night. "It's a mere flesh wound," Kerr said. "I broke a clipboard. It's one of two. I'm allotted two [broken clipboards] a year. This was number one. It always cuts [my hand] in the same place. This was a little deeper one. I was a little more upset." …
• Finally, per MSG cable: with NHL goal scoring up, the Sabres' rally to a 6-4 win over the Leafs Friday marked the 55th time already this season that a team has come back from a multi-goal deficit to win.