MANCHESTER — Pam Bales, 70, is a veteran rescue hiker who spent years on the Pemigewasset Valley Search and Rescue Team, bailing out hikers in dangerous situations.
But on Wednesday, Bales said years of back-country experience and wilderness first aid aren't necessary to help people — we just need to exercise some human compassion.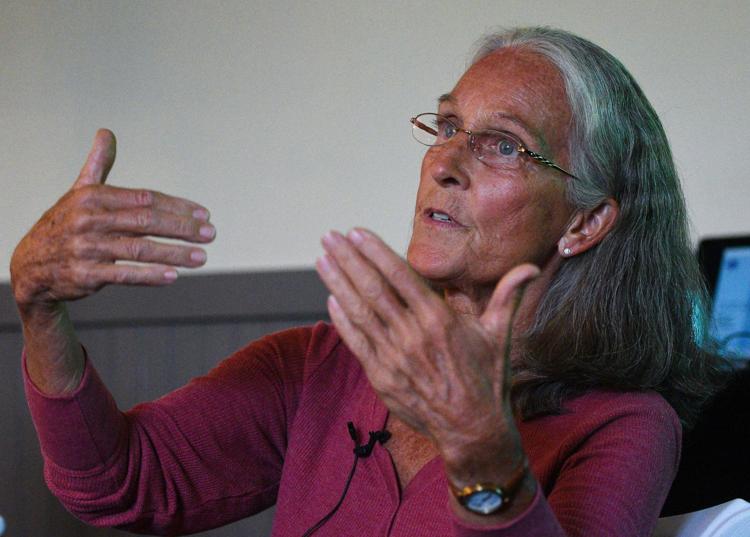 "I think everyone in this room has some rescuer in us," Bales said. "We are human and we care."
More than 100 people gathered at the Palace Theatre's Spotlight Room as writer Ty Gagne helped Bales tell the story of the day she rescued a man who was attempting suicide in the White Mountains.
Gagne is the author of the story "Footprints in the Snow," published as a special feature in the New Hampshire Sunday News last January. The discussion Wednesday was the second event in the Union Leader "Headliners" series, presented by REI.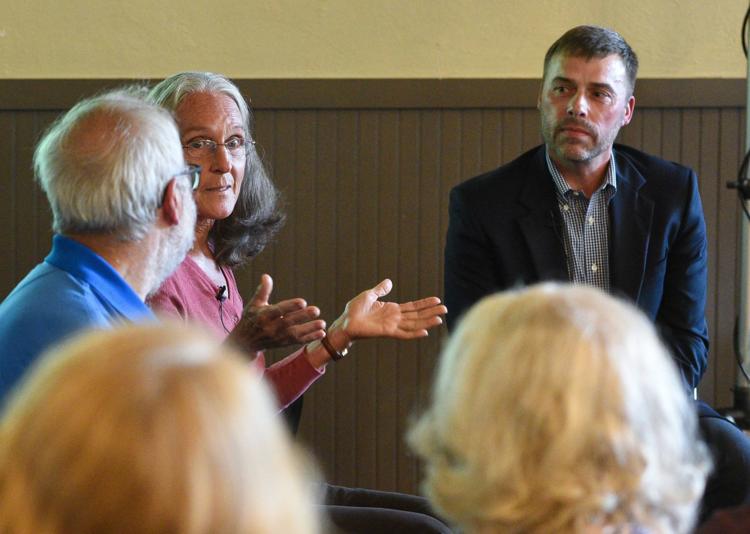 Ken Norton, executive director of NAMI NH, the state chapter of the National Alliance on Mental Illness, himself a veteran hiker, joined the discussion.
The rescuer within can take many different forms, Norton said, but he said human connection is immensely important for mental health.
"Part of the human spirit is to connect with people," he said. "It's that human connection that is so important to us"
Norton said the internet and social media have frayed those connections.
"While there's talk about online communities," he said, "What we're seeing, particularly in young people, is high rates of anxiety and depression, and they are much more withdrawn."
On the October day in 2010 when Bales came upon the man she dubbed "John," she talked with him as she worked to warm him up, and sang to him as they made their way off the mountain.
The rescue was difficult, Bales said, but she knew she could not abandon him.
"If he's not going to assist me, can I just turn and leave him?" Bales asked, describing how "John" walked like a wobbly calf down the mountain. She didn't let herself answer that question, she said. She just kept singing Elvis songs, Cher songs, humming where she couldn't remember the words, trying to keep "John" focused and hopeful.
"I kept expecting him to thank me and open up a little bit," Bales said, but he just drove off once they reached the foot of the mountain.
A few days later, Bales said, the Pemi Valley Rescue team got a letter from "John." He wrote he hiked up the mountain without warm clothes because he wanted to die. Bales sobbed as she read the letter, she said Wednesday.
"Good for you, John, for giving it another try," Bales said Wednesday in the talk sponsored by Happy Hippy.
Bales said when she was helping the man down the mountain, she did not realize he had attempted suicide. She just knew he needed help.
"Pam understood that she was physically saving this person but she did not understand she was mentally and emotionally saving this person as well," Norton said.
He said he hopes people think about the "emotional rescues" they can make in everyday life by showing concern and kindness.
"We don't know when we're making a connection with somebody," Norton said. "Some simple act of kindness, of caring can really make the difference for somebody at the edge."
The next Union Leader "Headliners" event is a conversation with Matt Renner, executive producer of the rock-climbing documentary "Free Solo" on Oct. 10.