N o one likes to pay taxes in Manchester, but Matthew Skwozinski has found a way to avoid them.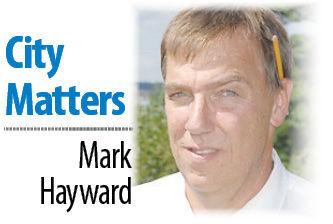 Here's his strategy, which might work just about anywhere in Manchester:
Don't pay your taxes and start parking old cars in the middle of your lot. It's best if they leak gasoline, battery acid, oil and other environmental contaminants.
Then ignore your tax bill.
In a nutshell, that's what's happened for years at the unlicensed junkyard on on the half block-sized lot that Skwozinski owns on the West Side in the 'Squog neighborhood.
Skwozinski hasn't paid his taxes in years. He's also ignored the bill the city sent him after cleaning up the junkyard earlier this decade.
All in all, he owes the city about $350,000 in back taxes and bills, according to the city tax collector. And there's a couple of unpaid bills due the state Department of Environmental Services, too.
Charles A. Russell, a Concord lawyer, represented Skwozinski in his bankruptcy filings but no longer does.
According to past articles, Skwozinski has diabetes and has lost a portion of one of his legs.
He is now in a nursing home, Russell said.
More than two years ago – in April 2017 – the city had the chance to do something about Skwozinski's back taxes. Officials could have issued a tax deed, which is what cities do against deadbeats.
The owner loses the property, and the city can sell it to recover back taxes.
But aldermen blinked, worried the city would have to pay to clean up environmental contamination.
Now the junk has returned. Cars, boats, and piles of junk have appeared on the property like summer weeds. Another half-dozen unregistered cars are parked on Third and Cleveland streets alongside the property fence.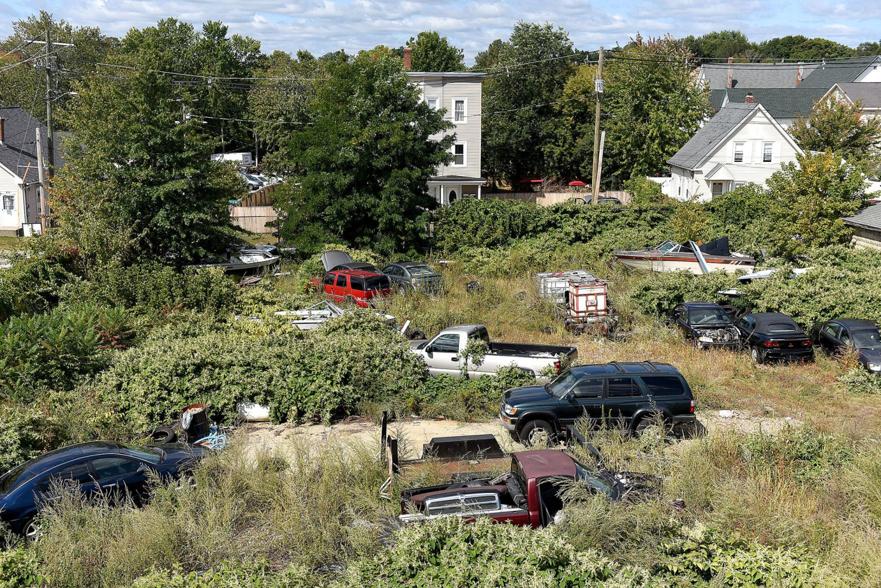 "I call it an impromptu junkyard," said Nick Magoon, who lives in an apartment across Third Street from the lot. There's a camper behind the fence, and he said people sleep there at times.
"If anybody owns houses around here, it drives down property values. There could be people sleeping in the cars, doing drugs," he said.
There are two entrances to the junkyard off Blaine Street. Both have padlocks and signs forbidding trespassing.
People started parking cars on the lot a couple of years ago after the city cleaned it, said Roger Fontaine, a contractor whose business, "Fern" Lessard Inc., is in the neighborhood.
"You complain and you complain, and they don't do anything about it," he said.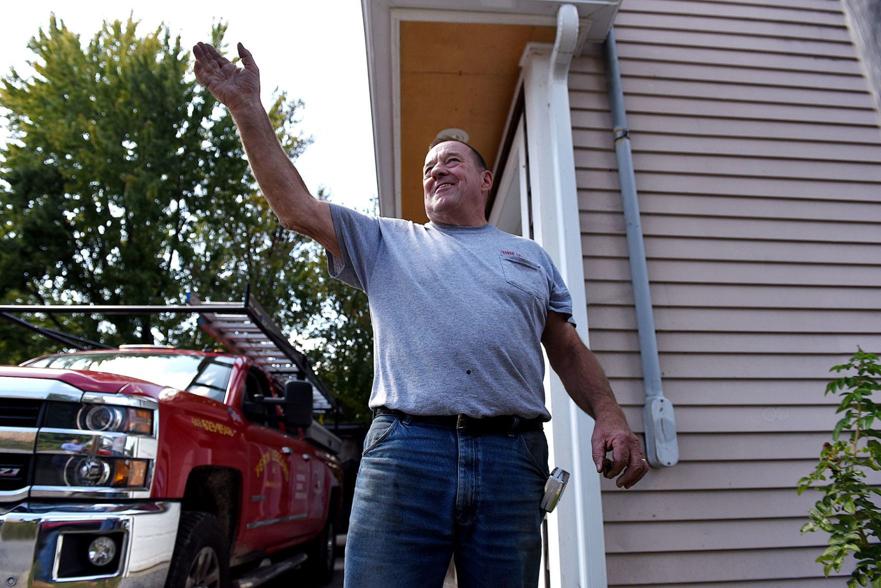 I counted about a couple dozen vehicles inside the fence. There are about eight boats, a rooftop air-conditioning unit and what appear to be large plastic storage tanks for liquids. This is nothing compared to the machinery, vehicles and 55-gallon drums and other junk that used to fill the lot and spill out onto the sidewalk.
Fontaine suspects that Skwozinski has nothing to do with the cars now in the lot, and a squatter is using it.
"We do believe we need to do something about it and change that area, improve it," said Brenda Masewic Adams, the city tax collector. "Right now, I do not foresee not doing anything."
She said top city officials from the planning, city solicitor, assessing and economic development departments have met about the lot. The consensus is that the lot has to be improved; Adams said she was appalled that it's started to turn into another junkyard.
She plans to issue a tax deed against he property in December, but that will be up to aldermen. Adams had recommended against the city issuing a tax deed two years ago, she acknowledged. At the time, the contamination was uncertain and more studies were necessary, she said.
But the delay proved costly.
Seven months after the city opted not to take the property, Skwozinski filed for bankruptcy. That froze the city's ability to take control of the property until the case concluded. The bankruptcy case closed in May.
In the meantime, the state enacted tougher limits on PFOA and PFOS contaminants, and levels of the chemicals in two test wells came up 23 and 17 parts per trillion (ppt), according to a March 2018 DES report.
The new limits are 12 ppt. The city will now have to take that under consideration, Adams acknowledged.
For years, the city battled Skwozinski over the lot. At one point, he was even jailed for not cleaning it up.
Now the tax bill is worth far more than the lot itself. (Adams said that some buyers have asked a few questions, but I seriously doubt anything will happen. (The real estate agent who has the listing – Reed Heath of Coldwell Banker – didn't return my call.)
"Hopefully, after the property is sold, it'll be redeveloped, be more productive, and generate more new tax revenue for the city," said Russell, Skwozinski's former lawyer.
At this point at least, Skwozinski will have avoided one of life's two inevitabilities.