THIS STORY TAKES PLACE in Weare, New Hampshire, and it starts with a confession by the protagonist.
"Where are you from?" I asked Travis Corcoran last week as we talked outside his barn. "Unfortunately, Massachusetts."
In a place like Manchester, that means little. People from around the world live here. If a Massachusetts resident buys the house next door, it's almost like a first cousin moving into the neighborhood.
But in Weare, which tries hard not to be a suburb of Manchester or Concord, outsiders are advised to shut up and respect the way things have always been done.
Corcoran has not. A town resident of a mere eight years, he has challenged the Weare power structure and won. Twice so far.
Last year, a Superior Court judge sided with Corcoran in his lawsuit against the town. And in March Corcoran convinced town voters to reject a town-backed ordinance change that would have invalidated the judge's ruling.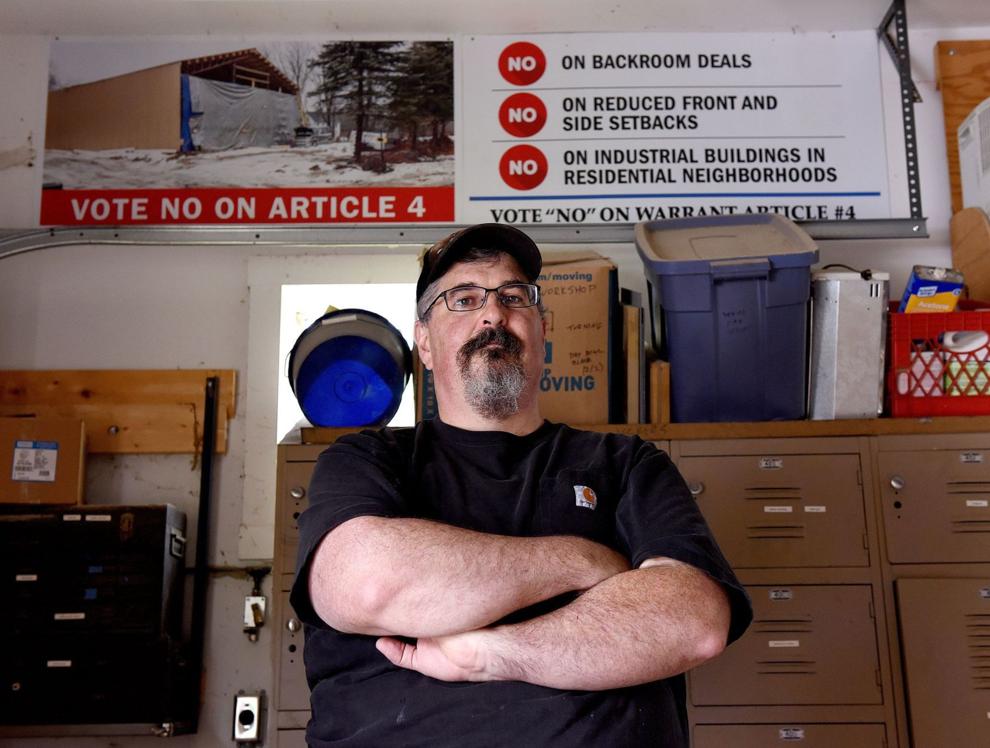 Technically, the issue is about his neighbor's garage, an unsightly, steel-kit monstrosity that stands too close to the road, too close to Corcoran's property line and mars any bucolic view from Corcoran's house.
The garage has pitted neighbor against neighbor, newcomer against good ol' boys.
"People don't like him," said a middle-aged woman walking along Quaker Street, referring to Corcoran and noting his fledgling status in town. She wouldn't give me her name, but while chatting she noted her Weare lineage; her grandmother knew former U.S. Supreme Court Justice David Souter when he was a boy.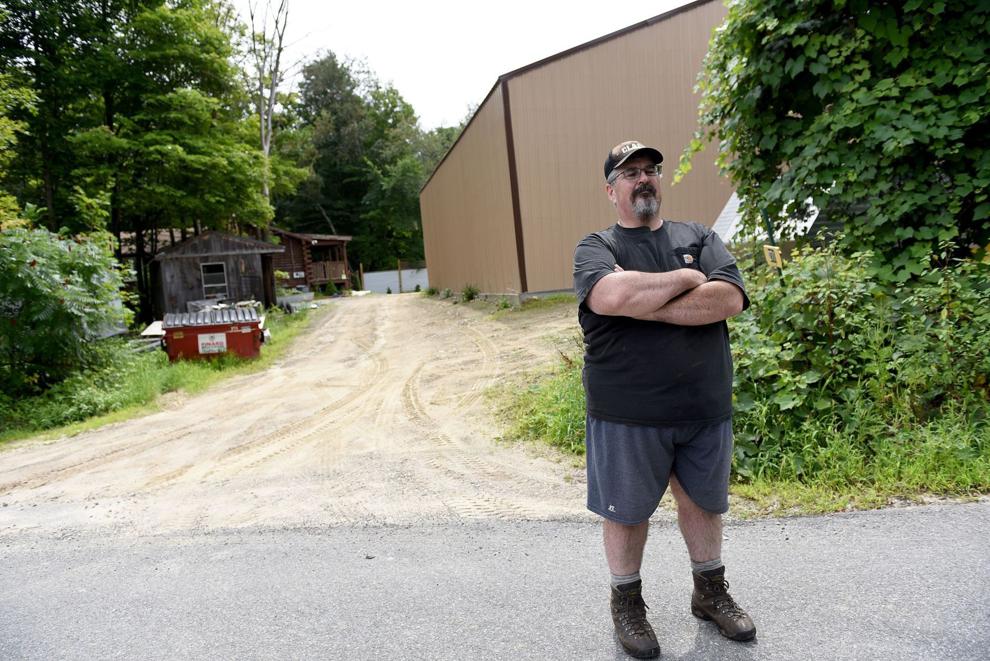 Farther down the street, Todd Valpey, an engineer with 38 years in town, walked his golden retriever. Like Corcoran, he thinks the garage needs to come down.
"If you're in violation of the law, you don't change the law to fit your violation. What's wrong is wrong," Valpey said.
That has been Corcoran's mantra ever since his next-door neighbors, Gil and Shelley Duquette, put stakes in the ground in 2018 to measure out their garage.
First the town issued a permit, then a cease-and-desist order when Corcoran complained. Then the town said the Duquettes could build. Then a Hillsborough County Superior Court judge ruled they couldn't.
Then town voters said no. Then last week, the town said, again, that Duquette's garage was legal.
It didn't matter. While the controversy raged, Duquette built his garage.
"I don't have to ask his permission where my garage is going to be placed on my property," an angry Gil Duquette said in May during a zoning board hearing available on YouTube. He went on to complain that Corcoran is spreading lies and accusations throughout town and there is nowhere else he can put a garage on his 1.6-acre lot.
He didn't return my telephone calls.
Corcoran said he only wants Duquette to follow the town ordinance. The ordinance says a garage must be 50 feet from the road and 25 feet from Corcoran's property line.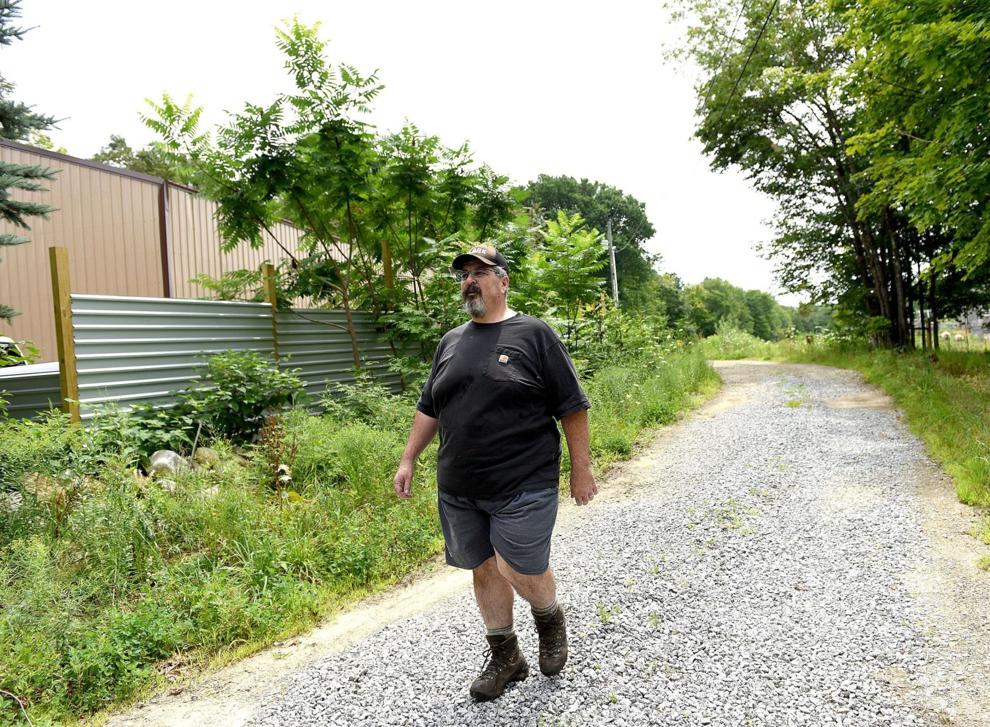 It is neither, and in rural New Hampshire fashion, the garage dwarfs anything else on the property. It stands 25 feet high at the peak of the roof. Its 2,400 square feet of windowless, steel-sheeted walls aesthetically overpower the attractive part of the Duquette property — a single-story, 1,300-square-foot log cabin.
Corcoran is a software engineer, science-fiction writer and hobby farmer. He works out of his two-story colonial house, which sits on 56 acres.
Rainwater runs off the garage and turns his gravel driveway into silt that resembles baby diarrhea, and the look of the garage hurts his property values, he said.
Corcoran said he urged Duquette to build the garage on the other side of his land and offered Duquette $6,000 and the cost of any tree clearing to do so.
He also warned Duquette that if he went ahead and built, the garage would eventually have to come down.
"I absolutely understand the little guy. You don't want to beat up on someone," he said.
You can't help but think that's the case. Between barns and sheds, Corcoran has six outbuildings on his property, and he's complaining about Duquette's one.
But Corcoran said his are legal, and all six together don't account for the size of Duquette's one garage.
"He can build whatever he wants. He just can't build there," Corcoran said.
Towns and cities do have the ability to bend their rules, through the Zoning Board of Adjustment. Zoning boards hear ugly disputes such as Corcoran vs. Duquette, and they actually get to decide whether someone can violate the law.
It's kind of like the Supreme Court in high gear, but Corcoran said the garage location is so flawed it can't clear the legal hurdles that allow for a variance.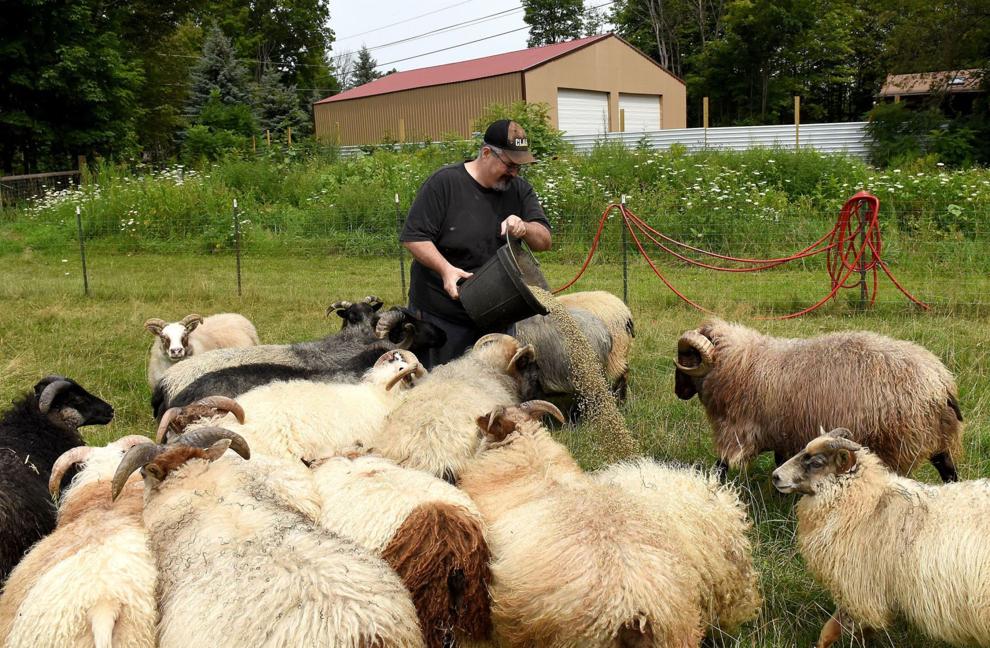 Longtime Zoning Board Chairman Jack Dearborn wouldn't speak to me about the case.
"I don't want to be belligerent, but I kinda gotta be hard-nosed about this. We're under the attorney's guidance," he said.
I left my card on the door of garage-supporter Jack Meaney, a selectman who lives across Quaker Street from Corcoran and Duquette. He didn't call me either.
On the community Facebook page We Are Weare, a lot of people side with Corcoran. After our interview, he backed up everything he said with documents and links to town meetings. He attends a lot of those meetings and speaks.
He has filed demands for town records that shake loose misdeeds by town officials, including secret meetings, hidden documents and petty lies.
Corcoran said he doesn't want to change Weare. He doesn't want to turn it into another Boston or Berkeley. He just wants the laws enforced fairly.
"It's not a class issue," he said, "it's an issue of rule of law vs. backroom corruption."