We live in a time of paradox.
A raspy cough, normally something everyone would ignore, is cause for isolation.
A germ is out there that could kill us, and we judge our preparedness by the number of toilet paper rolls in the cupboard.
And we are under order to lock ourselves away at home for our own good.
Tell that to Sarah Jubrey.
Thursday, she sat at the shore of Lake Massabesic, her 1-year-old son squirming in her arms while her 6-year-old piloted a bicycle with training wheels in the empty parking lot at Massabesic Front Park.
Jubrey had been inside too long, fretting about her loss of work as a hairstylist and helping her daughter with her online school work.
"We needed a break. We've been in the house since Saturday," Jubrey said. And fresh air, she said, is worth whatever risk may be out there.
"The grocery store's probably more dangerous than sitting at the water," she said.
Jubrey couldn't be more correct. In fact, she's doing the best thing for herself and her children.
Research has shown that dry air and ultraviolet light, the light that comes from the sun, harm coronaviruses, said Dr. Alex Granock, an infectious disease specialist who works at area hospitals, including Catholic Medical Center.
Just like we need a protective zone around us, so do coronaviruses. But their protective sheen of fat and protein wither in the sun and dry air.
"They would die much quicker outside than inside your house," Granock said.
Of course, no one's saying sunlight will cure an COVID-19 infection. And Granock said it's still a good idea to keep 6 feet away from others whether outside or in. State health officials agree.
"Viruses like this are known not to live long at high or low temperatures. They are often susceptible to drying out; ultraviolet light can kill them, and circulating air helps reduce the spread," said Jake Leon, a spokesman with the state Department of Health and Human Services.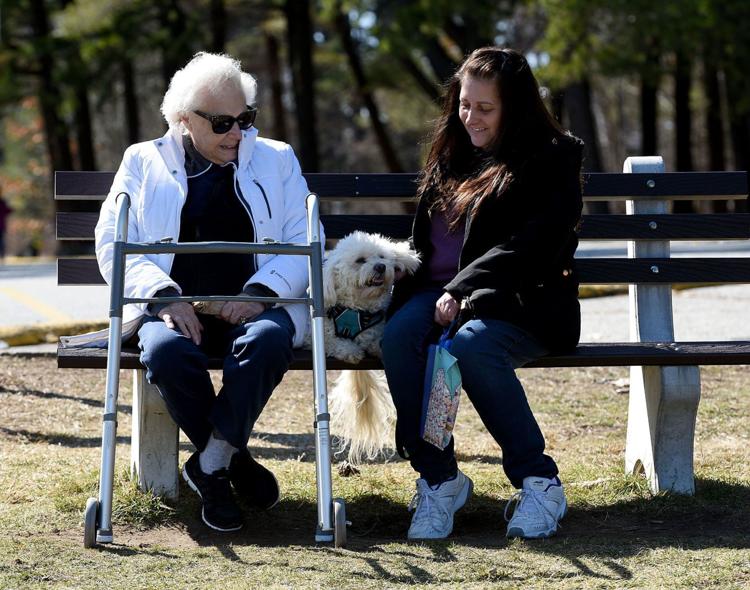 Hence the paradox. The shorthand for COVID-19 prevention includes phrases such as stay at home or shelter in place. But it's healthier to get out.
Gov. Chris Sununu put exercise and fresh air at the top of the list of exemptions from the stay-at home-order that he issued on Thursday.
But he closed just about the best place in the state to get COVID-19 killing sunshine — Hampton Beach. Meanwhile, Manchester city officials have closed playgrounds and hard-surface courts where kids play basketball, tennis and pickle ball. (While I understand the proximity of players in a pickup game of basketball, has anyone in the city ever played tennis?)
And last week, Manchester Water Works closed the parking lot where Jubrey and her children were valiantly killing the coronavirus with sunshine.
The lakeshore park and adjacent trails remain open. Water Works Director Phil Croasdale told the Union Leader that he closed the parking lot at the request of Auburn police.
Police drove through the parking lot on a nice day two weeks ago and found that people weren't adequately socially distancing, Croasdale said.
So now, people park at the lot across Route 28 and walk across the busy highway to access the park.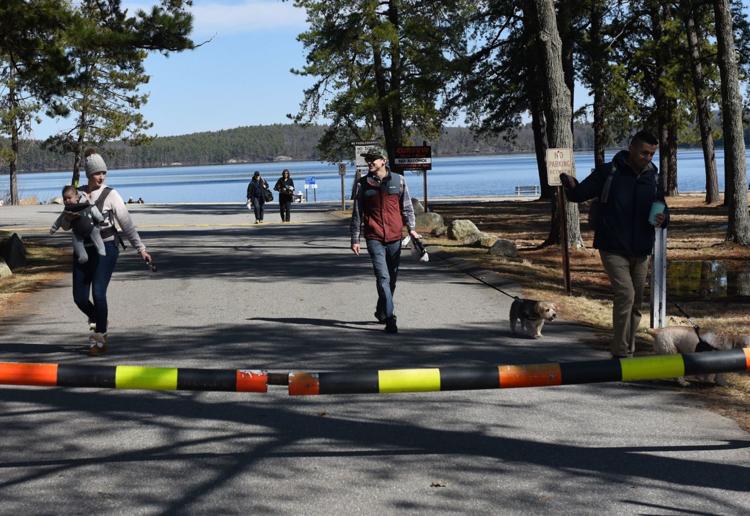 Helen Little, who is 87, did so with her daughter, Lisa Smith, and sat at a bench beside the lake. It was a good day to be outside, she said.
The mother of nine, Little used to drive up from Andover, Mass., when her children were young to visit the park. She now lives in a 55-and-over community in Derry.
She can't move easily — she uses a walker — so usually she stays inside.
"You gotta do something. I've been cooped up for a month," Little said.
Dick Miville, 82, sat in his pickup truck across the street. Ever since his wife died he goes to Sandy Variety, gets a breakfast and eats it at the shore of the lake.
Sure, he said, the parking lot can get crowded. But many people just stay in their vehicle and look at the water, just as he was doing, but a couple hundred feet farther from the shore than usual.
"I don't like it. I'm not sure why they closed it," he said. "I've never seen clusters of people."
I did. When I spoke to Little, about 10 teenagers gathered not far from us. They were roughhousing and sitting close, obviously ignoring any distancing guidelines.
Parking lot open or not, they were clustering.
That worries me. Will Auburn police see the teenagers at play and close the park entirely? Before they do so, they need to think about everyone who relies on the park — the overwhelmed moms, the shut-in grandmothers, the lonely widowers.
"If you can exercise, it's good for your mental health," Granock said. "You get out, you see the sun. You see your neighbors."