Should Nathan Lesage be in prison?
That's because last November he pulled a knife on loss-prevention workers at Macy's when they caught him trying to shoplift some high-end apparel, which he planned to trade for fentanyl. Pulling a knife on a store security guard turns a misdemeanor charge of shoplifting into a felony charge of robbery.
"Did I deserve to go to prison? Absolutely," Lesage, 25, said this week. "I've been given a lot of chances."
His latest second chance was April 18, when Superior Court Judge Tina Nadeau issued a 3½-year prison sentence for the robbery, but then suspended it.
That keeps Lesage out of prison, and he returned to drug court, the program that keeps a prison sentence on hold if a criminal defendant keeps a job, lives where he's supposed to, and participates in treatment and any other program deemed helpful by social workers.
This is his second time in drug court.
"What I like to say is it's my last chance on my last chance," said Lesage, who said he has 30 felonies on his record. "I thought I was on my last chance the last time."
Lesage's case is the first that comes up among Hillsborough County courthouse insiders who complain that drug court has become too lenient.
Michael Conlon, the Hillsborough County Attorney, said he recently spoke to drug court program coordinators about his concerns, especially when participants get a pass after committing violent crimes. His office wanted Lesage sent to prison for seven years.
"While my office supports diversionary programs that focus on substance use disorder and mental health components, our top priority is public safety," Conlon said.
Participants who willfully commit crimes while in the program, especially violent crimes, should be kicked out of the program, he said.
Lesage spoke with me for 30 minutes recently and later on that same week.
He lives in a sober house in the center city and takes monthly injections of Vivitrol, a drug that blocks the effects of opioids. He attends intensive outpatient treatment sessions three times a week. He works in masonry and hardscaping.
Last week, he moved to Phase II of drug court, meaning he meets with a judge biweekly, up from weekly.
"To be honest, it's going almost amazing, better than I've ever done," he said.
He said he initially enrolled in drug court to avoid prison. That was last July. Soon he started drinking, then taking pills and eventually fentanyl. He stopped going to work and seeing his probation officer.
That all ended in November, when he pulled the knife on the Macy's loss-prevention workers in the parking lot.
He said he abandoned the merchandise in the store when they pursued him, so he never technically shoplifted.
"I just wanted them to leave me alone," he said.
He said he never hurt anyone, even though this was his second robbery charge. (The first involved forcing his cousin at knifepoint to make an ATM withdrawal.)
"When drugs take over, all hell breaks lose," he said.
With short hair and a trim beard, Lesage maintains eye contact with a dark-eyed, steely gaze that is one-half optimism, one-half determination. He's the personification of an early season Red Sox team in third place that expects to win the pennant by October. He wants to inspire others.
In an email relayed by the New Hampshire court information office, Judge Nadeau said drug court participants will relapse at times because that's the nature of substance use disorder. (She said judicial ethics prevent her from discussing specific cases like Lesage's.)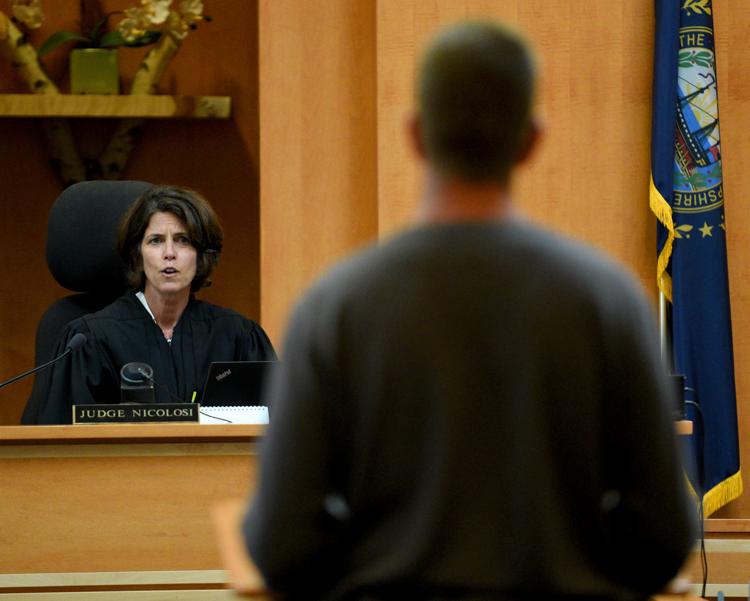 "Over time they learn the tools necessary to maintain sobriety, but it is a long and difficult road," she said. Some people who commit new crimes may be kicked out, she said.
Others remain in the program. Others are sent to jail or prison but allowed back into drug court. (After his Macy's arrest, Lesage spent five months in jail before going before Nadeau and pleading guilty.)
"By targeting this population, public safety is enhanced over the long term because intensive treatment and the use of incentives and sanctions has been proven to change behavior and reduce crime, while jail and prison do not," Nadeau wrote.
There are about 375 people in drug court statewide, about 65 in Manchester at this point, according to Alex Casale, the program coordinator for drug courts statewide.
Manchester's was only in full force about two years ago, and other drug courts are even newer, so there hasn't been enough time to study their effectiveness, he said.
He said it will probably be 2022 at the earliest before one could look at data in a meaningful way.
Lesage said he started using drugs in his teenage years. He had broken his hand, and the doctor prescribed Percocet. He liked the way the painkiller made him feel.
Drugs are a family problem, too. His father died of a heroin overdose in 2015, he said. His mother is in long-term recovery and has never abandoned him, he said.
He's most proud of his younger brothers. They support him, but want nothing to do with him when he starts using.
"They've broken the chain. They never got into the (expletive) I got into," he said.
Meanwhile, Conlon's office has asked a judicial panel to review Nadeau's decision regarding Lesage. That could lead to him being sent back to prison.
But Lesage said the review will probably take a year, and he hopes by then he will prove that Nadeau was correct when she saw someone worth redeeming.
"I'm not a bad person," he said, "when I'm clean."