Back in the early 2000s, nothing could hold Manchester back.
A city-owned arena was transforming downtown. Tech and higher education were taking hold in the Millyard. The airport kept adding flights and destinations.
And in the center of Manchester, a struggling arts school received a $24 million bequest and started redrawing the neighborhood around Victory Park.
New Hampshire Institute of Art bought up property and built additions, including a six-story dormitory-classroom structure.
NHIA became a degree-granting college and added chic to our mill city. Art students with purple hair and black clothes trod the streets clutching their treasured portfolios. Our rough-edged town inspired its fair share of senior art projects.
That started to change two years ago when NHIA merged with New England College in Henniker.
The newly christened Institute of Art and Design at New England College was born of necessity. NHIA had lost more than $3 million in each of its previous two years, according to public filings.
When they announced the merger, officials issued statements about enhancing the quality of education, streamlining services and no need for layoffs.
As the new institute's second academic year starts, several students say they feel disconnected with the college mothership, which is 45 minutes away.
They bemoan the loss of Fuller Hall, the former Indian Head Bank building that housed the library, photography department, ceramics department and a student lounge. Fuller Hall hosted a $2.1 million collection that has ended up in Henniker, at least temporarily.
Fewer college-life opportunities such as student clubs and visiting lecturers exist — in Manchester at least, students say.
And financial aid issues — the college raised tuition by $12,000 but pledged to cover the difference with grants — prompted endless emails and telephone calls to the financial aid office.
Elizabeth Johnson, a senior, said a $6,000 balance from last year didn't get cleared up for seven months, stressing her out for an entire academic year.
"It's so much harder to have communications with Henniker. We're kind of like this stepchild almost," said Kylie Cropper, a senior. A Black student, she joined a college with a pilgrim mascot, which she finds offensive.
Sarah Patnaude, another senior, estimates that about 40 of her freshmen class of 90 remain.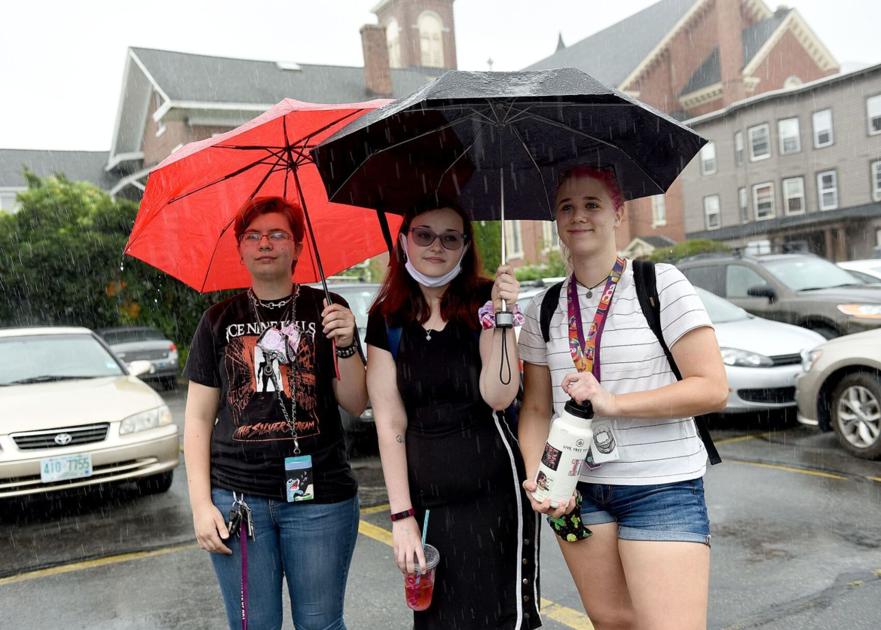 "The only thing keeping us here is our professors and the fact we can't transfer," she said.
New England College officials said the merger put the 1,700-student college, a comprehensive liberal-arts college, at the disposal of NHIA students.
"What you're hearing is some frustration and maybe anger at change, which we understand is going to happen. It really isn't giving us a fair shot," said Dr. Wayne Lesperance, vice president of academic affairs at New England College.
College President Dr. Michele Perkins said 50 institute students are enrolled in at least one class at the Henniker campus.
Athletics and student clubs are also available at Henniker, and NEC would fund student groups in Manchester, Lesperance said. Last year, a Manchester student landed the lead role in a theater production on the Henniker campus.
Perkins said the merger made the Institute of Art and Design one of the largest departments at the college. It created opportunities for students on both campuses.
"Students can take advantage of both worlds," Perkins said. "It makes our overall institution that much more appealing."
She said NEC agreed to always have a presence in Manchester.
There are trade-offs. The institute lost ceramics as a major, but is gaining majors in animation and game design.
Perkins predicts the new institute will eventually have 500 students.
Enrollment was 300 when NEC took over. It's less than 200 now; COVID-19 has had an impact on enrollments nationwide, Perkins said.
Despite assurances two years ago, some staff members have lost their jobs. Lesperance said five NHIA faculty positions have been eliminated.
And about a week after NEC took over, seven administrative staff were escorted off campus, said Joel Christian Gill, the former NHIA chairman of comic arts.
"People are terrified," said Gill, who spent 13 years at the school and is now at MassArt.
In the years before the merger, Gill said he saw a lot of mismanagement at NHIA. He credits Kent Devereaux, the last president, with trying to tackle the problems, but thinks Devereaux arrived too late to achieve success.
According to public filings, the endowment shrank from $25.2 million to $15.9 million over a five-year period ending in 2017.
Gill thinks NEC wants to be in Manchester so it can better compete with St. Anselm College.
But he said the strategy is risky. A lot of college education is moving online, and the country is saturated with art and design schools.
"I didn't see their commitment to what we had done there," said Gill, who left after the first academic year with NEC. "They told the faculty 'Your school went out of business and we saved your jobs.'"
Maureen Mills, the former chair of the ceramics department, didn't have her job saved. Her contract wasn't renewed this year.
Mills, who lives in Portsmouth, regrets the loss of a ceramics major, but few students want to major in ceramics, she said. And ceramics is not dead; NEC integrated it into its core arts curriculum.
As I wrote earlier, NHIA lent an air of cool to Manchester. Galleries at French Hall and Roger Williams Studios were often open to the public. Anyone could duck in on a gloomy day and get a jolt of creativity from student or faculty art.
They are closed now, thanks to the COVID-19 pandemic.
But if they reopen, future exhibits may prove challenging for a school that has abandoned tangible art like ceramics for the all-too-market-driven fields of animation and game design.
"Do I think they're looking out for what NHIA was? I think they have a plan and they want to execute it," Mills said. "It isn't NHIA. It's not anything like it was."