I WROTE THIS COLUMN at my dining room table.
Like millions of Americans, I was exiled to my Manchester home last winter because of the coronavirus.
From here I have toiled with laptop amid dirty placemats for months. Once the quarantine relaxed, I ventured into a nearly empty Union Leader office a couple of days a week.
I wasn't sure why I returned to 100 William Loeb Drive until I received a recent email about a marketing firm's supposed research.
Manchester, the email said, is a "tough city to work from home."
The researchers scored 150 cities based on three categories — community and safety; housing and living costs; health and weather — and Manchester scored 69.
Sixty-nine — about a D+ in high school. No sports or extracurricular activities for Manchester. Lots of college rejection letters.
The smarty-pants, top-rated city — an ideal Zoom-town in the words of the researchers — is Gilbert, Ariz., pop. 243,000. The Phoenix suburb scored 91.
The research is flawed. A lot of it involves what's going on outside the home. For example, crime is crime no matter whether you're working in the Millyard or at home. Same with weather.
So for my research, I tracked down some remote Manchester workers. We devised our own ratings based on relevant data, which put Manchester in the running for Zoom Town, USA.
Good employers — Grade A
With higher education, high-tech and finance firms, Manchester easily transitioned to remote work.
Consider Fidelity, which has a campus of 5,700 in neighboring Merrimack. It embraced remote work. Remote workers got five "relief" days in 2020 and another five this year to tend to the toils that develop when one works in his pajamas.
It provides up to $300 per month for child care, and it anteed up a one-time $300 bonus for at-home expenses, such as office furniture and internet access.
Mental health is big. The company offers an online book club, and it hosted a Christmas party (corporation-wide) with John Legend as a guest.
Ntate Ncala, an inclusion adviser for Fidelity, said the company allowed working from home before the pandemic, but he rarely stayed home, preferring the camaraderie at the offices.
"I wouldn't say I want to go back," said Ncala, who lives in the Memorial High School neighborhood. "I look forward to establishing a new way of us doing business."
Good families — B
Sure, your company might throw all sorts of perks at remote workers. But if home life is wretched, work life would be toxic.
No such problem for Mike and Sara Veilleux. They sit side-by-side against a corner wall in the living room of their North End home. She works in procurement for Southern New Hampshire University and has three screens at her work station.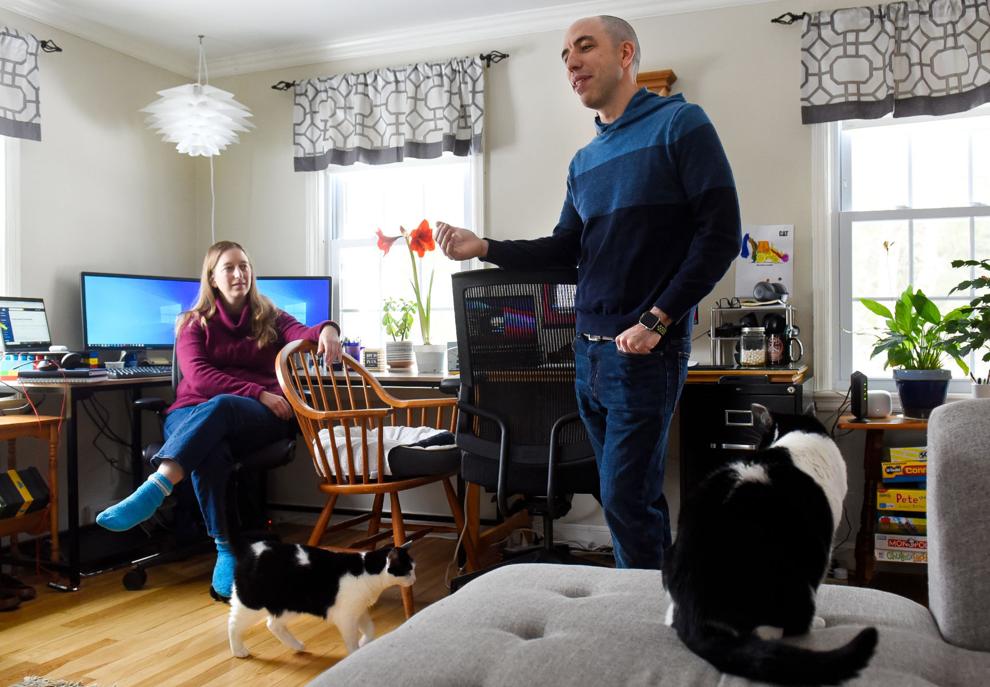 Mike, who works at the York IE consulting firm, has two screens.
They sit about 6 feet apart. They have earbuds and earphones to cancel out each other's distracting phone calls.
Tranquility exudes from the cat curled up on the chair between their work stations.
Every morning, the couple consult their schedules to decide who gets priority for the work space.
"We do the juggle thing," Mike said. If she has an important Zoom call, he unplugs a laptop and slips off to a corner of the house.
Such collaboration shows up in U.S. census data, which say the divorce rate in New Hampshire was 8.2% in 2019, compared to the national rate of 7.7%. The census considered the difference statistically insignificant.
Ncala has a remote-working wife too, an executive in a venture capital firm.
At the beginning of the quarantine, both worked at opposite ends of the dining room table. Not such a good idea.
"She's very passionate. It got a little loud at times," he said. Eventually, they worked out an amicable separation — of work space.
He's now got a room to himself, in the basement.
Connectivity — A
Last month, Comcast announced it was offering a gigabyte of wifi speed to at-home customers.
Comcast is the only internet service provider in the country giving such speeds to residential customers, said company spokesman Marc Goodman.
Mike and Sara Veilleux made do without an upgrade, but added mesh routers to extend the wifi coverage to corners of their home.
Ncala said his basement offers a better wifi signal.
Meanwhile, Comcast has made it easy for lower-tiered workers to connect to their jobs. Anyone receiving any kind of government assistance — for example housing, food stamps or school lunch — is eligible for a $9.95 a month internet essentials package.
Child care, schools — C
Everyone I spoke to had issues with children, especially during quarantine when schools were closed and daycare was unavailable.
Ncala has a son in eighth grade who goes to Manchester schools, which have been remote for most of the school year.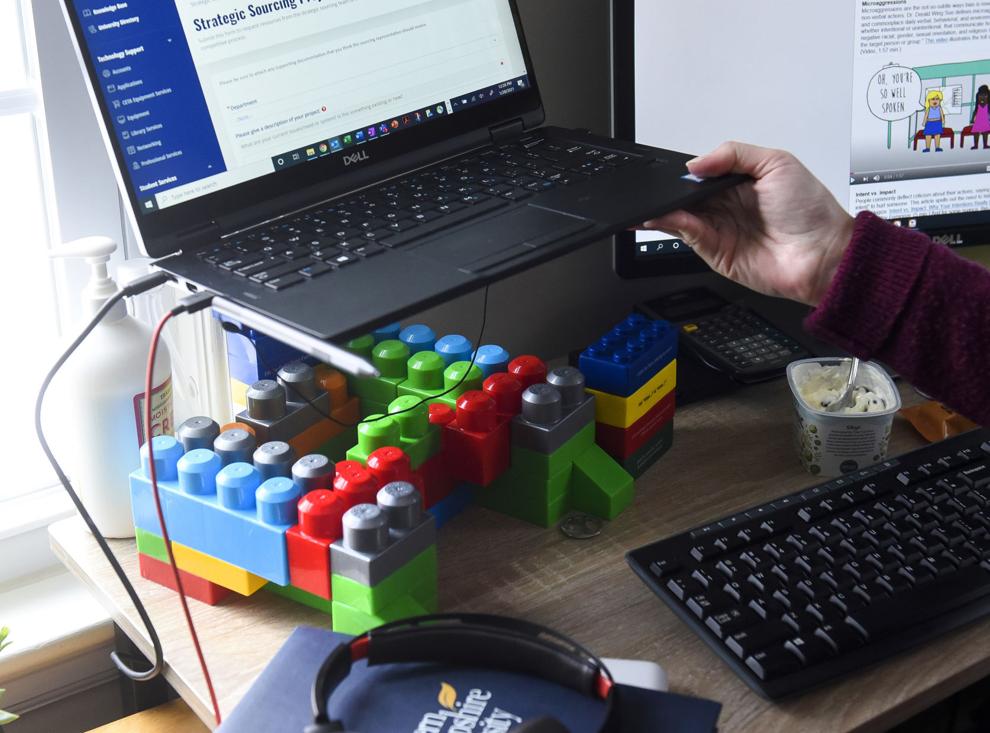 "I'll be candid. It was a challenge for my son," Ncala said. He would be distracted by gaming and his cell phone. On the positive side, his father has gotten to know the boy's teachers and feels a little embedded in his son's school day, he said.
Last week, Manchester schools started returning to a hybrid model.
The Veilleuxes have a 5-year-old. They had to add him to their work routine during quarantine.
"Those three months were brutal," Mike said. They enrolled him in Webster School this fall, but the hybrid school model didn't work for them. He's now in an all-day program at a private kindergarten-day care.
Outdoors — B
It's important to be able to step away from work and clear the brain.
Ncala said he used to do that on his commute home from work. "It was a time to reflect. My self-reflection is now from the basement to the kitchen," he said. Outdoor work during good weather didn't work out: too much glare, weak wifi signal.
This winter, Mike and Sara Veilleux walk in the neighborhood, where they have met fellow remote workers in the neighborhood, as well as their dogs.
But it's not so easy now, even for hardy New Englanders.
"With the snow, it's almost impossible to walk on the sidewalks," Sara said.
Food and drink — D(unkin')
Downtown and the Millyard offered myriad opportunities for coffee and lunch. And Fidelity had two cafeterias.
But choices are limited at home. The Veilleuxes live in a residential neighborhood with no nutrition within walking distance.
Food trucks would be nice, Sara suggested.
Actually, Manchester planning officials have done an excellent job of strategically placing a key essential within walking distance of just about every Manchester resident.
A roundtrip walk to the neighborhood Dunkin' is only about 20 minutes for east Manchester resident Kimberley Desir, a Fidelity manager. At least in good weather.
"I've learned," she said, "to make my own coffee."