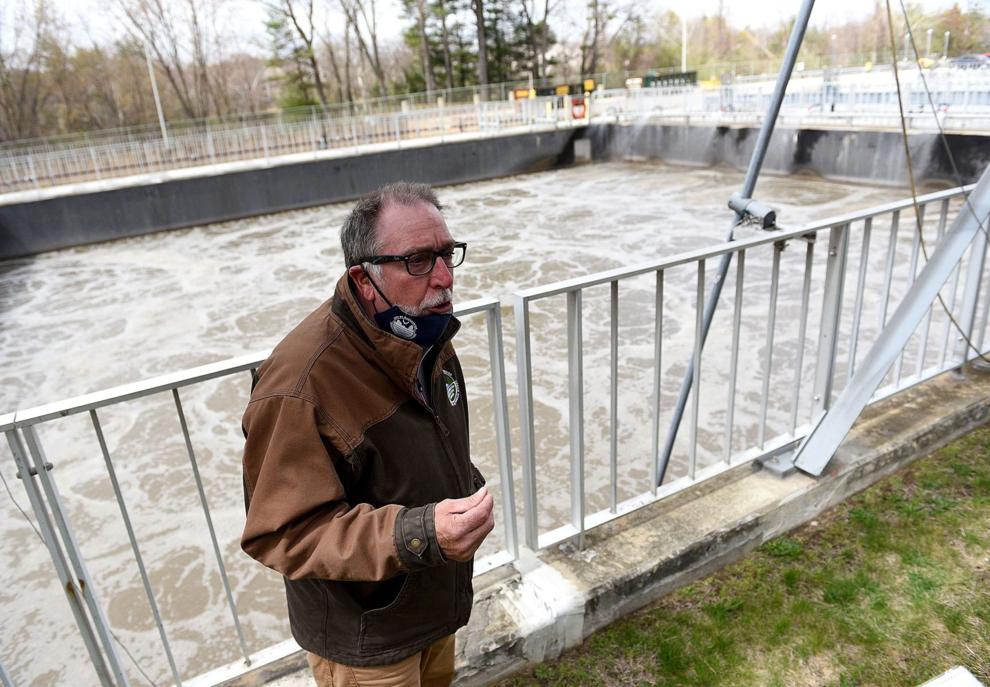 THURSDAY WAS EARTH DAY, the one day a year when we ponder how to clean up and green up our planet.
There are lots of steps that individuals can take: buy an electric car, ride a bicycle to work, turn down the thermostat, recycle, buy local.
But even if I do all that, I am still a loathsome polluter, something I'm reminded of daily when I take my paper copy of the Union Leader into my water-serviced reading room.
Thankfully, the city of Manchester does a lot to diminish the pollution discharged from my digestive system.
I discovered that on Earth Day, when photographer David Lane and I visited Manchester's wastewater treatment plant.
What follows are four things to know about how the plant keeps us green.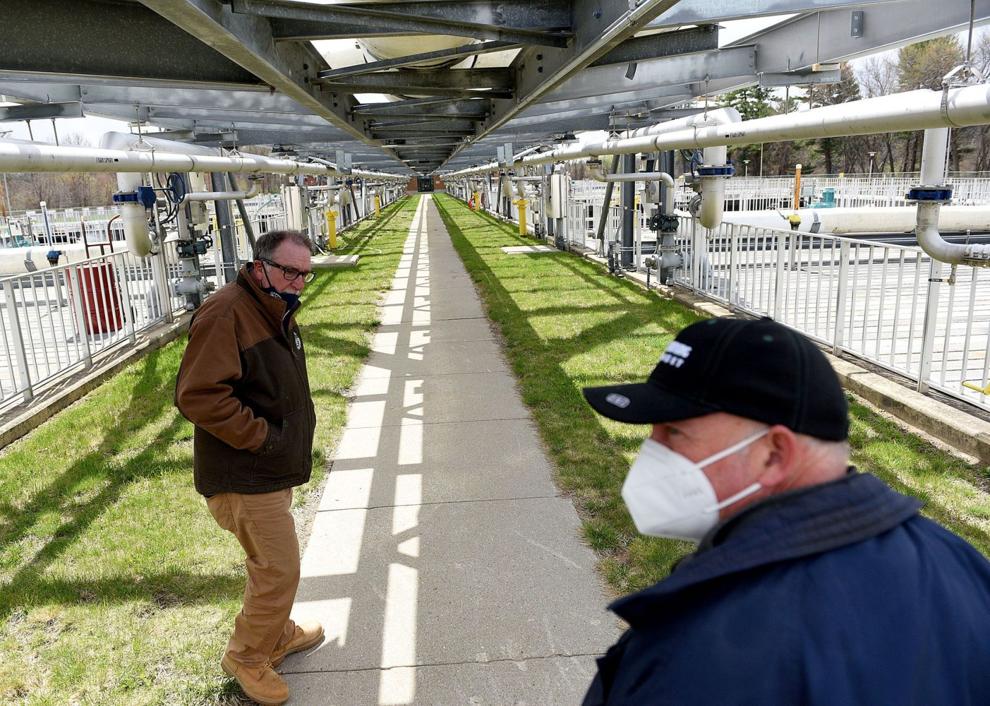 Big plant, big numbers
Engineers run the treatment plant. Engineers don't use poetic language or metaphors to describe things. They paint by numbers.
The plant cleans water from a metropolitan area of 172,000 people. It can polish 42 million gallons of water a day. A full scrub takes about four hours.
When a rainstorm speeds things up, another 30 million gallons gets a brief once-over.
The plant's deepest point is 80 feet below ground. That's at the north end of the 15-acre campus, where the water I have polluted arrives via the city's 575 miles of sewage and drainage pipes.
The plant's highest point is its 116-foot exhaust pipe.
The biggest numbers follow dollar signs. Annual budget of $14.8 million a year. And constant upgrades: $10 million in 2018 on primary clarifiers; $10 million on a mercury scrubber; $25 million on a project now underway to remove phosphorus.
Everything done at the plant is under the guidance of state and federal environmental agencies, who set all sorts of quantitative parameters.
The plant's chief engineer, Fred McNeill, won national recognition in 2021 as American Public Works Association water resource manager, a capstone to a 40-year career.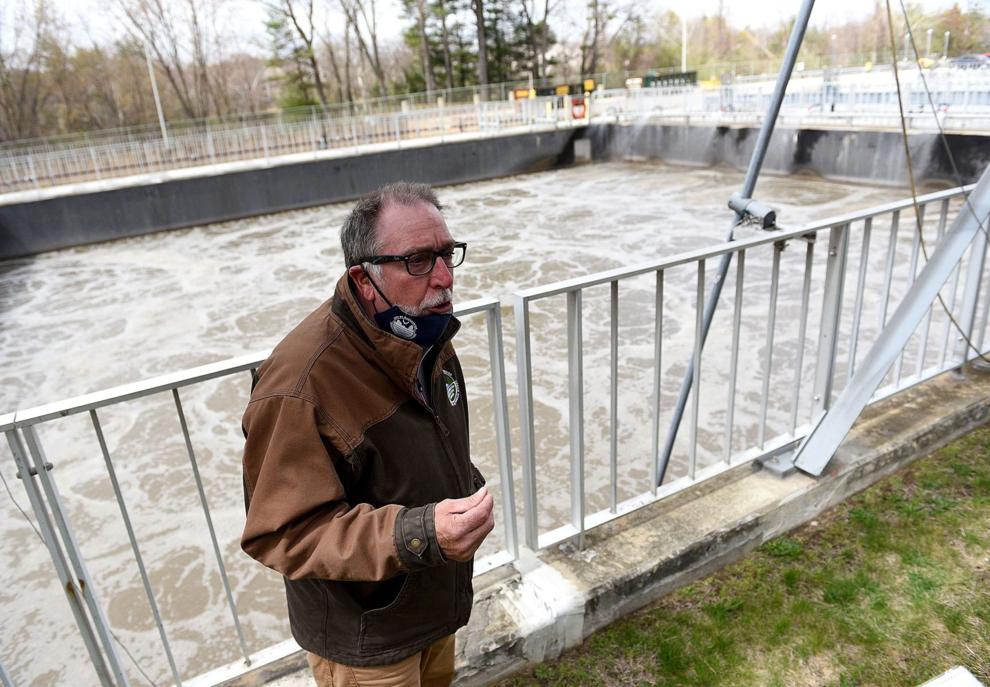 Bubbles and burning
The entire focus of the plant is to draw out yucky solids that are suspended in the waste water. To do that, water is constantly moving through the plant, to settling tanks, aeration pools, spinning machines, incinerators and chlorinators.
Solids is a relative term. The icky solid that I flushed down this morning breaks into mere microscopic bits by the time it reaches the treatment plant.
At the first run, solids settle out in 14-foot-deep clarification pools.
Then they move to 30-foot-deep aeration tanks, where underwater nozzles blow in oxygen at a rate of 500 cubic feet a minute. The oxygen nurtures bacteria, which gorge on the solids.
"We're glorified bug farmers in a sense," said chief operator Dave St. Armand.
Solids are further removed by centrifuges that spin at 7,800 rpm. Once the water is weighed down to 24% solid concentration, it ends up in an incinerator.
The brick-lined incinerator is massive: 19 feet in diameter and 24 feet high. Internal temperatures reach 1,500 degrees Fahrenheit. Three scrubbers remove pollutants from the exhaust.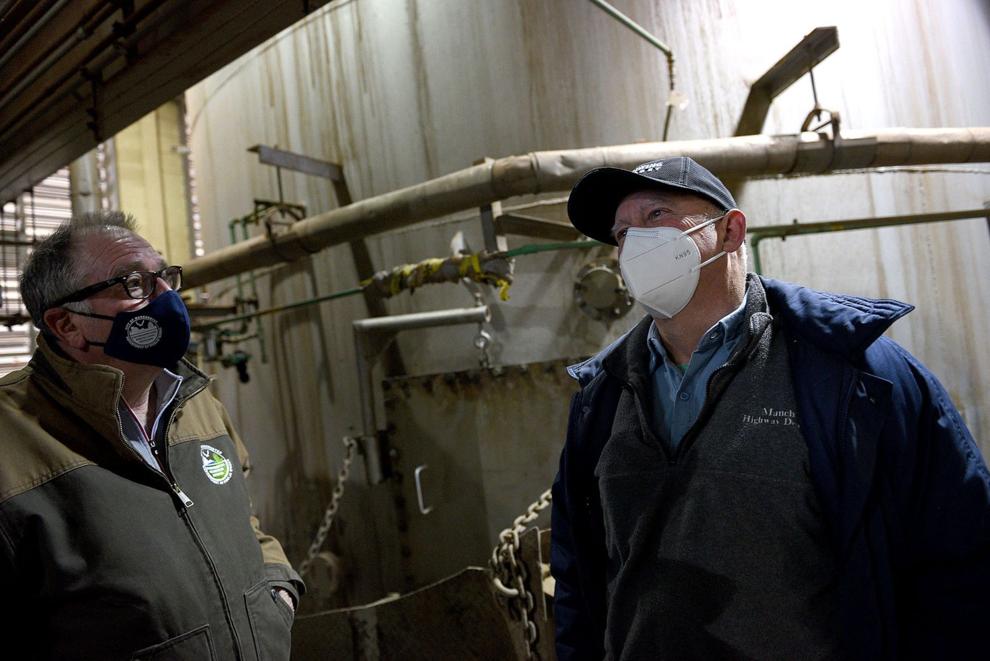 The ash ends up in a storage area, and every six months 20 tractor trailer loads of ash are carried away to be used as landfill covers or road base.
Meanwhile, a pipe delivers water to the Merrimack River that is about 4% as dirty as when it entered the plant. The last time the plant discharge failed to reach permitted standards was in 2006 during the Mother's Day Flood, when the Merrimack backed up into the plant.
A dirty business
As we started the assignment, Lane grumbled that we would probably have to end up changing our clothes. We expected a stench. It was only bad in one spot, the initial screening room, where screens capture anything that can't be dissolved in water.
There's a wall there with interesting finds: driver licenses, a car key, a pacifier. One day, a worker found $80 in cash.
Otherwise, my nose detected only a musty smell.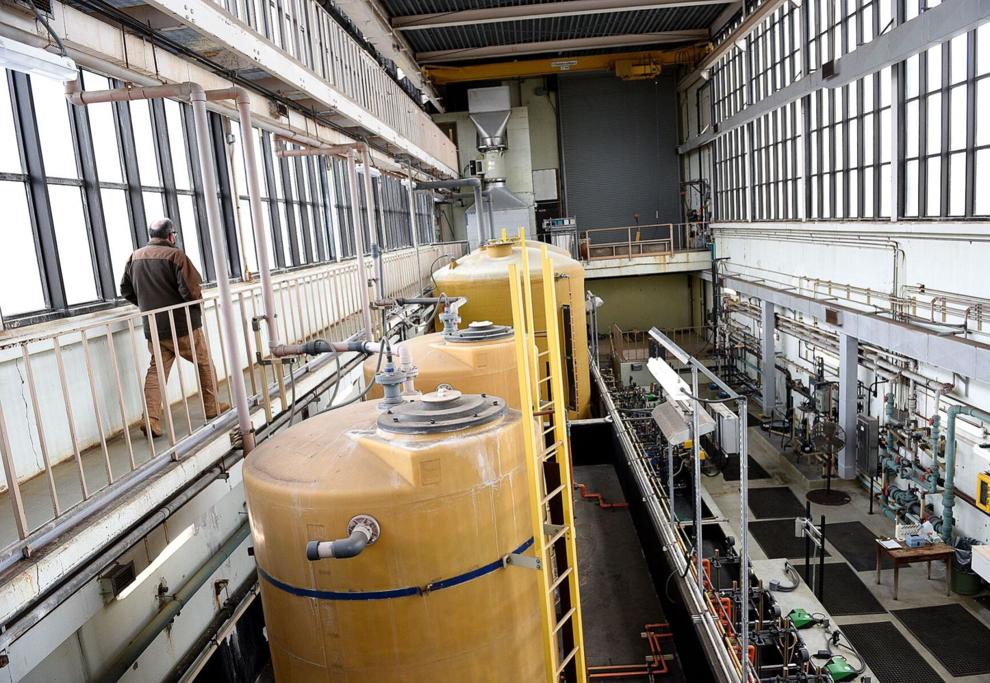 That's because years ago, the plant covered its three 16-foot-diameter primary clarifier pools. The covers capture the malodorous air and pipe it underground to a 5-foot thick bed of wood chips and other organic material. The stench filter is topped by a lawn, which remains green year round.
What a place: big budgets, expensive gadgets, high technology. Still, it's not a glamorous job.
"It's one of the things not many people want as a career," said maintenance supervisor Rob Morris. An electrician by training, he had a job at the plant as a contractor and was eventually hired on. He's been there 31 years.
McNeill said he became fascinated with water while working in the Peace Corps in West Africa. He returned to the United States, earned an engineering degree and eventually landed in Manchester. He's run the plant for 15 years.
A cup runneth over
The plant maxes out at 72 million gallons a day. As McNeill said, "you can only put so much water in a glass."
Overflows occur mostly in the spring, when storms drench us with short-duration downpours that send rainwater surging into storm drains. The overflow bypasses the plant and ends up directly in the Merrimack River.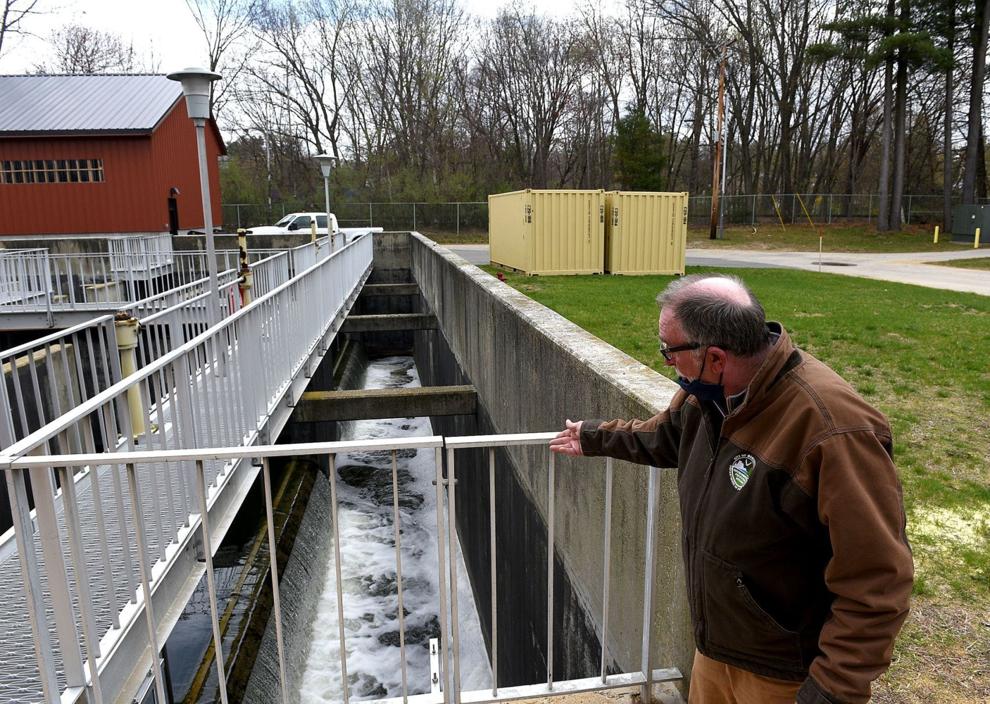 Nashua and five Massachusetts cities get their drinking water from the river, and those overflows — 144 last year — are the subject of mounting criticism and demands from the U.S. Environmental Protection Agency.
Two years ago the treatment plant installed a monitor on one overflow pipe, and the monitor sends automatic emails to people who sign up for notification.
Another six overflow pipes exist in the city, and McNeill recently submitted his plans to the EPA to monitor those overflows and issue notifications. The cost: $400,000 a year.
Notification is not the endgame. The eventual solution is to eliminate the overflows. The only way to do that is to separate the one sewage pipe that leads to the wastewater plant into two pipes: a pipe of sewage that goes to the plant, and a stormwater pipe that leads to the river.
The city completed separation on the west side in 2010. And the city has committed another $230 million for work on the east side. Completion date: 2040.
McNeill has mixed thoughts about separation.
The city's sewer system — some pipes are more than 100 years old — will get a needed upgrade, and McNeill supports that. But the project is premised under the notion that Manchester pollutes the river, and that's what McNeill disputes.
Manchester's overflows last year amounted to less than 100th of 1% of the river's flow, he said. That won't contaminate drinking water because down-water communities have sophisticated water purification systems, he said.
Meanwhile, the water that left his plant last month was 97% cleaner (6.1 milligrams per liter of suspended solids) than it was when it came in, and he could pump out water nearly five times as dirty and still meet his EPA permit.
"Everyone wants zero (pollution)," he said, "but you can't have zero because it's not cost effective."