A GOOD VACATION for me means no cell phone, no Union Leader and no razor.
I hit all three last month when I drove to southern Montana, the farthest west I have ever been in an automobile.
The road trip took me through infinite stretches of prairie with no phone service, no newspaper racks and little water to splurge on a shave.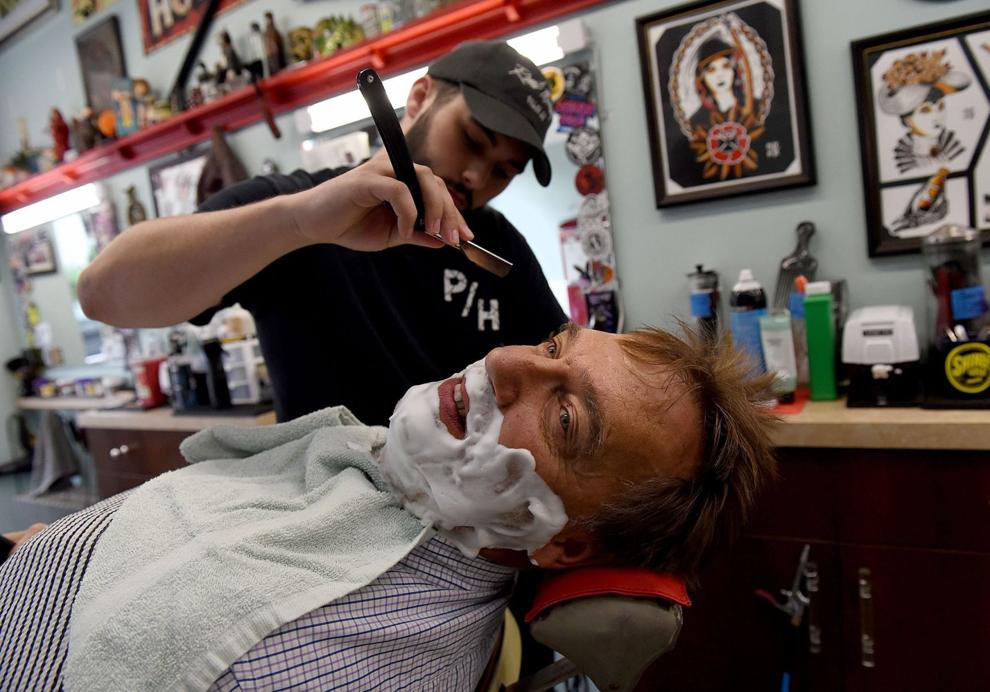 A great vacation, but all great vacations must end, and by early last week I was working telephones and reading the Union Leader every morning.
And on Thursday, I walked into Parliament Barbershop in downtown Manchester. For months, I've been curious about the sign on the storefront window — "Straight Razor Shaves."
Never had one. Always intrigued. So I put my neck on the line for a story.
I imagined a hot towel, a Santa Claus-beard of foam, a blade flashing over my face at lightning-like speed, a corny joke or two, some aftershave and the barber yelling "next" as I paid the bill.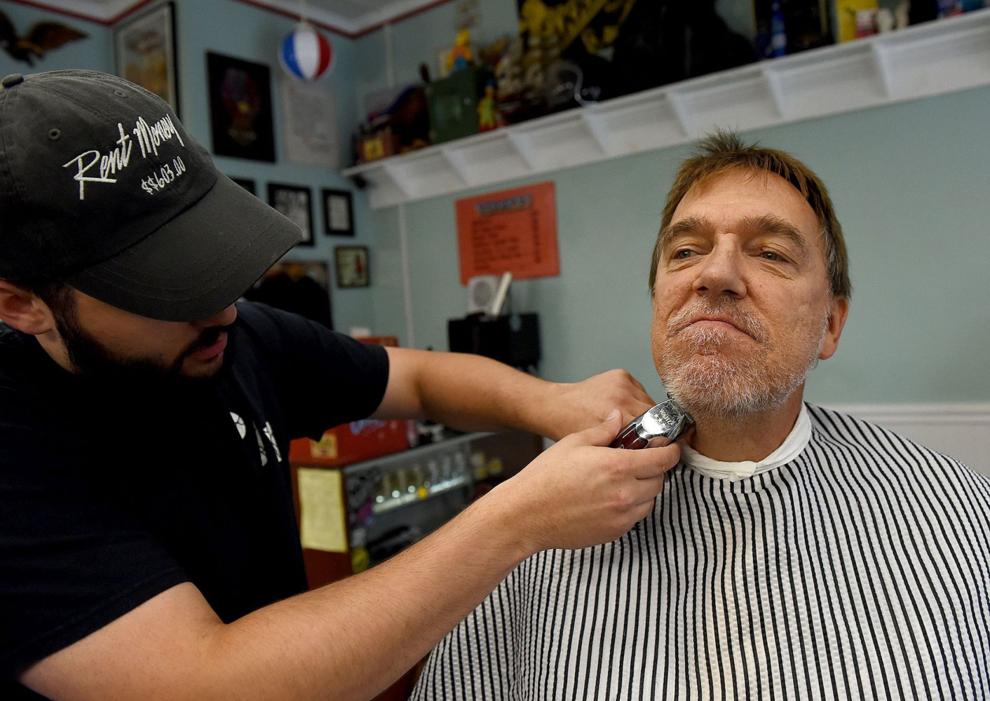 My entire time in the chair took more than an hour, which included the beard removal with electric trimmers and an interview between swipes of the razor.
I bared my neck to Nashua resident Brendan Murphy, 23, one of four barbers at Parliament. He's been a college student, an ice cream maker and worked at an assisted living home. And for the last 14 months, a barber.
He shares with three other barbers a Chestnut Street storefront that is as narrow as an old-fashioned candy store. The walls are covered with memorabilia and posters from the mid-20th century — a Tarzan movie poster, antique toys and statues, mounted hunting and fishing trophies. A year-old, puffy-chested bulldog, Buster, plies the floor as if he's the security guard.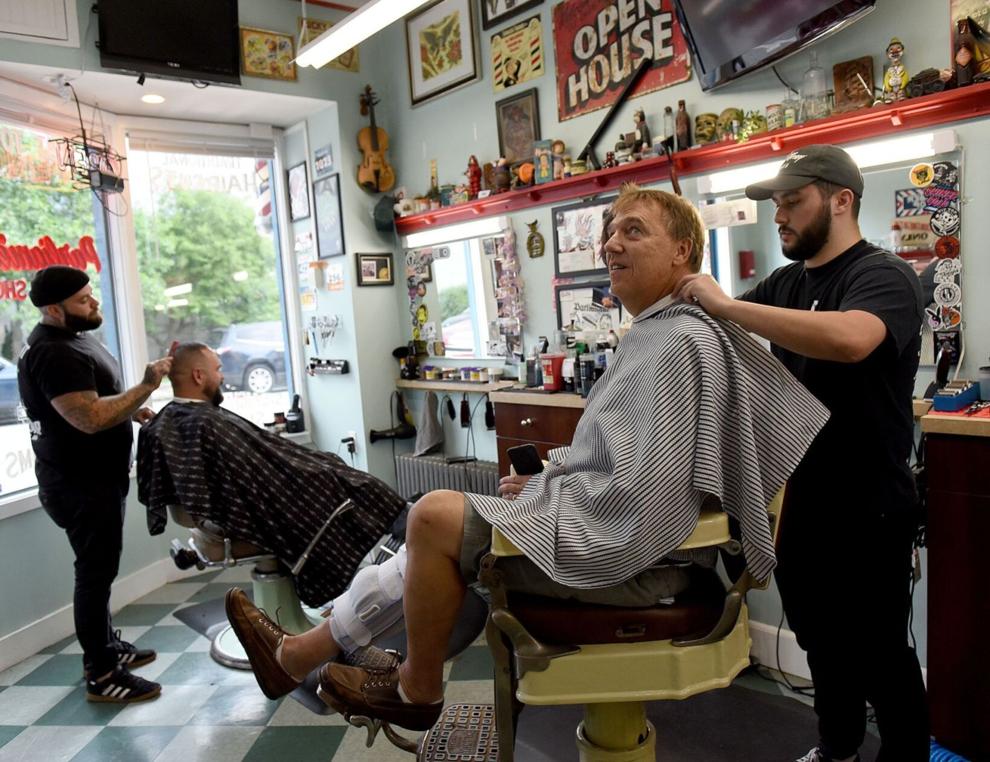 The preparation involves a gel, hot towel, shaving cream, another hot towel, another round of shaving cream. Only then does Murphy put steel to face.
He starts beside my ear and slowly, evenly works his way down. My ears pick up the sound of sandpaper smoothing a pine board.
Some days, Murphy said, he will do 10 shaves, other days none. Given the time and the material, a shave, at $36, is more expensive than a $28 haircut.
"A lot is the relaxation of it, the experience. It's almost like a facial," Murphy said. Some customers are downtown businessmen who use a shave to unwind.
"I had a guy just a couple days ago, he said it was his guilty pleasure," Murphy said.
I want to ask more, but it's best not to talk as a straight razor glides over one's face.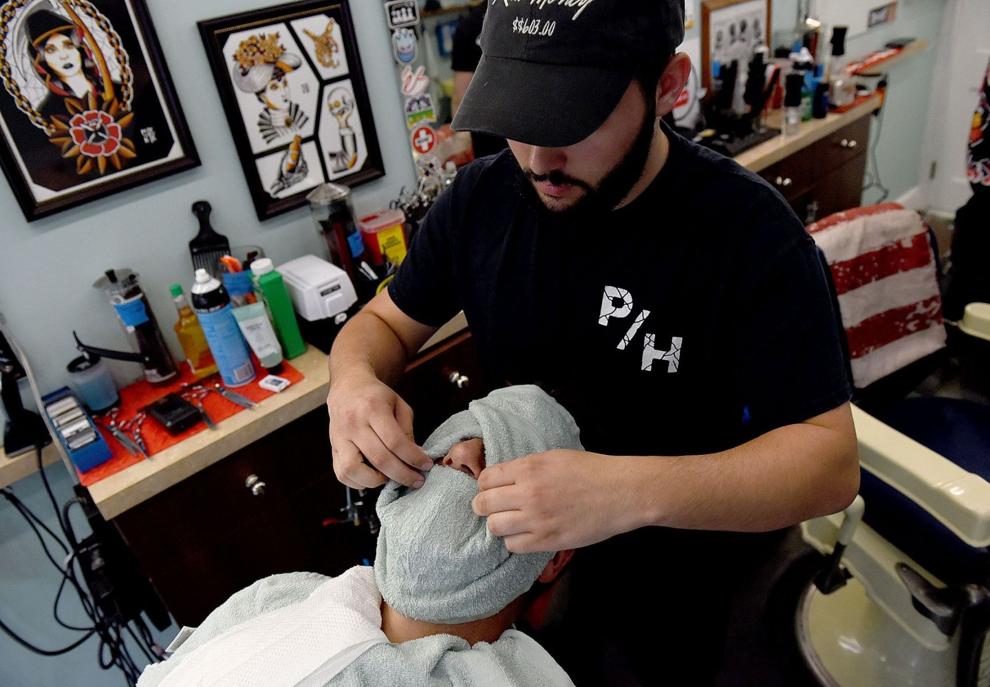 Murphy moves from the cheek, to the area below my chin, then up to the end of my mustache. I lie prone on my back, as vulnerable as a patient in a dentist chair, and desperate for some sort of mental distraction.
I spy a Tarzan poster, a set of cattle horns, and a mounted muskie, baring its yellowed, needle-sharp teeth. Meanwhile, another barber has changed the music feed from classic Country to 80s hard rock. The comfort of Dolly Parton changes to the taunts of AC/DC.
"Dirty deeds, done dirt cheap. Dirty deeds, done dirt cheap.
Dirty deeds and they're done dirt cheap."
What's the hardest face to shave? I ask.
Elderly men, he tells me. "Not you, but you take a really old guy, he's got really loose skin. A lot of peeling and stretching going back and forth. That's probably the biggest struggle."
With my left side done, Murphy tilts my face and I see a Marlboro clock and ceramic statues of life-sized panthers.
The atmosphere is man cave. The barbers offer complimentary beers to customers at no charge. Lots of guffaws in conversations. One of the barbers is female, Ashley Holland. And women also come in for a hair cut, especially those with short, tapered hair.
But the shave is what makes it a barbershop. The ability to wield a straight razor is the only thing that legally separates a barber from a hair dresser, the barbers tell me.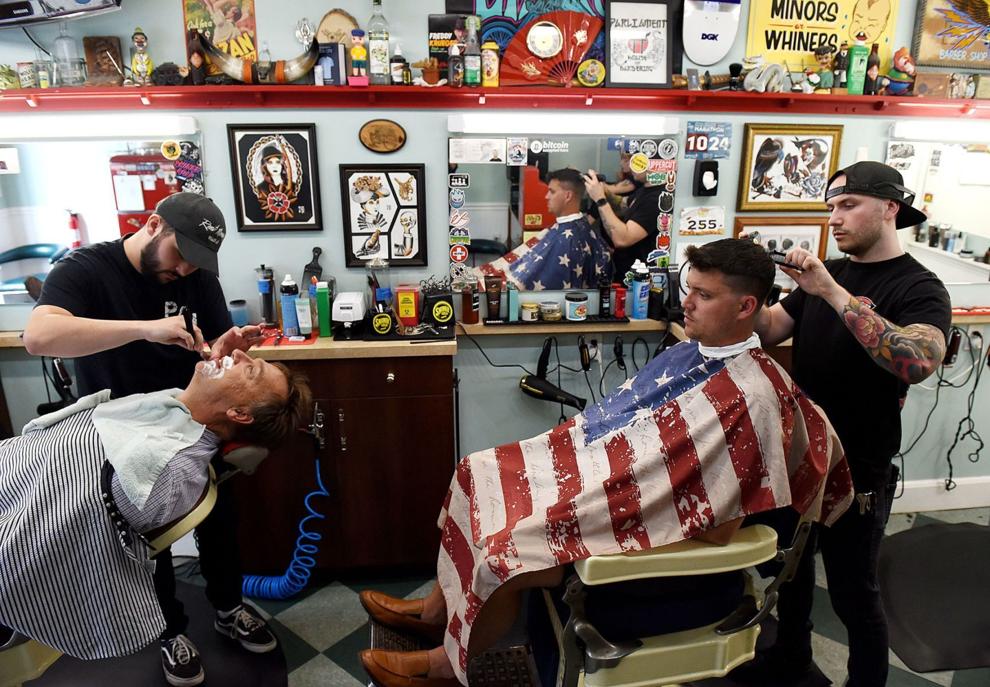 Murphy spends about 20 minutes with razor to face. If anything, he seems like an artist working on a canvas, a brush stroke here, a palette knife there.
He assures me he follows a method, which divides the face into 13 separate zones, each of which requires a different approach, different positioning of the razor. The most delicate and challenging part is No. 13 — the valley directly under the nostrils. My hairs tug there, triggering a nerve that almost renders a sneeze.
Murphy stops. He cleans the razor of shaving cream and adds some more cream to troublesome No. 13. He hunts down some errant whiskers elsewhere on my face, then returns to No. 13.
The defiant whiskers succumb.
Once it's over, I get a menthol rub followed by a cold towel.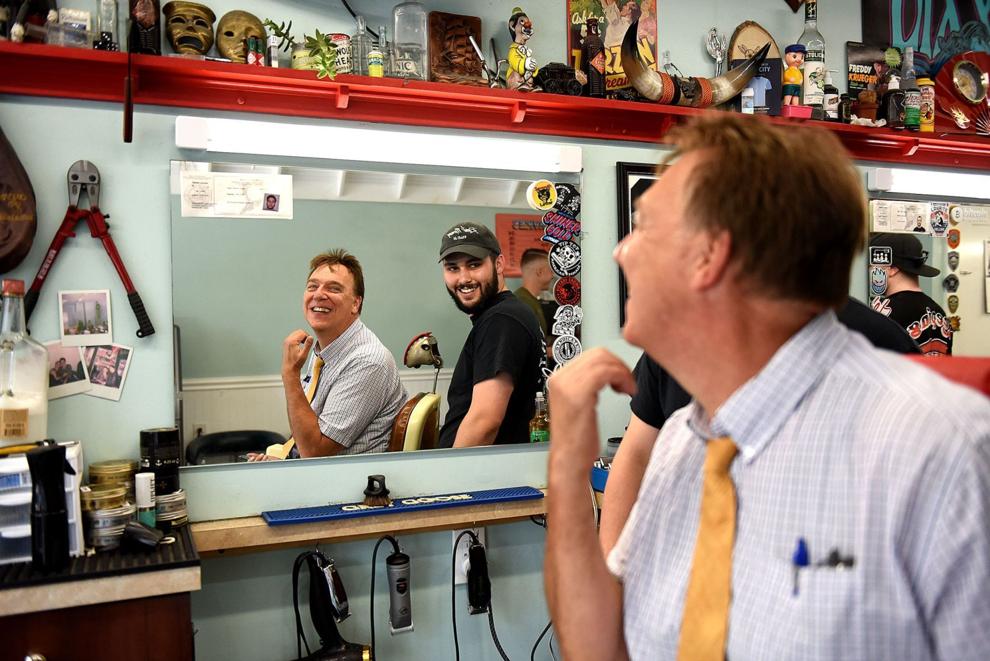 It ends with aftershave, which Murphy applies, then dries by slowly spinning a towel about a foot above my face like a ceiling fan.
Initially my face felt unnatural — all the lotions, creams and rubs both softened and dried it. But as the day went on, my skin felt clean, smooth and hairless.
Ready for the next vacation.